POS Operator Overjoyed as Imo Man Gifts Her New Smartphone Hours After Customer Stole Her Phone, Photos Emerge
A POS operator whose phone was stolen at work was all smiles as a benevolent man showed her kindness
The kindhearted man, a top Imo state influencer, came across her story on Legit.ng and took it upon himself to get her a new smartphone
The influencer, who is also a programmer, shared how the POS operator reacted to the phone gift
Point of Sale (POS) operator Precious Opara's misfortune has turned to joy as her stolen phone was replaced by an influencer and serial philanthropist from Imo state, Chizitere Ahubelem.
Recall that Legit.ng reported some days ago about a customer who did a N500 transaction and stole an unsuspecting Precious' phone.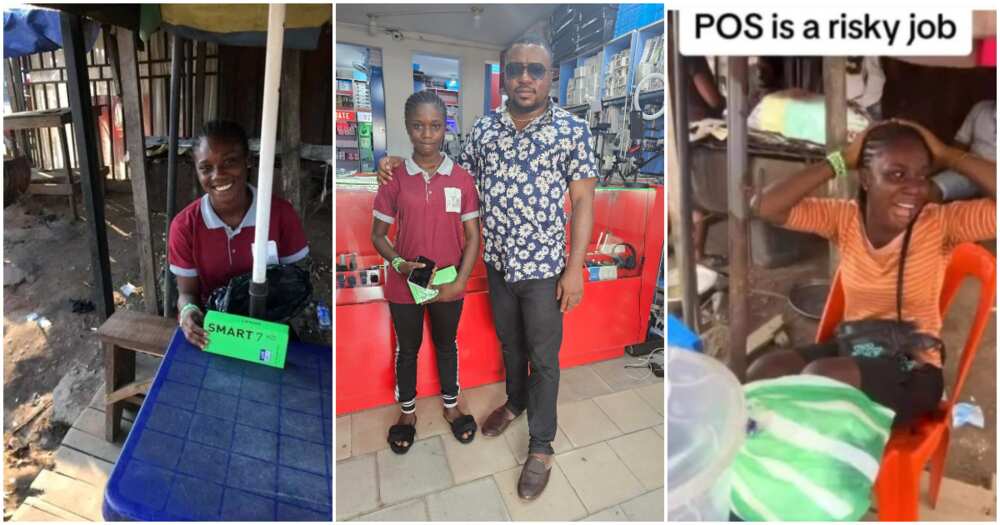 On Saturday, Chizitere, also known as Chizzy Whizzy, took her to a phone store and bought her a new one.
In a Facebook post, the programmer said he came across Precious' situation after reading about it on Legit.ng and was further moved to help her thanks to well-meaning folks who urged him to do so.
Precious said it was a dream come true
He shared photos of an excited Precious as she posed with her benefactor and the new phone.
When contacted, Chizitere told Legit.ng how it all panned out.
He said:
"I was tagged to the post by a friend, I used it as news and then another friend told me to buy her a phone. A third friend brought me to her."
On how Precious felt about the N70k phone gift, he said:
"She said it was her dream."
People hail Chizitere Ahubelem for his kind gesture
Nwa Amara said:
"Chaaaaa, nwunne God bless you, and to u grace gal congratulations and be very careful next time."
Ñe Chêrem said:
"God will continue to bless you for your good heart.
"Is not easy.
"Congratulations to the girl.
"She is so lucky."
Precious Mazi said:
"Congratulations dear.
"Sir pls remember me am a business type but my phone camera is too bad."
Chucks Elit said:
"That's great.
"I rejoice and celebrate with her.
"Baba remember me too."
Ojiri Augustine Chimdia said:
"You are a good and kindhearted sir, keep doing what you know best and heaven will not leave you stranded in any situation."
Njemanze Akunna Gift said:
"Chai see as I dy cry you too good bro swears."
Ebele Esther said:
"Wow congratulations to her. May God continue to reward you sir."
POS operator shares how the machine can be used for fraud
Meanwhile, Legit.ng reported that a POS operator had shared how the machine could be used to defraud unsuspecting customers.
The young man, who revealed he has been in the Point of Sale (POS) business for over five years, said it could be used for fraud.
According to him, someone's Bank Verification Number (BVN) can be stolen during a transaction and used to empty the victim's account.
He advised people who patronise POS operators to make sure they hold the machine till it approves the transaction.
Source: Legit.ng