"Can't Leave my Job": Smart Waitress Makes N310k in Just One Night at Restaurant, Displays Receipt of Cash
A waitress has caused a frenzy online after sharing the huge amount of money she made in just one night
The waitress happily shared her experience on TikTok and netizens stormed the comments section to ask questions
While sharing her experience, the waitress noted that most people get addicted to the job due to the tempting tips
PAY ATTENTION: Сheck out news that is picked exactly for YOU ➡️ click on "Recommended for you" and enjoy!
Genevieve, a waitress with the handle @genny_sleboda on TikTok revealed her earnings of about $450 in tips from one night of work at a Fort Lauderdale Beach restaurant.
While revealing the impressive amount she made Genevieve explained that she couldn't keep it all to herself.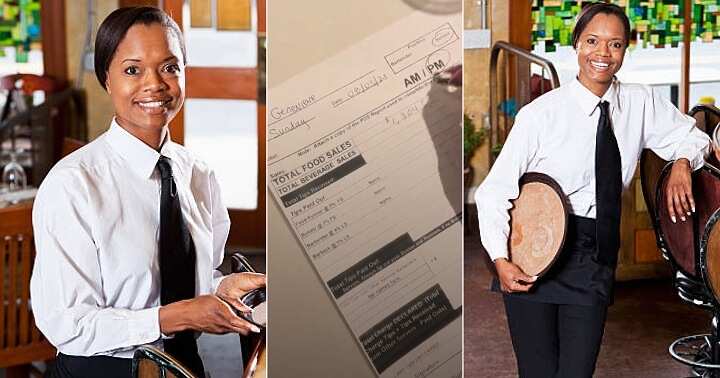 She said:
"Here's what I make in a night as a waitress. I had about eight tables, but my section never really got popping. It was a slow Sunday night."
PAY ATTENTION: Share your outstanding story with our editors! Please reach us through info@corp.legit.ng!
Waitress shares huge earnings after working on night shift
Genevieve's video showcased her end-of-night report, which revealed $13,000 in food sales and $650 in beverage sales.
"I made $451.35 in credit card tips", she added.
However, after tipping out other staff members, including the food runner, busser, bar back, and bartender, her total tip out reduced to $111. Ultimately, Genevieve's credit card tips totalled $340.35, and she also made $68 in cash.
Wrapping up the video, Genevieve shared her final take-home earnings of $408 (N310,000), averaging out to $40 (N30,000) per hour.
Reactions as waitress makes huge cash in just one night
The video garnered over two hundred thousand views, sparking discussions about the reality of serving jobs.
@Laicy Karczewski said:
"That's a huge tip out Omg!"
@citygirlmyah commented:
"That's a slow night! A slow night for me is making $60."
@Jesu said:
"Are you guys hiring? Lol I live in Fort Lauderdale."
@glizzie said:
"Y'all's tipouts are wild we only tip 3% of our sales."
@chaneemuniz8 reacted:
"I've made 400 in a 13 hour open to close brutalllll shift I need to move."
@Dominic Miller said:
"Dam that tip out is crazy! Tipping barback? Shouldn't that be bartender."
@Jenn Wells reacted:
"Girl. That tip out is INSANE!"
@Dalji Imara said:
"Do bartenders not make a lot? I thought they made more than servers?"
@Rachirwinxo commented:
"Girl we gotta stop telling people how much we make they're starting to catch on."
@Contessa reacted:
"Not to mention the taxes taken out in those tips. So probably drops you back down to about 300$."
@Nikki11Beach reacted:
"Wow things gotten better since my Delray waitress days."
@Kelly commented:
"Yea I used to tip out people we didn't even have lol f that."
@bjanka bulut said:
"Thank god we only have to tip out bartenders and it's only 10% of your cc tips or alc sales whichever is lower."
@Yanka said:
"Reasons I thrive for serving!"
@Cara-Jean Perry commented:
"How long is your shift!? I made 527$ in 5 hours. In New Hampshire. And my tip out was far less!"
@Amanda reacted:
"Your tip out is insane lol. I only tip out 1.5% to bussers. I'm a bartender so no bar tip out to anyone and we have no food runners."
Watch the video below:
Waitress builds house for parents
Meanwhile, Legit.ng previously reported that a young Lagos waitress has set social media buzzing after constructing a bungalow for her parents. A Facebook user identified as Innocent Tino shared the news on the social media platform as he urged netizens to stop complaining and rather start saving.
He said the 25-year-old lady did it courtesy of her salary and tips she put into her ajo - a Yoruba word for group savings or contributions. Tino shared his chat with the lady where she revealed that she turned the breadwinner since the demise of her dad. She also stated that the group savings helped her train her siblings in school as well as set up a hair business.
It was also from there she got money to organise her late dad's funeral. When Legit.ng contacted Tino to enquire how the lady was able to save such money in the face of her responsibilities, he replied: "She said she worked for 2yrs and did ajo (meaning contribution in English) as a sacrificial means."
Source: Legit.ng