"Beautiful": Talented Man Spins Blue BMW Car Around on Abuja Road, Pulls Stunts in Cool Video
A man blew people away with his mind-boggling driving skills and stunts he pulled with a BMW car
On a road in Abuja, the man spun the blue car around and pulled different moves that are often seen in action movies
Many people who watched the video expressed concern for the people watching the car drift, while others urged the government to make it a sport
A clip from a car drift that went down in Abuja, Nigeria's capital, has caused social media commotion.
A power biker, @oku_yungx, who shared the clip on Twitter, described it as the content he subscribed for.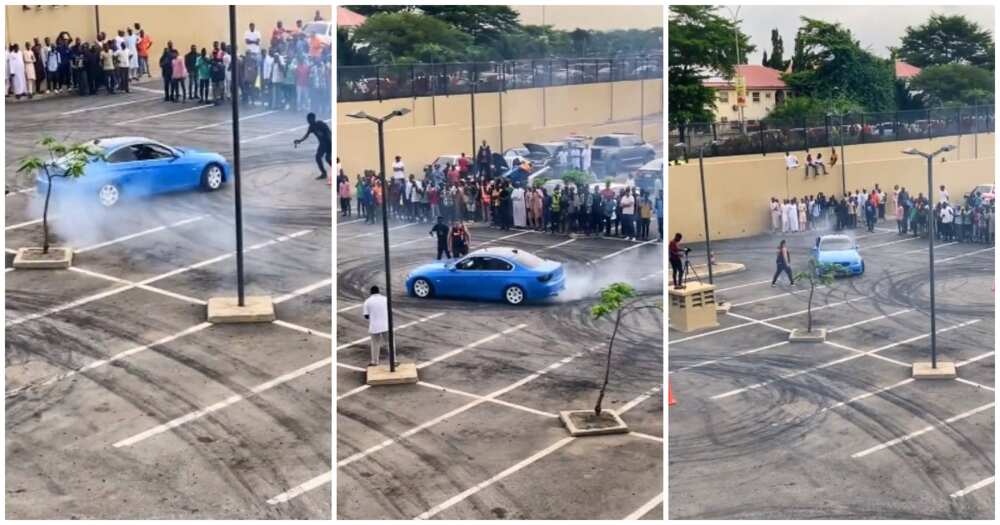 In the clip, a group of people stood nearby as a blue BMW car spun on the road with great skill and creativity.
The driver behind the wheel showed deft car-driving skills as he went around in circles at different points without hitting any objects.
Car drifting is an exhilarating automotive skill that involves expertly manoeuvring a vehicle to induce a controlled sideways skid during a turn while the front wheels face the opposite direction of the intended turn.
It requires precision, skill, and a deep understanding of the car's dynamics.
Watch the video below:
Netizens react to Abuja car drift
@MechobOfficial said:
"It's the trust for me. The people standing and watching have so much faith in the driver. I wouldn't."
@emiyke90 said:
"My own is, I will not stay at least 30ft radius from where they usually do this, to avoid story that touches."
@Dopeboi_Ovuemax said:
"This is really cool but one thing I'm very sure of is, I will never be among those standing very close to the car, I rather be somewhere far away, I don't take chances abeg."
@muridoc11 said:
"Beautiful. But there is need to put the spectators safety into consideration. Not until something bad happens."
@Timmynaijaa said:
"This is fantastic and our government should invest in car drifting sports.
"However this should not be done in parking lot lines, it is very expensive to line the parking lots."
@fhuadeen said:
"Cool stuff! Can he try going round a circle more than once at a go?"
Old men shocked to see car driving itself
Meanwhile, Legit.ng previously reported that two older men had expressed shock to see a car driving itself.
In a video shared on Instagram by @aleeygiwa, they were waiting by the sidewalk for their ride after getting ready for a coffee date. A car moved around the corner and stopped beside them.
The two men saw the car's peculiarities as it wasn't built like other cars. It had different sensors on the exterior. They looked at the driver's side and saw no one inside driving it.
Source: Legit.ng