"I Feel Like the Unluckiest Mother on Earth": Woman With 11 Blind Children Cries in Video, Says Husband Died
A woman who gave birth to eleven visually impaired children shared her pain during a recent interview
According to the mother, she continued giving birth with the hopes that one child would have a perfect eyesight
However, all her eleven children were visually impaired and not long after, her supportive husband lost his life
A mother has shared her emotional story online after giving birth to eleven children who are all blind.
According to a video shared by AfrimaxTV, the woman named Agnes Nespondi gave birth to eleven children who were all born with congenital blindness.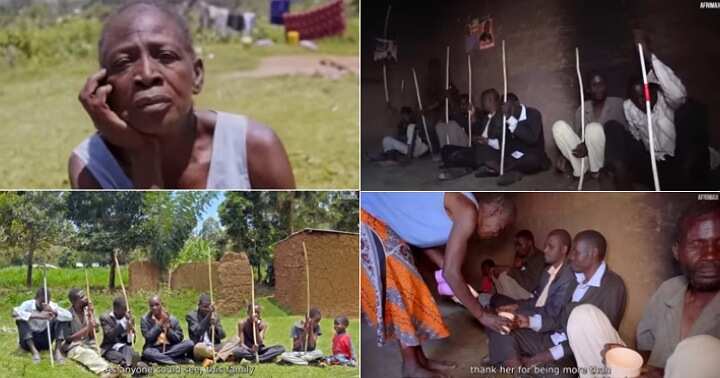 Afrimax English covered the story of Agnes Nespondi's life, which was shared on their YouTube and Instagram pages.
It was reported that her first child was born blind, and subsequently, the 10 other children were also born with the same condition.
PAY ATTENTION: Follow us on Instagram - get the most important news directly in your favourite app!
She revealed that after giving birth to her first two children, she continued hoping to give birth to a child who can see that will eventually help her take care of the other children.
Agnes' children are all grown up except for the last two, who are still kids.
In a touching video, she showed how she cares for all her children who cannot help themselves without her assistance.
The woman further lamented that she feels like the unluckiest mother on Earth due to her ordeal.
Reactions trail video of woman with 11 blind children
Subhanallah said:
"May Allah remove any burden that will be heavier than what we can carry. Ameen."
Olaephraim wrote:
"This is redemption of karma, she must have done something wrong in her previous earth lives, this experience was given to her to redeem her past guilt that she must have done out of ignorance or intentionally. Galatians 6v7.
This explains why we must all think good thoughts, good words and actions no matter what because in all these, we are sowing and must reap in multiple folds. We must learn to forgive, be kind to man and lower animals. We must keep the hearth of our thoughts pure always. May we all receive help and guidance in various times of need."
Adusky1 said:
"Underlying medical condition that needs to be investigated."
Realhabibaibrahim commented:
"Ya Allah, forgive us when we don't thank you enough, forgive us when we doubt your love. May Allah have mercy on us all."
Ademigunle said:
"Dear God forgive me for my ignorance and inadequacy when I complain about my children attitudes and behaviour which I am sure that they're getting better on everyday."
Dr._kn added:
"Someone must have cursed her. Remember the movie "alani pamileku" was a true life story."
Iam_sabsab added:
"Who realise that the children are all males, omg this is so sad plus who will help when she is gone."
Zeextwax remarked:
"This is pure demonic afflictions."
Watch the video below:
Blind woman with jaw-dropping beauty
Meanwhile, Legit.ng previously reported that TikTok users have fallen in love with the video of a young pretty girl who is blind. The video was posted by @tusaiweyana, a 23-year-old lady who runs a charitable organisation that looks after orphans.
In the video, the beautiful girl was seen trying a new dress given to her by the kind lady who called her her daughter. After she put on the dress, she posed for the camera as she affirmed that she was a beautiful girl. She smiled broadly when she was praised by the person behind the camera and told that she looked wonderful in the new dress.
Her smiles and the way she carried herself amazed some people who said her beauty buried her blindness. Others who reacted to the video on TikTok said they wished the girl could see so she would know how beautiful she looked.
Source: Legit.ng