"Parents Pls Go Through Your Kids' Books": Nigerian Lady Cries Out Over Images Found in Children's Textbook
A Nigerian lady has urged parents to be vigilant as she raised an alarm over what she found in a textbook for children
The page she shared explained what a family is and used different images to showcase its different forms
While some netizens downplayed the lady's alarm, others thought it was a serious issue that should not be overlooked
A Nigerian lady has taken to social media to notify people about the disturbing illustration she came across in a textbook for kids.
The Facebook user, Omenka2hot, advised parents and guardians to occasionally go through their kids' textbooks.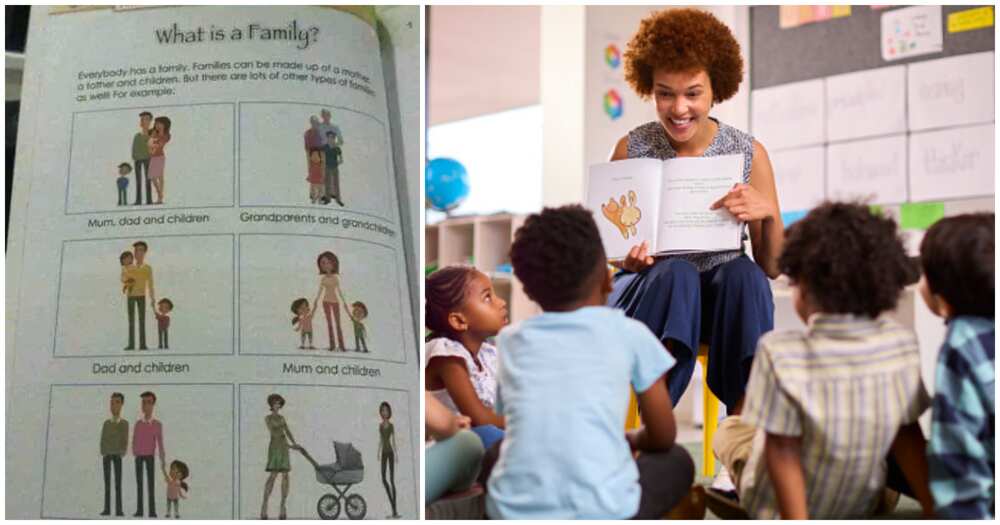 She wrote:
"Sometimes please make out time and go through your children's textbooks because I don't understand what this life is turning into.
"What is this now."
The page she posted used images to describe the different forms of family that exist.
The first image was that of a man, a woman and two kids, followed by another showing grandparents and grandchildren.
The last two images showed two dads and a child and two mums and a child as other forms of family.
People react to the children's textbook images
Agu Prettyjane said:
"There is nting hard dere ,we have nuclear ND extended family,so dat picture will make d children to understand faster..
"Dat nuclear now is made up of father mother ND children.
"While extended is made up of grandparents neice nephew etc.
"Wen dat sons grows to get married ND had a child ,he becomes a father's ,das just an illustration."
Chidera Fransisca said:
"I saw one that described love making as when mum will lie down and dad lie on top of her........
"I don't really remember the rest they wrote they. But honestly what they write is not meant for children at all. And it was meant for primary 2 pupils ooo."
Saintmexic Kingsley said:
"Promoting the libra agenda...is insane ..why will there leave the natural ...
"What have two dad's come to do in family?
"Can two dad procreate?
"Can two mum procreate?
"The publisher will loss in Africa.woked people everywhere."
Margaret Ogbonna said:
"They get angry when you try to talk about Jesus. They say you're shoving Christianity down their throat but now they are trying to shove their ways of life down peoples throats and when you refuse they'll call you homophobic.. God Abeg."
Nwoda Rose Rosita said:
"If you like teach them your own ways. If a child is determined to go astray nothing will change them except God and prayers.
"If you all are against the book, go to the publisher and sue him/her end of story."
Nigerian woman in Germany laments over what a teacher gave her child
Meanwhile, Legit.ng reported that a Nigerian woman abroad had cried out over what a teacher gave her child at school.
Showcasing the device on TikTok, she said she found out about it after seeing something producing light on her daughter's shirt.
When she asked her daughter, the kid told her it was courtesy of a teacher. She said the teacher told her to hang it to protect them from thieves. According to the kid, the teacher said the device would aid in apprehending any thief that shows up at the house.
Source: Legit.ng