Owerri postal code full list by area
Owerri is one of the famous places in Nigeria. It is known as the Eastern Heartland. It is also popular because it is the Capital of Imo state. Are you looking for the full list of Owerri postal code? Well, this article is providing a comprehensive list of the postal code for Owerri.
Owerri zip codes are also referred to as the Owerri postal codes. Some individuals may also refer to them as the Owerri postcode.
The zip addresses in the capital of Imo state range according to the region. Due to this, the Owerri postal codes for districts in the northern part of this area will differ from the Owerri postcodes of those in the western region. The differences have left many in a maze trying to figure out which postal code Owerri is for what region.
Owerri municipal postal code
There are multiple areas within Owerri, Nigeria. The several localities make up the Owerri Imo state postal codes. Here is a full list of the zip addresses for certain areas within this region, which are also known as the Owerri Imo state postal codes:
Umueche — 460261
One of the areas in Owerri is Umueche. The zip address of this area is 460261. It goes to mean that the following locations in Umueche have the same code:
Amaigbo St.
Edede St.
Emekuku Ln.
Emmanuel College L/out
Enwereji Ln.
Housa Qtrs.
Nekede Td
NEPA
New Market
Nworie Stream
Ogugba
Old Market Rd.
Oparanozie St.
Orlu St.
Osina St.
Rotobi St.
Royce Rd.
Uche St.
Umezuruike St.
Aladinma Estate — 460231
Aladinma Estate is another area in the Capital of Imo state. Its ZIP is 460231. Here is a list of regions using the same address in this Estate in the capital of Imo state:
Afikpo
Amaze Njoku
Arochukwu
Arugo
Egbema
Etiti
Ezioha
Lake Nwaebere
Mbano
Ngor Okpala
Ngwa
Oguta
Okeikpe
Umuahia
Uzi Layout — 460241
The postal code of Uzi Layout is 460241. Here is a list of areas in Uzi Layout using this zip code:
Amadi
Amaram
Amaram Ext.
Anokwu
Chidomara
Chikwere
Christ Church Cl.
Egbu Rd.
Ejiaku
Ekeada
Ihugba
Izii Ln.
Kagba
Lagos St.
Madumere
Mbaise
Mere
Odor
Odueze St.
Oguoma St.
Okorie Rd.
Onumiri St.
Onyeche
Oparaugo
Oyima
Ozubi St.
School
Tetlow
Ukaegbu St.
Zander
READ ALSO: Full Nigeria postal code list for all 36 states
Aladinma Northern Extention — 460232
Aladinma Northern Extention entails another postal code within the capital of Imo state region. It includes areas such as Fair Child, Isikwuato, Configuration, Waec, and Other unnamed Rd.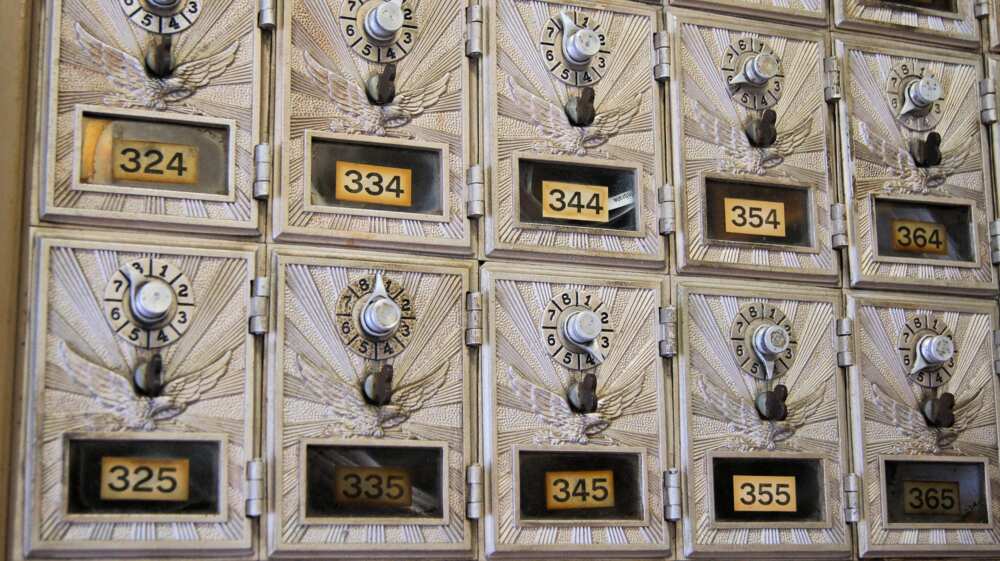 Bishop Court
Configuration
Fair Child
Isikwuato
Other unnamed Rd.
Waec
Ikenegbu Layout — 460242
The postal code of Ikenegbu Layout is 460242. The address covers several areas such as:
Akwa Ibom Market
Baptist Church
Cementry
Chukwuma Nwonadi
Dan Anyia Stadium
Egbu Rd.
Ekwema Cr.
Govt. Trade Centre
IIC Yard
MCC Uratta Rd.
Wetheral Rd.
Umuodu — 460243
The postcode or this region is 460243. The address covers regions in Umuodu, such as the following:
Abatoirs vet office
Assumpta Primary/Nursery
Fire Service Station
I.B.C compound
Imo Newspapers
Old Aba Rd.
Tanmeri Stream
Timber Market
Umuoyima Emmanuel College Layout — 460251
Umuoyima Emmanuel College Layout has a zip address of 460151. The zip address covers regions such as:
Aba Rd.
Nekede Rd.
New Market
Nworie St.
Old Aba Rd.
Tamari Stream Area
Ubochi St.
Nekede — 460262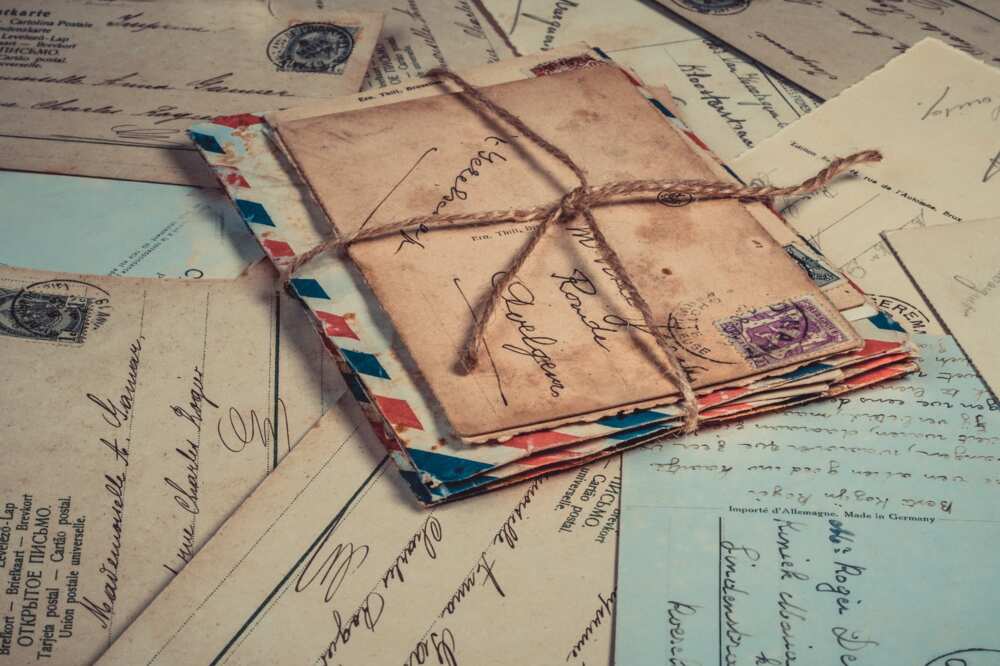 The postal address of Nekede is 140262. The following are regions that use the same postcode:
Nekede Rd.
New General Hospital Rd.
New Owerri — 460271
There is a tendency of most residents within the capital of Imo state to confuse the postal code of New Owerri with that of Owerri west postal code. The two are very different. The postal code of this region is 460271. It covers areas such as:
I.T.V.
New General Hospital
Owerri Girls Secondary School
Port Harcourt-Owerri Rd.
Qworld Bank Housing Rd.
Arugo Layout — 460281
There are multiple regions that use the zip address of Arugo Layout, which is 460281. They entail areas such as:
Akajiaku Estate
Alvan Ikoku College of Education
Chief Magistrate Court
Euason Ind.
Federal Medical Centre
Fuason Estate
Holy Christ College
Life Line Assembly
Mobile Police Post
Motor Park
Onitsha Rd.
Orlu
State Secretariat
State High Court — 460211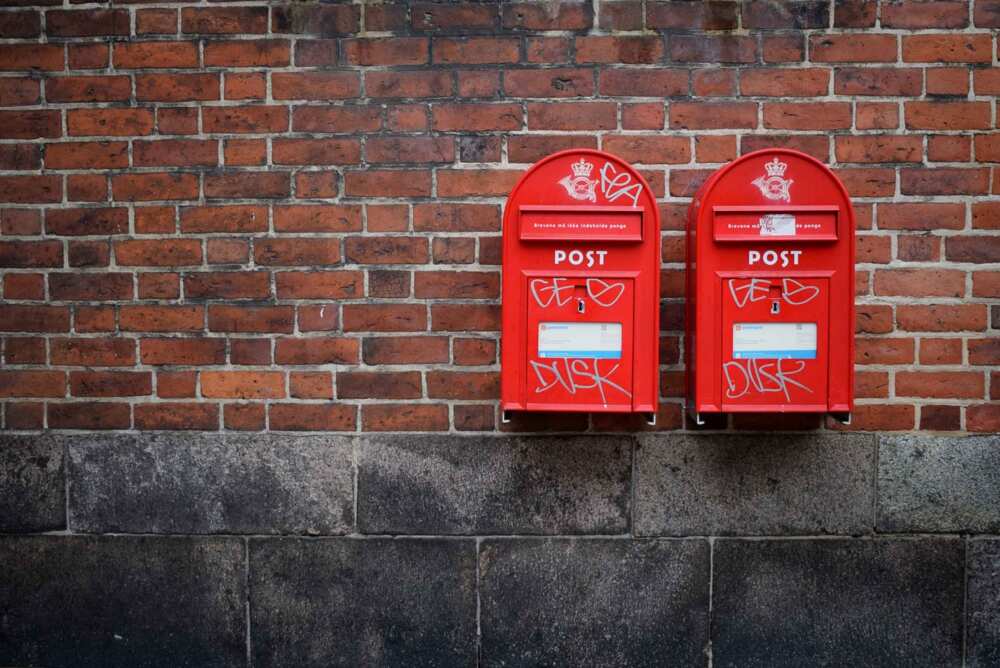 The postal code of State High Court is 460211, and it covers regions such as the following:
Assumpta Ave.
Cabinet Office
Govt. Secondary School
Modotel Ln.
Mosque
Motherless Babies Home
Nigeria Prisons
Police Qtrs.
Shell Camp
Staff Qtrs.
State House
State Police Headquarters-Clerks Qtrs.
Imo State University — 460222
The address of Imo State University is 460222. It covers regions such as:
C.S.C Secretariat
Isreal Nwoba
Mbari St.
Ngozi Hospital
Ikenegbu Hospital
Ohaozara St.
Okigwe Rd.
Owerri club
SAMEK Road
Ugwu Orji — 460213
Ugwu Orji has a ZIP of 460213. The address is used by regions such as:
All other unnamed St.
Okigwe Rd.
Samek Rd.
Works Layout — 460212
460212 is the postal code of Works Layout. The zip code is used by various institutions and locations:
Convent Nursery
FSP Nursery/Primary School
First Avenue
Fourth Avenue
Madonna
Orlu Road
Second Avenue
Shoe Industry
Sixth Avenue
Third Avenue
Works Road
Zonal Agric
Amawom — 460221
The postal code of Amawom is 460221. Regions using the postal code of Amawom are numerous:
Ajoku
Alaenyi
Douglas
Enwereji
Ekeonunwa
Erekwerenwa
Iheanocho
Ironsi
Mann
NITEL
Njemanze
Njeribeako
Njiribeako
Nwaodo
Odu Agu
Okorie
Old Market
Old Stadium Ln.
Onumonu
Osuji
Post Office
Tetlow Rd.
Uratta
Owerri North postal code
In the northern part of the capital of Imo state in Nigeria, the ZIP plus four are as follows: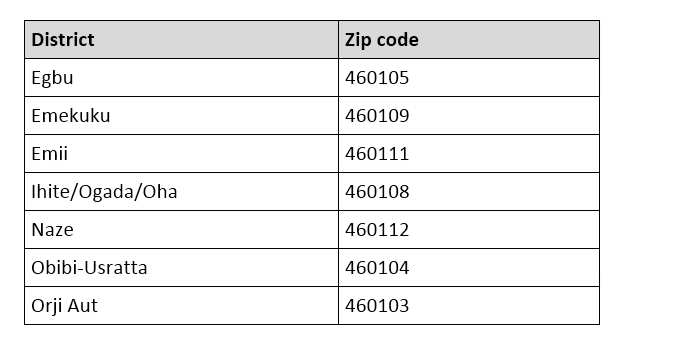 The several Owerri postal codes arise from the fact that Owerri is made up of different regions such as Umuodu, Aladinma Estate, and Nekede. Hence, anyone looking for the zip code of the capital of Imo state should not just select that of Nekede, for example, and assume it to be for the entire capital.
READ ALSO: How to write an informal letter: format and samples
Source: Legit.ng