"Go Girlie": Little Girl Holding Apple Dances and Twirls With Big Smile, Video Goes Viral
A delightful video of a young girl enjoying an apple while dancing to a catchy tune has gone viral
The girl displayed her passion for dancing as she moved along with the music in the background
Her mum revealed in the caption that her daughter has always loved dancing since she was a baby
A video of a young girl dancing with an apple in her hand has captured people's hearts.
The adorable clip showed the girl's enthusiasm for music and fruit as she grooved to a catchy tune.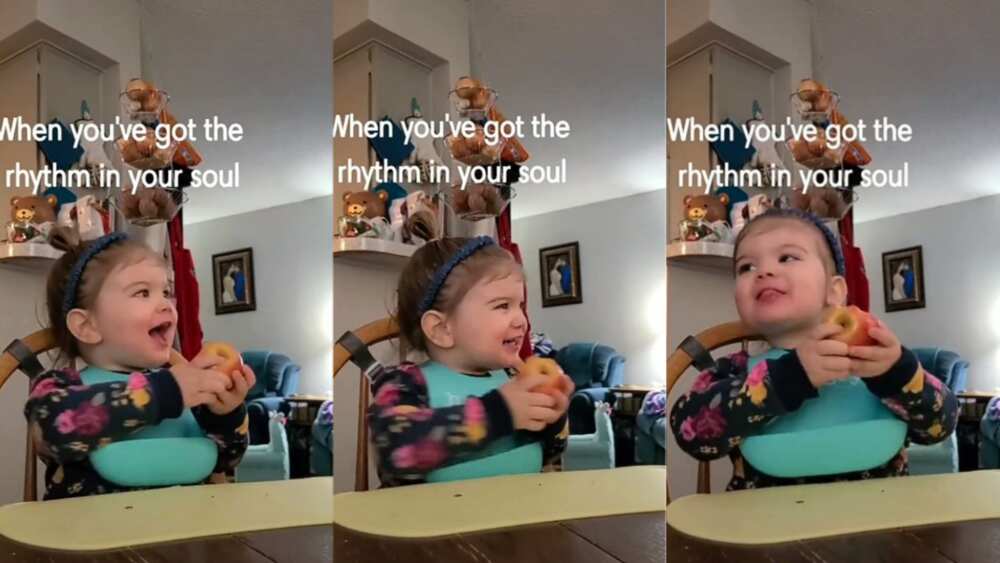 The girl's passion for dancing
The video was posted by the girl's mum, @saratp87, on TikTok, who revealed that her daughter has always had a passion for dancing since she was a baby.
The video has received likes and comments from people charmed by the girl's performance.
Positive response from viewers
Someone praised her for her energy, confidence and talent by saying "Go girlie" in the comment section.
The video is an example of how social media can be used to showcase the talents and personalities of children, as well as to inspire and entertain others.
Find the video below:
Little girl teaches her mom Kilimanjaro dance moves
In a related story, Legit.ng reported that a heartwarming TikTok video of a mum and daughter bonding over the Kilimanjaro dance moves had captured the attention of many viewers.
The adorable clip showed the young girl patiently teaching her mum the intricate steps of the popular dance challenge that requires coordination and rhythm.
The mum tried her best to follow her daughter's instructions and mimic her movements but struggled to keep up with the fast-paced and complex dance.
Little girl effortlessly does trending Kilimanjaro dance moves
Similarly, Legit.ng reported that a little girl filled with the talent of dancing attempted the Kilimanjaro dance move and was able to do it effectively.
The short video comprehensively displayed the girl's amazing dance moves, which projected that the kid would be an awesome entertainer.
Even though it was not more than a few seconds, the girl tried all kinds of moves that portrayed she was following the trends.
Source: Legit.ng