"Wish I Never Gave Him that Car": Mum Loses Son to Accident after Gifting Him a Ride, Video Breaks Hearts
A heartbroken mother has cried on social media after her son,, unfortunately lost his life in an accident
According to the woman, she had given her son her car to drive after he crashed his first car some time ago
In the sad video shared via TikTok app, she painfully regretted giving him the car as it led to his untimely death
A mother broke down in tears after receiving a call from a medical examiner informing her that her son was dead.
The poor mother instantly regretted giving her son her car which got into a fatal accident that killed him.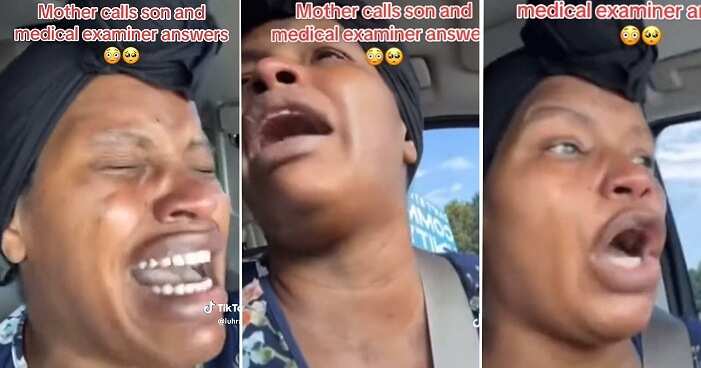 According to her, the young man had crashed his first car and in her quest to make him happy, she gave him hers to drive.
Sadly, the young man got involved in a fatal accident and was pronounced dead by the medical examiner.
"My son crashed his first car and I wanted him to be happy so I gave him my car and I wish I never gave him my car cause he used this car to take his life", the woman lamented.
Social media reactions
@jennyines43 said:
"I remember her getting the call my heart broke for her and still does I can't imagine her pain."
@katherineb82 wrote:
"Very sorry that happened, it's not your fault. When a person decides to end their life the only thing that can stop them is God himself."
@bbleflair commented:
"I'll never forget his video. The screams. where I was the day. I'm so sorry Mrs Baxter."
@saysoulja reacted:
"I could imagine all the guilt she has, from just trying to make her son happy."
@camtrippy commented:
"So sad she has to find a way to blame herself it's not her fault some things just happen in life with no explanation."
@anacasarez1 added:
"Momma he would've found a way, I tried to save my son and I failed. don't do that to yourself. GrievingMoms."
Watch the video below:
Mum cries out after opening late son's room
Meanwhile, Legit.ng previously reported that a grieving mother could not hide her pain after opening the door of her late son's room. In a video, the sad woman revealed that she planned to enter his room days after his demise, but her heart failed her.
According to her, as soon as she opened the door, she began to shake and feel so much pain. This made her shut the door immediately and leave the room.
Sharing a video of the moment via TikTok, she said: "I took the keys to open my son's room after he passed on. I thought I was strong but I wouldn't enter. I felt shaking and painful. It's still not easy."
Source: Legit.ng