Illegal mining: Outrage as Nigerians Seek Stop to Miners' Activities in Osun, Lagos
Nigerians on social media have called on the government to checkmate the activities of illegal miners in Osun and Lagos
Amid outrage, the protesters cited environmental pollution, among other havoc wrecked by the Chinese miners
Efforts by the government seem not to have stopped the miners as communities in Osun still battle with encroachment
In what can be described as a spark of consciousness against environmental pollution and alleged extortion, many Nigerians on social media have protested against "illegal mining" in Lagos and Osun communities.
Expressing their displeasure through the Twitter hashtag #StopChineseIllegalMining on Sunday, May 28, the protesters stated that Chinese miners have made themselves lords on the Nigerian natural resources, which belong to the people and government.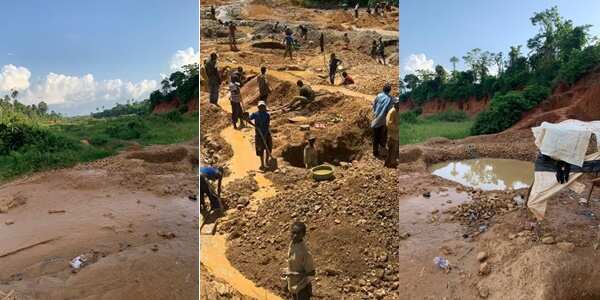 Protecting the environment
They also called on the necessary government agencies to check the activities of the miners at the China Civil Engineering Construction Company (CCECC) in Lagos and others in Osun communities.
"Marching with pride to protect our soil and environment. Chinese illegal mining has gone too far, and it's time to put an end to it. Together, we can restore balance," a tweet said.
Nafeesah Abdullahi, another Twitter user, tweeted:
"Let's take a collective step forward to stop Chinese illegal mining from spoiling our soil and ravaging our environment. Together, we can make a difference!"
"Stand up for what's right! Chinese illegal mining is a threat to our ecosystem. Let's fight back and protect our environment for future generations," @nygnotorious said.
LEGIT.ng recalls that many residents living in Osun communities earlier complained about the unlawful mining operations done by the Chinese which have continued to pose a tremendous risk.
In search of gold
In December 2020, residents of Opa community in Osun accused a team of Chinese miners of environmental abuse and encroachment on their land.
The miners, who were allegedly looking for gold, had purchased a small portion of land near a stream from a local chief.
However, they later expanded their mining activities to other parts of the community, digging close to some houses and causing damage and flooding, according to a report from Punch.
The residents said they tried to stop the miners but they were ignored and intimidated by armed policemen guarding the site.
One of the eye-witnesses had narrated the incident thus:
"When these Chinese miners first came, a colleague house owner saw them using a big machine to dig on a parcel of land looking for gold. We confronted them. When they didn't retreat, we started pelting them with stones. They were forced to retreat.
Futile effort to regulate the illegal mining activities of Chinese
Although the past Governor of Osun state Gboyega Oyetola, promised to regulate mining activities in the state in 2019, residents of the affected communities said it has not yielded much result.
The plan was to register all miners operating in the state to prevent crime and environmental degradation.
Three years later, residents are still complaining about the illegal activities and the untold hardship it continues to heap on them.
End of discussion as Oyetola congratulates adeleke
Meanwhile, Legit.ng previously reported that Gboyega Oyetola, the former governor of Osun State, has conceded defeat after the Supreme Court verdict that declared his successor, Ademola Adeleke, the winner of the July 2022 governorship election in the state.
According to The Tribune, in a statement signed by the former governor, he maintained that though the apex court's decision did not confirm the wishes of his supporters and party members, he accepted it in the interest of the state and peace.
Oyetola then urged the All Progressives Congress (APC) in the state, his supporters and those who voted for him during the gubernatorial election to accept the ruling of the Supreme Court as God's desire and move on.
Source: Legit.ng