71-Year-Old Breaks Record for Longest Time to Complete a University Degree, Spends 54 Years
71-year-old former lawyer and actor, graduated from UBC with a BA degree after 54 years of study
He is the new record holder for the longest time to complete a university degree in Canada
He received his degree on Thursday in a virtual ceremony due to the COVID-19 pandemic and congratulated his fellow graduates
Arthur Ross, a former lawyer and actor, has achieved a remarkable feat by graduating from the University of British Columbia (UBC) with a Bachelor of Arts degree after 54 years of study.
He is now the new record holder for the longest time to complete a university degree in Canada.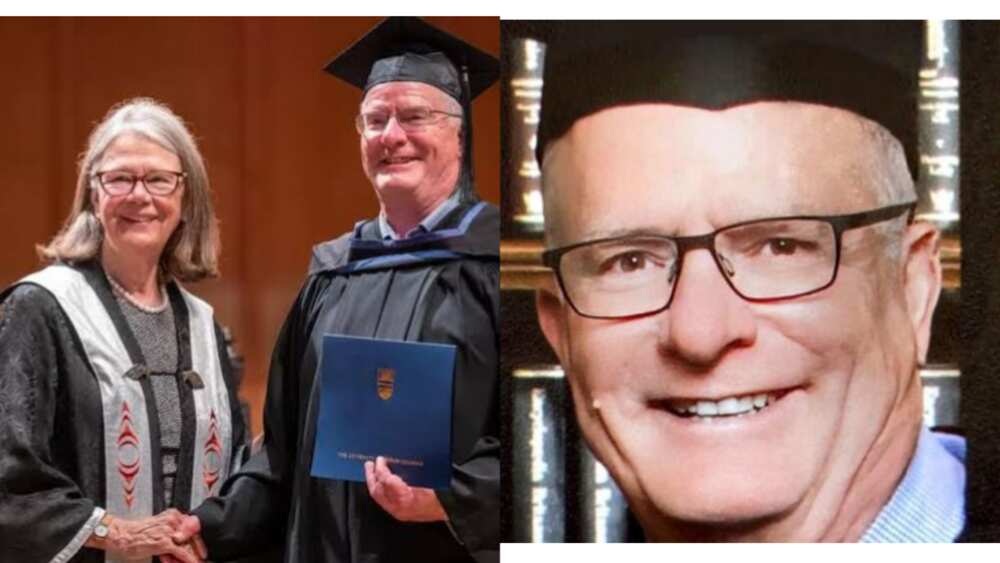 Enrolled in 1969
Ross, who is 71 years old, enrolled at UBC in 1969 with an interest in acting.
He left the institution to pursue a certificate from the National Theatre School and later switched his focus to law. He worked as a lawyer for 35 years before retiring in 2016.
He told the BBC that he always wanted to finish his degree and decided to go back to UBC six years ago.
He said he was motivated by a passion for learning and a desire to sharpen his brain.
He said:
"I have been to all of my children's graduations. My daughter says I really should go off and pursue a master's degree somewhere. I am pleased to have come this far."
Ross received his degree on Thursday in a virtual ceremony due to the COVID-19 pandemic. He said he was proud of his accomplishment and congratulated his fellow graduates.
He also shared some advice for anyone who wants to pursue higher education at any age.
He said:
"It's important to do the reports and the exams," he said. "It sharpens your brain. And it's a constant reminder that no matter how much you think you know, you don't know enough."
Ross's story has inspired many people online, who praised him for his perseverance and dedication. Some also joked that he should get a refund for his tuition fees, which have increased significantly since he first enrolled.
5 years after graduation, Nigerian man discovers school gave him wrong certificate
Meanwhile, Legit.ng earlier reported that a Twitter user with the handle @tarykuh has lamented bitterly after finding out that he graduated with a second-class upper division.
He claimed that he was issued a certificate with 2.2, which was a second-class lower division.
He discovered this when he applied and received his academic transcript from the university five years later, which showed the correct computation of his academic result.
Source: Legit.ng