"I am Still Waiting for the Perfect Man": 123-Year-Old Woman Says She Has Never Slept with a Man, Video Trends
Theresa Nyirakajumba has cried out online over her inability to find a man whom her heart truly beats for
The woman lamented that she has never been with a man in her life but she currently craves the attention of one
In an emotional clip posted via Afrimax English, she begged people to help her find a man who would accept to be with her
An elderly woman, Theresa Nyirakajumba, appealed to people on social media to assist her in finding a male companion.
In a video shared via YouTube, the old woman revealed that she has never been in a relationship with any man since she was born.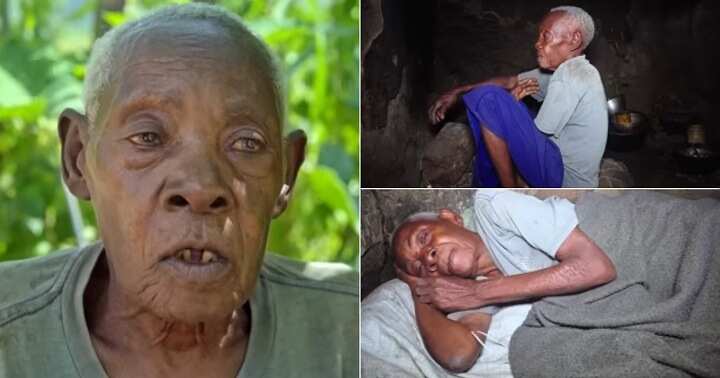 Speaking to Afrimax English, she recounted how she turned down suitors because she was waiting for the perfect man whom she would feel a connection with.
Sadly, that never happened and now, at 123, she is pleading for help in getting a man for herself.
Legit.ng has reached out to Afrimax English to confirm her age as María Branyas Morera still holds the Guinness World Record for the oldest living person.
She said in the video:
"I never had a husband in my entire life. Yes of course I am still intact.. I would think of it during my era but I won't take myself to any husband.
"My name is Theresa Nyirakajumba. I have never seen the nakedness of a man. For 123 years, I live with an unfulfilled desire, a deviant hope and a courageous spirit of waiting that one day a man will emerge and embrace my soul."
"At the moment, you can help me and bring me a man. When I was young I didn't want to associate with men and that prevented me from any potential relationship. I never developed love for any man."
Social media reactions
@Ir-of4zn said:
"She does not realize the wrong man will tear her down. She is healthy and mobile. I hope she will find a good companion because that is what she wants."
@chesterphiri7523 wrote:
"If "Purity" is a person then this Mama is one. Longevity alone is even more than the happiness she could have gotten from a man. Glory be to God."
@francine8905 commented:
"She has lived this long without a heartache how lucky. The reason she has 123 years it's because she has loved herself for herself. She just needs a good place to live really and maybe she hasn't got feelings for men."
@charmainerussell522 reacted:
"She really doesn't need one again, she just needs to get closer to her Maker, I wish I was like her."
@gillianwalcott1857 added:
"123 years old and want a man. She still got that kind of feeling for a man. She better go and serve the lord."
Watch the video below:
Nigerian man calls lady for a date
Meanwhile, Legit.ng previously reported that a young Nigerian man, @realflowerboy1, who makes prank videos employed the service of a man who can mimic the voice of Nigerian celebrities.
The prankster got a number of a lady who had been longing to meet Davido and called her. While she was on the call, he told her that Davido was looking for six ladies for his new music video. The man even put the fake singer on speaker, and the voice imitation was perfect.
When the lady heard the Davido-like voice, she was thrilled. She said she was available immediately. They gave the lady a location to meet up with them, and she had no problem with it.
Source: Legit.ng