"I Am Never Going Back Home": Pretty Nigerian Girl in Tears as She Ditches Family, Says They Damaged Her
A Nigerian lady has revealed how her life changed for the better after she took a bold decision to leave home
Being the last child, she was always depressed and almost lost her sanity due to the fierce way her parents controlled her
The young lady further noted that most Nigerian parents have no clue about how to properly train their child
A Nigerian lady has shared a heartbreaking story revealing how she almost lost her sanity while at home with her parents.
According to her, she was always depressed and sad at home, but everything changed when she left home.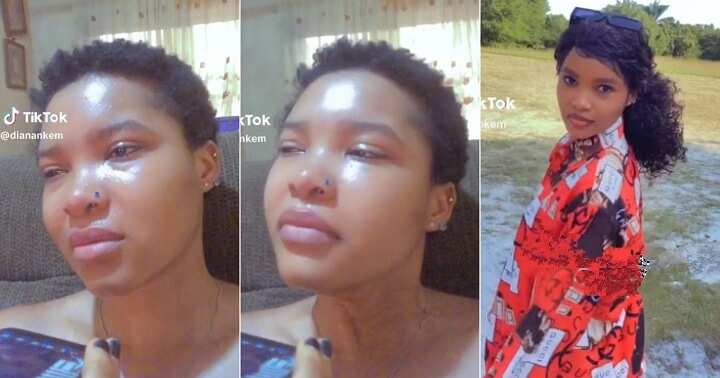 She reiterated that she will never go back home again because of the bad memories she had at home.
According to her, some Nigerian parents have no business in training a child as she was so depressed even as the last child in the house.
PAY ATTENTION: Follow us on Instagram - get the most important news directly in your favourite app!
The young lady also mentioned that her parents wanted to control her life but she is doing a lot better away from home now.
In her words:
"I'm never going back to home. I almost lost my sanity staying there, the fact that they know how bad they are damaging you and still act like they don't see it was the height of it.
"Most Nigerian parents have no business in training a child honestly. I was the last child and the most depressed, they tried to control my life so bad, I don't want to say much but now that I'm far from home, I've achieved a lot and yes my sisters blocked me, I don't care because they don't feed me."
Social media reactions
@_rukky_ wrote:
"I miss my elder sister. She moved out because she kept having issues with our mum, I begged her to stay but she said she'd rather be homeless."
@nonamebecausewhynot said:
"Truth is I can relate to this na long distance relationship fit me and my family o."
@vera added:
"I can totally relate, especially as the last born they just want to control our life."
@Claudine reacted:
"I don't feel like home when lm home I just want to finish school and leave."
@Mad Milito said:
"Omo as u take move from house come get better job come meet man wey get sense wey support u ur family will come back begging."
@shesaqwin1 added:
"Feeling dx way ryt now my parents just wan make me run matter nh 2 run away dy my mind lyk dx."
@Mama replied:
"Same here I really want to be away for them but mom and bro bcos they are draining me mentally but j am scared of people saying "she" abandon her mom."
@Pretty commented:
"My darling keep making yourself proud, one day they will finally get to see and accept you for who you are."
@sweet Akwaibom girl added:
"I can relate. Same thing with me, Home is really toxic I plan of leaving one day."
@Candy said:
"That's literally what I'm going through, I'm almost out of my mind now, always bittered I'm really tired."
@Beatrice Michaels wrote:
"I relate fully dear my elder brother once told me I won't be useful till I come back begging but guess what doing so good way too better."
Watch the video below:
Lady recounts how her mother ruined her childhood
Meanwhile, Legit.ng previously reported that a Nigerian woman holding onto an unfortunate trauma finally let it off her chest for healing. While speaking to Brekete Family Radio, the lady revealed she caught her sleeping with another man when she was only six years old, and the memory has not left her.
The woman vividly painted the scenario indicating that she knew what happened at the time. The woman went on to say that whatever to a child while she was growing up can have a long-term influence on how her life is shaped eventually.
"Whatever happens to a child that is bad, she never forgets. But it is possible that if it is a good thing, she may forget." The lady spoke with clear and sharp certainty without mincing words, a testament that it may be a factual experience.
Source: Legit.ng