"He Dumped Me Because I Didn't Flush Toilet": Lady Who Travelled to Abuja to See Online Lover Weeps
A sad video of a young woman opening up about her indiscretions at her lover's house has gotten tongues wagging
The young lady recounted that she had been single for a very long time, and out of desperation, she decided to try an online dating app
When she finally connected with someone on Tinder and went for a visit, it didn't go as well as she had hoped
Visiting a friend or partner initiates some form of confidence and comfortability in one another.
On the first visit, people try as much as possible to be courteous and make and leave a good impression.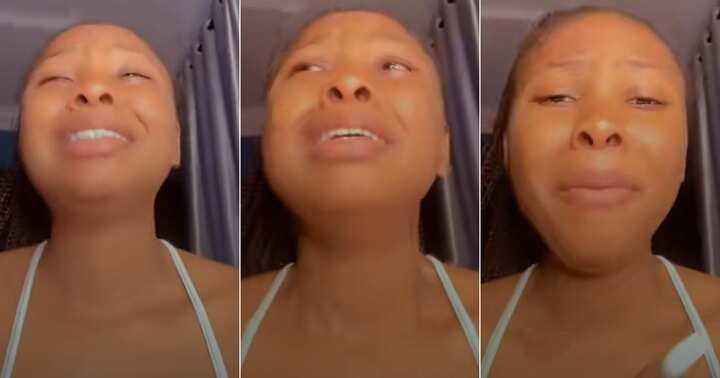 A Nigerian lady has broken down in tears as she narrated how her online lover dumped her after her first visit to his house in Abuja.
The lady said she never had a lot of luck dating people physically, so she tried the option of online dating.
PAY ATTENTION: Follow us on Instagram - get the most important news directly in your favourite app!
She downloaded an online dating app, Tinder, uploaded her profile and was matched with some guy in Abuja.
After chatting online for a while and becoming an item, he pressured her to visit him in Abuja.
The date was going well until she was pressed and needed to use the restroom. She inquired about his facilities, and he pointed to the restroom.
Unfortunately, she forgot to flush the toilet after she was done and eventually went home. At home, she wondered why the guy did not call her again.
The next morning, after using her toilet at home and flushing, she remembered the incident at the guy's house and understood why he became silent. She recounted the entire experience in tears.
Social media reactions
@Precious.ty wrote:
"Update from him please. Sorry bout that though."
@A commented:
"You have every reason to cry sis."
@Olachi commented:
"Jesus is Lord!!!"
@_mideriyo wrote:
"At first I was like why is she crying, now I understand the tears, I would be weeping too."
@Inioluwa commented:
"The cry is necessary."
@Mimi commented:
"Not me in someone's man house toilet...I hope I don't watching this forget to flush."
@Toro commented:
"I'm sorry you had to go through this."
@Julybaby commented:
"Tinder won't kill us o."
@Amaka exclaimed:
"Ah?!!"
@Kenora commented:
"Wahala!!!"
@grand_ameen wrote:
"Pele my dear. see the importance of flushing bayi."
@Dave commented:
"What is all this?!?"
@kodexbond commented:
"Na you use your hand do yourself."
@Tk cadet. commented:
"You need to cry more, you ain't crying. I'm crying with you enough yet."
@Amiratubaby exclaimed:
"God abeg oo!!
@AMEH JOHN wrote:
"Dam you made me laugh real hard. don't worry it was not ur fault, the guy no get better toilet."
@Vanessa Mei wrote:
"Me am a werey ohh I will call him and tell him to help me flush it that I forgot or that same time I flushed it didn't go, I will tell him."
@Your street girlfriend commented:
"I want to sympathize with you but this is really funny."
Watch the video below:
Lady cries out as online lover visits her for the first time
Meanwhile, Legit.ng previously reported that a frustrated young lady has revealed how her first meeting with her online boyfriend shattered her heart.
According to her, she decided not to travel for the holidays because her online boyfriend was coming to see her. However, she regretted the meeting as she discovered the young guy was broke and not as wealthy as she thought.
She lamented that the boy had bought her a rubber wristwatch without a fancy bag. Sharing the story on Twitter, @success3535 wrote: "So my friend decided not to travel for the holiday cos her online boyfriend was coming to see her and this was the outcome."
Source: Legit.ng