"Don't Run": Video Shows Black Kids Running Away as White Lady Offers Them Handshake, Stirs Reactions
It was an unsettling moment for some black kids after their close-up encounter with a white lady
The lady spotted the boys and offered them a handshake with a smile on her face, but something funny happened
Without hesitation, two of the boys funnily took to their heels like people who had seen a ghost
A video of black kids taking to their heels after a white lady offered them a handshake has stirred mixed reactions on social media.
The lady who sported an African dress saw the kids and put up a welcoming countenance as she stretched out her right hand for a handshake.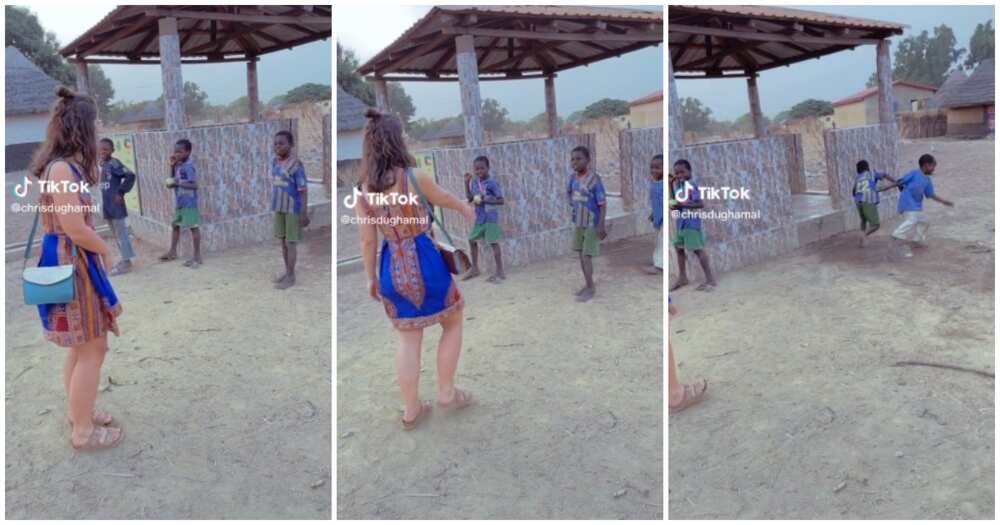 To her surprise, two of the kids took to their heels, leaving her hand hanging. Two other boys, however, received the handshake.
Some netizens commented on the kids' behaviour, saying their reaction was expected and like that of African forefathers when the whites came to the continent many years ago.
Others found the lads' reaction funny. The TikTok clip has amassed over five million views.
Watch the video below:
Social media reactions
user8805644804140 said:
"What the two boys did is what our 4 fathers should have done."
Banderas said:
"The whole African continent, it is only in South Africa where there are a lot of white people excluding north Africa."
missBoldness said:
"Murife don't run."
young_gucci_gang said:
"They started with a handshake and then took Africa."
AbdulHackBM said:
"Ronaldo is always the goat. No fear when wearing CR7."
Alatise Lackey Horla said:
"Na wetting our leader suppose to do that when they came is to run from devil."
Oyinbo kids admiring a black boy
Meanwhile, Legit.ng previously reported that a video of Oyinbo kids admiring a black boy had gone viral.
Apparently, the children were coming in contact with a black kid for the first time and they kept on checking if he was real.
One of the children, a girl, held his hands and smiled deeply while also trying to confirm if his colour can wash off.
At a point, another kid thought he rubbed chocolate on his skin and he immediately licked his fingers after touching the black boy.
Source: Legit.ng