"What Is Custard Doing there?" Mum Shares Video of Food Her Twin Babies Consumed in 10 Months
A hilarious video of a mother showing off the commodities her twin toddlers consumed within 10 months has gotten tongues wagging
The mother kept some empty containers, cartons and wraps of food that have been bought and used up
Sharing the video, she tagged a question in the video asking if people still wanted twins after seeing the video
Having a child is a blessing and having twin babies is regarded as double blessing.
A beautiful Nigerian mother decided to keep track of all that her twin babies have consumed since their birth.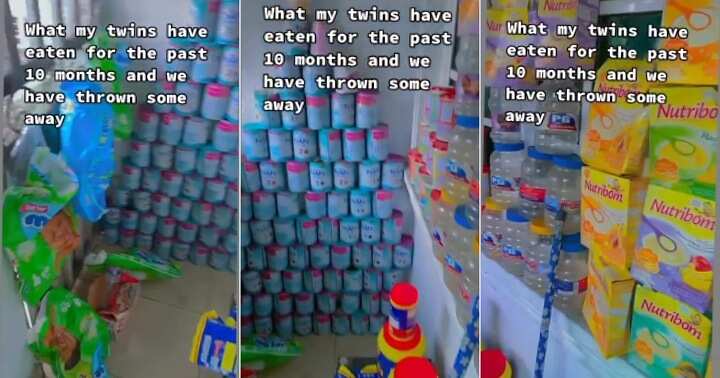 She used an unconventional system by safekeeping the empty cans, containers, cartons and wraps of the things they ate, drank and potted (diapers).
She kept them in a store room with shelves in an organised manner. Some of the branded products included Nan, P.G, Nutribox, Molfix etc.
She then recorded the storeroom showing off the contents therein. She said that all that were shown are things the twins used in 10 months and the products are quite a lot and their market value is quite expensive.
This was just some of the things that she kept as she admitted some have been thrown away.
"What my twins have eaten for the past 10 months and we have thrown some away", she said.
Social media reactions
@_adaorah commented:
"I did exclusive for 6 months and she switched to solids after plus brast milk.. bought enfamil but she didn't like it she's 14 months now and I don't think I've spent any money on milk.. she just eats normal food, vegetables and fruits."
@darksparkles_wrote:
"Yes I still want twins, one male boy and one female girl....Extremely IDENTICAL too please."
@_bhusayorr wrote:
"Money Dey ground I want Abeg."
@julihanah_ commented:
"GOD abeg o I don't want to imagine these tins as Enfamil containers o, Yomade thanks for coming alone."
@jennies_luxury1 said:
"What is custard doing there ?"
@hanty_gbemi wrote:
"Yes please!!"
@daradice___94 said:
"No I don't want twins, I want triplet."
@house_of_laviva said:
Thank God my baby dislikes baby food.. give her soup with swallow u will see that Abia baby In action.."
@ohmaskincare wrote:
"I can relate. My twins stopped brasting at three months. It was aptamill milk till they clocked one year. We switched to sma gold...Money wey person fit take build house They are 7 months old now. Boy takes only tea and cereal and chicken, premium picky eater. while the girl takes swallow, spaghetti and every local delicacy."
@lola9ja commented:
"Omo God continue to strengthen every parent financially ko easy."
@_jhaynee commented:
"Imagine the tins were enfamil.. God Abeg, my daughter thank you for coming alone."
@fatimayangchie said:
"Na only money kill am, and YES I still want because money no be problem."
@bennysouzamedia commented:
"Yup! Money no go be problem in Jesus name!"
@perfectjudy_stores said:
"Yes oooo in Jesus name Amen I will have twins oo. I want them 2 boys, 2 girls kpere."
@rehimatikharia wrote:
"The parent should be grateful."
@maryam_abdullahi_bello commented:
"Yes oh,no be food ?dem go chop dem go tire."
@afashionline_ wrote:
"My baby eats sma 1 tin maximum 3 days I no even bother store the can I just Dey throw dem out."
@mz_eddiey commented:
"I was asking God for twins till I gave birth to one, I started thanking God for not answering that twins prayer."
@petrolina commented:
"Imagine that milk to be SMA Gold or Aptamil ... Diaper is foreign Huggies (not the Red one o), baby Food is Friso or Cerealac or Gerber ...God abeg o."
@nwanyieze_wright said:
"I'm ready."
@leave8643 wrote:
"Yes more 5 twins 2 boys 2 girls."
@_adamazi commented:
"Yes I still want twins and will have them."
Watch the video below:
Mum sets trap for teachers eating her son's food
Meanwhile, Legit.ng previously reported that a Nigerian mother identified as @Dcounty93 on Twitter has accused her child's teachers of eating his food.
The woman said she always suspected that someone was eating the food of her two-year-old son whom she usually sends to school with a big flask. Knowing that her son doesn't eat unripe plantain, she packaged it for him in a flash and sent him to school.
Surprisingly, he still came home with an empty flask. "I packaged boiled unripe plantain and egg/vegetable sauce! Knowing fully well my son hates unripe plantain. Lo and behold brethren he came back with an empty Flask", she said.
Source: Legit.ng