Drama in Church as Pastor Takes Offering Box Outside, Does Giveaway With the Money in Viral Video
During a church service, a kindhearted pastor pulled an unexpected stunt that got many people talking
He suddenly grabbed the offering box and stormed out of the worship centre in a bid to show love to a man
Mixed reactions have trailed the trending video as netizens shared diverse thoughts on his action
A pastor caused a stir as he stepped out with the church's offering box during a service.
In a trending TikTok video, no one stood in the way of the pastor and congregants remained still as he moved out with the money.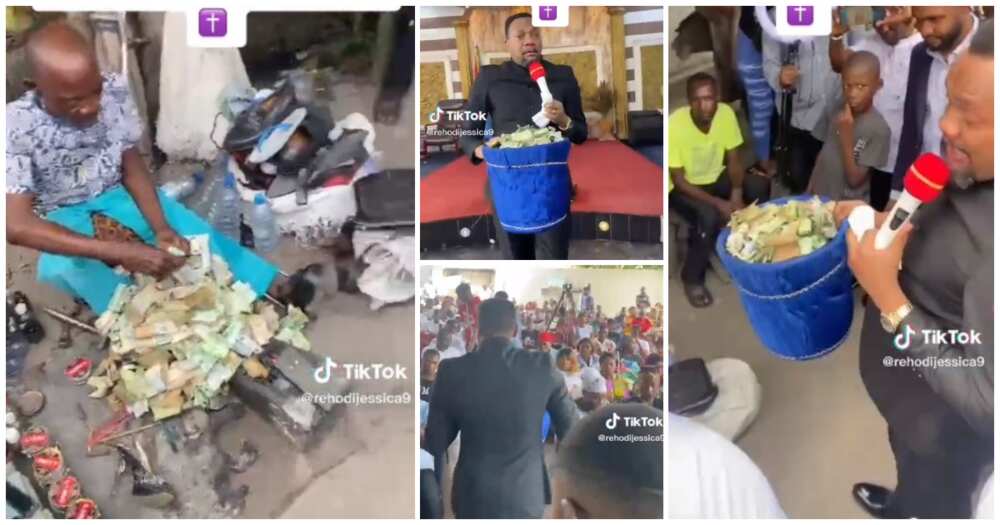 People believed to be ushers and protocol officers of the church followed him.
The pastor stopped in front of a man who engages in a business by the side of the church and poured the money before him.
The beneficiary of the offerings did not look stunned and straightway began to arrange the money. The pastor first told the man something in French before pouring the offerings.
Watch the video below:
Social media reactions
Des enfants hors paire said:
"Children But when your right hand gives something to a poor person, your left hand itself must not know it. Thus, this gift must remain secret..."
Lorenaparis18 said:
"You don't see the reaction of the man it looks like he was expecting that not even emotions from him."
Adolpheleleserieux said:
"But we will say the guy was waiting for the money he has mm no emotion and he. starts counting in mm time largent."
Pippen Tshokuda said:
"Example to follow, for me, you are the best pastor really! May your family and the faithful of your church bless a thousand times."
Jah said:
"But the reaction of the man is not correct, he is not surprised without reaction of emotion or other it is what interests him arranged first the money!"
Johyns Winner said:
"Only God really knows the intention of this pastor behind this gesture made and I ask the Lord Jesus Christ to elevate the life of the pastor."
Pastor slams church members for giving offerings of N100
Meanwhile, Legit.ng previously reported that a pastor had blasted his church members for giving offerings of N100.
The unidentified pastor who spoke in Igbo language frowned at the Naira denominations as he complained that they buy 20 litres of fuel for every church service.
With an arm stretched in an offensive manner towards the church members, he declared it a shame to whoever dropped such an amount.
Source: Legit.ng