"The Lion Is Here": Man Throws Out Wife and Children After Being Questioned for Coming Home Late, Video Trends
A video of a man throwing his wife and three children outside on a cold night has gone viral on social media
According to the sad mother, the man got furious and threw them out after she questioned him about coming home late
In the video, the man kicked the woman and their three children outside with their personal belongings
A sad video shared online shows a married man throwing his wife and three young children outside during the late hours of the night.
The woman carried her baby while her two older children stood and watched how their father threw their belongings out.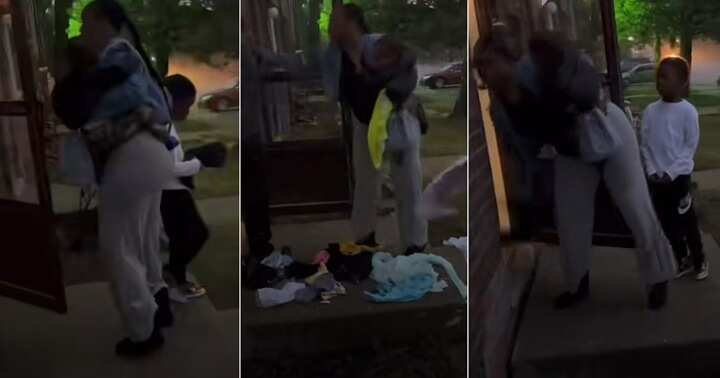 It was gathered that the man threw his wife and children out after the woman asked him why he came home late.
The heartbroken wife pleaded with him to give her keys and a jacket to cover the kids, but he paid deaf ears and banged the door.
"Give me my keys, give me my keys. Give me the goddam jacket. Stop all that, give me my keys. You got a problem because I'm questioning you. Give me my dam keys back. What!", she screamed.
Social media reactions
@MS.GIRLLY said:
"The kids will never forget this!!"
@Tauruspower wrote:
"Never let a man tell you more than once he don't want you."
@Marie added:
"Baby always have your own, this is crazy in front of the kids, I would leave and never look back."
@CPjustme commented:
"I felt that pain in her voice! Never let a person have the ability to throw you out and that's all u have. KEEP YOUR OWN NO MATTER WHAT."
@J Rodriguez reacted:
"Sometimes I realize how lucky my wife, kids and myself are for not having this kind of turmoil in our lives. Idk how a man can hurt someone like this."
@Ro wrote:
"We have to do better for ourselves and our children. He should be ashamed of himself; in front of children."
@Lady Thomas said:
"He out of line it's raining and cold them poor babies. Some men ain't sh.. so sorry you had to go through this main reason I secure my on bag."
@Outspoken & Unapologetic added:
"This, this is why I am cool with living alone. You have your place & I have mine. I've been through this. NEVER again will someone tell me to get out."
@sugafirecracka replied:
"His behaviour is a true sign that he's seeing someone else & they don't give a dam behaviour is a true sign for sure, Baby an APOLOGY is just not enough."
@kimberlywright697 said:
"This is heartbreaking."
Watch the video below:
Man laments as wife throws him out
Meanwhile, Legit.ng previously reported that a Nigerian man has posted a sad video of his wife packing his properties and sending him out of the house.
While sharing the video, the sad man noted that they both built the house together and he doesn't understand why she would be chasing him out.
Although he didn't mention what exactly led to her decision, he however noted that the lady wants to be in control of everything in the house. In the touching video shared on TikTok @menbesafe, he insisted that men should always be in charge.
Source: Legit.ng