"My Friends Call Me Naughty": Little Boy Reports to Mum in Emotional Video, Says He's Being Avoided in School
A mother has shared the predicament of her little son, whom she claims is not loved by his classmates at school
According to the mother, her son's classmates have been staying away from him because they believe he's too naughty
Social media users have reacted massively to the video, with some advising the mother to look into the situation
A little boy came home from school looking sad, and his mother asked him what changed his mood.
The sad kid revealed that he felt sad because his best friend in school celebrated his birthday, but he was not invited.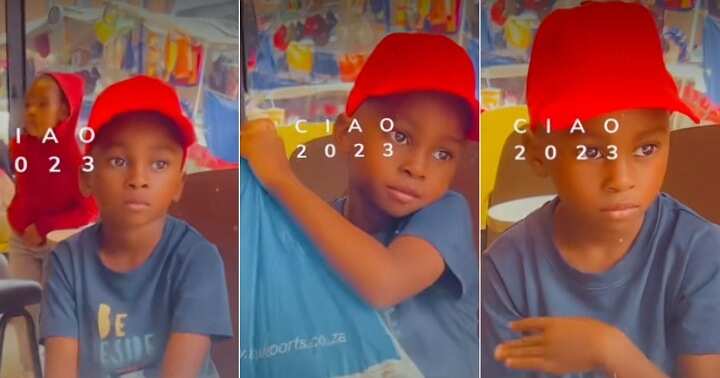 The little boy's mother revealed that her son's classmates often complain that he is too naughty; hence their staying away.
Sharing the video on TikTok, the mother said:
"Today is his best friend's birthday, but he was not invited. They said he's too naughty. My baby look so sad."
Social media reactions
@user4415736295864 said:
"I know it's tough and harsh but you can use this opportunity to teach him about consequences of our actions."
@queenscorpio_98 stated:
"I've been telling my son that if he can't listen around other people then they won't want them around."
@nique8934 commented:
"Ppl saying he just a kid but nobody wants to deal with a kid that don't listen or unruly especially in a party setting with other kids that's alot."
@caroltkkk stated:
"But let's be honest some of these little humans they can be handful sometimes n they can show off and embarrass you n be like they r not disinclined."
@lebomiya added:
"I always tell my daughter that if she continues being a handful around people or at their homes, she'll never be invited anywhere."
@nokwandasamukeli7 said:
"I did the same thing to my son friends they had their birthday first and did not invite I also did not invite them for his birthday."
Watch the video below:
Little girl complains that nobody likes her in school
Meanwhile, Legit.ng previously reported that a little girl got her doting father disturbed after returning from school in tears. The girl complained that she has been facing problems in school as her classmates dislike her and do not associate with her.
The worried father decided to take the matter up. He visited her school and talked with the classmates who confirmed his daughter's report. According to the classmates, they avoided the little girl because she was stubborn and their teacher instructed them to not talk to her.
Dexterouz11 who shared the story via Twitter said: "This man told me about his child always coming back home to report that everybody hates her in school. He followed her to school to find out the problem and the pupils said they don't talk to her because their teacher told them not to."
Source: Legit.ng