Naira Woes: Smart Young Nigerian Man Opens New POS Outlet in Lekki, Showcases His Manager in Fine Photos
A business-smart Nigerian youth has celebrated setting up a new POS outlet in Lekki area of Lagos state
The entrepreneur said he developed an interest in POS businesses in 2022 following a night encounter with Lagos touts
The 25-year-old highlighted some of the many benefits of the POS some people often overlook and how the business is the happening initiative in town
A young Nigerian man identified as Chukwuma Ezeh has excitedly announced opening a new Point of Sale (POS) outlet in the Lekki area of Lagos.
Sharing pictures he took at the location of the POS on Facebook, Chukwuma noted that there is a whole lot of money on the street but many people fail to tap into it.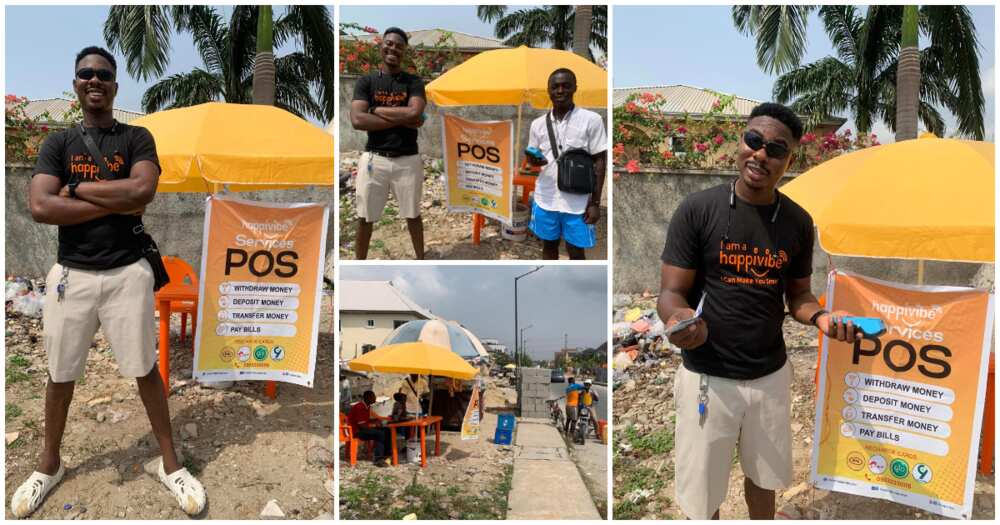 He showcased a young lad who will serve as the manager for this outlet.
The entrepreneur said he took interest in the POS business after an encounter with touts popularly known as agberos in Lagos back in April 2022.
He said after the incident, he realised that POS business is a lifesaver.
In a chat with Legit.ng, the CEO of Happi Vibes added that an observation he made in his new area in Lekki further solidified his interest in POS.
"There is a street in this Jakande. I counted the POS outlets. Just one street. I counted 40 POS outlets from that Jakande market to Jakande junction, first gate. It is crazy. In my own street where I stay, there are more than 20 if you check from Ologolo down to Igbara. Like, they are everywhere.
"Even people who sell groceries do POS business and still enjoy patronage. I did business in Onitsha and it made me think how it is possible that there are many POS outlets and yet they all still get patronage. Someone at the front of my age makes N8k on a bad day."
The 25-year-old maintained that POS has made banking easy and now serves as the bridge between the unbanked and banking services.
"POS made banking easy. It helped to reach the unbanked. That is the beautiful thing and with this cash crunch issue in the country, most of these POS outlets becomes the best means for the unbanked to access banking services.
"Also, it has created many jobs. It is feeding a lot of families in Nigeria."
It is noteworthy that this is not the first POS outlet the young man has set up. This is only an addition.
Social media reactions
Jessica Ndukwe said:
"I see you owning a Micro finance Bank really soon.
"Congratulations Sir, you're an inspiration.
"May God bless you."
Ibraheem-Abdulahi Rhomziah Adenike said:
"Hope money dey always dey for your shop sha?
"And your charges no too much."
Kizz Kenney said:
"Congratulations, my Oga....
"This is yet another step into greatness...
"Higher way is your way."
Ivy Matthew said:
"I've always loved POS agents with everything in me.
"Please be mine uncle chu chu."
Lady mocks her former school head boy who now does POS
Meanwhile, Legit.ng previously reported that a lady had laughed at her former school head boy after she saw him doing POS.
Mocking his hustle, the lady explained that she expected him to be doing better as he saw everyone back in secondary school as unserious people.
She wondered how he ended up doing POS despite his sound use of the English language. She wrote in a TikTok video:
"Omo I see head boy for my secondary school back then. Weyrey think say I don forget him face. With all the English for school back then, so na POS you go do last last weyrey."
Source: Legit.ng