Grandma in Shock as She Bumps Into Little Girl Licking Refrigerator, Video Goes Viral
A grandmother was amazed to catch her little granddaughter licking the refrigerator in the kitchen
In the funny video, the surprised grandmother confronted the little girl who stared at her like she had seen a ghost
Social media users have reacted massively to the video with several netizens sharing their experiences with kids
A grandmother has shared a funny video of her grandchild licking the refrigerator in the house.
In the clip making the rounds on TikTok, the woman said she bumped into the little girl as she carried out the act.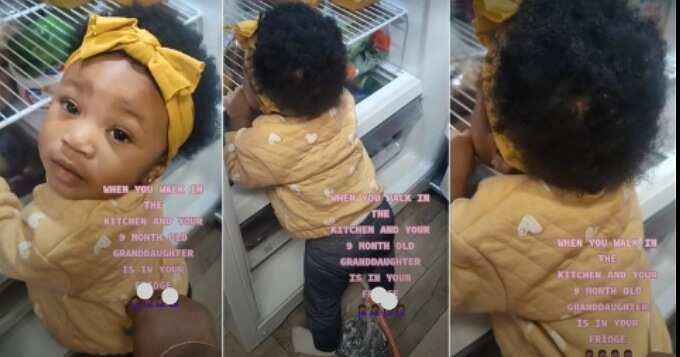 She confronted her and asked why she opened the refrigerator, but the little girl stared at her with a confused look on her face.
Her grandma said in the video;
"When you walk into the kitchen and your 9-month-old granddaughter is in the fridge. This is the stuff that I have to go through with my granddaughter.
"Look here. She just put my blueberries on the floor. Are your gums bothering you or something? Excuse me, what are you doing? Does that feel good on your gums? No! Can you please get out of my refrigerator?"
Social media reactions
@blissfulnesh said:
"Awww. she's teething. She's like yu rather this or me screaming at the top of my lungs."
@tonybobo04 wrote:
"Baby said "Any means necessary! It's getting my teeth ready for what's in this refrigerator."
@monstermobseafoodlc commented:
"I'm the client's attorney she's innocent It's soothing to her exhibit a reflects she is so intelligent and showing she can take care of herself!"
@dawn_jenkins5512 added:
"Ummmm miss, as grandma's we don't tell our grandkids no. My son says he never got away with the stuff I let my grandkids do and he's right!"
@shawnillia reacted:
"Lord help that baby it's clear she's going through a lot to go this far as using the shelves in the refrigerator to suk on."
Watch the video below:
Mum sees little daughter licking fridge
Legit.ng previously reported a similar incident where a funny little girl recently shocked her mother to the bones after entering the kitchen at home.
The little girl had gone into the kitchen in a hilarious video to open the fridge and lick the door. Her mother entered the kitchen and got shocked after seeing the little girl licking the dripping water from the door of the fridge.
The woman screamed in shock and her baby turned immediately and walked away as if nothing happened. Her face however showed a visible display of guilt.
Source: Legit.ng