"I Don't Brush on Sundays": Pretty Oyinbo Lady Shows off Her Teeth in Video, People React
A white lady has stirred massive reactions online after opening up about leaving her house without brushing her teeth
In the trending video on TikTok, the white lady was spotted on the road, well-kitted with a sweater on a winter morning
A lady asked if she had brushed her teeth, and in her response, she stated that she didn't brush because it was a Sunday
A funny video of a white lady who admitted to not brushing her teeth in the morning has gone viral on social media.
The white lady stated that although she felt ashamed to say that she hadn't brushed that morning, she still decided to say the truth anyways.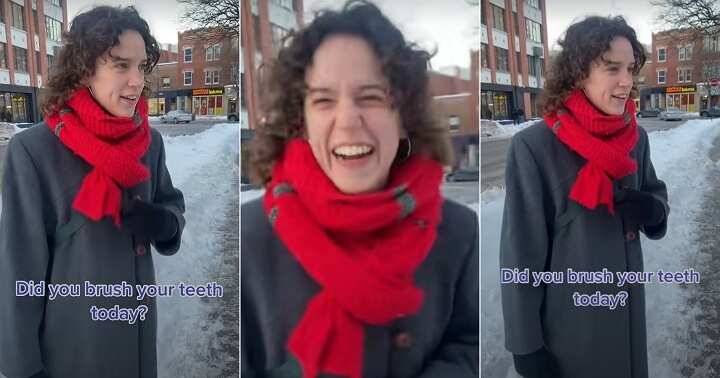 In the video, she rocked some body warming wears when someone stopped her to ask personal questions.
She was asked if she had brushed her teeth that morning and the lady spoke the truth that she hasn't.
In her defence, she made it clear that she did not brush because it was a Sunday morning.
Social media reactions
The video has stirred so many reactions from netizens.
@Alanna O'Grady reacted:
"She's so sweet and I love how she was honest cutie."
@selfobsessedscorpi0 wrote:
"That's why I never talk to strangers."
@higgside said:
"She didn't bathe either because it's Sunday."
@iisabellamyers wrote:
"And she said no with all that air."
@court reacted:
"I can't go 5 minutes with morning breath... wut."
@Naomi replied:
"Do we just not brush our teeth on Sundays? What's up with that?"
@LydiaCallsen said:
"Love her honesty."
@zeeeelalem commented:
"Y'all in the comments acting like you haven't skipped a day of brushing your teeth bffr."
@kokoshell wrote:
"How? Just how I can't live with myself without morning brush!"
@Sally Lynn added:
"at least she's honest about it."
@Eri said:
"I saw nothing but green air."
@Georgia replied:
"What does Sunday have to do with not brushing teeth omd."
@Stephanie Siu reacted:
"So people don't brush their teeth because it's Sunday?"
@becky king commented:
"didn't know sundays were an exception."
@skaiste virpalaite added:
"I only brush before I go to sleep once a day."
@Karolína Gaislerová said:
"I dont get It, much better feeling is to have brushed teeth."
@Zsanett wrote:
"She's says Sundays cause probably she meant she's lazy usually people relax on Sunday etc."
Watch the video below:
Lady who hasn't bathed in a month
Meanwhile, Legit.ng previously reported that a lady who claims not to have bathed in a month has caused a commotion on social media.
In a TikTok video wherein she made the revelation, the lady remarked that she is a living proof that one doesn't need to bathe every day to feel good. Her statement was criticised by netizens, with many doubting her claims and this made her respond in the comment section of the post.
Defending her video, the lady said not bathing every day helps save water in her area, which is experiencing drought. To make up for not bathing, she goes swimming. "Y'all I go swimming a lot so I guess that's technically showering. Also it saves water and Cali is in a drought," she wrote.
Source: Legit.ng