I Still Painfully Remember their Hands: Lady Calls out Her Former School over Sexual Assault 17 Years Later
A Nigerian lady Obiamaka Chidinma Azubuike has called out her former secondary school Olashore International School in Osun State over a sexual assault incident
In a letter dated Saturday, December 4, 2021, Obiamaka exposed the school for sweeping her sexual assault case under the rug 17 years ago
The lady who is seeking restitution and reversal of justice miscarriage wants her alma mater to publicly apologize to her stressing that she still painfully remembers the incident
The strange death of young Sylvester Oromoni at Dowen College seemed to have awakened a social media conversation about bullying in schools and given victims of such anomalies the strength to voice out.
The latest voicing out her ugly experience at her alma mater is a Nigerian lady identified as Obiamaka Chidinma Azubuike.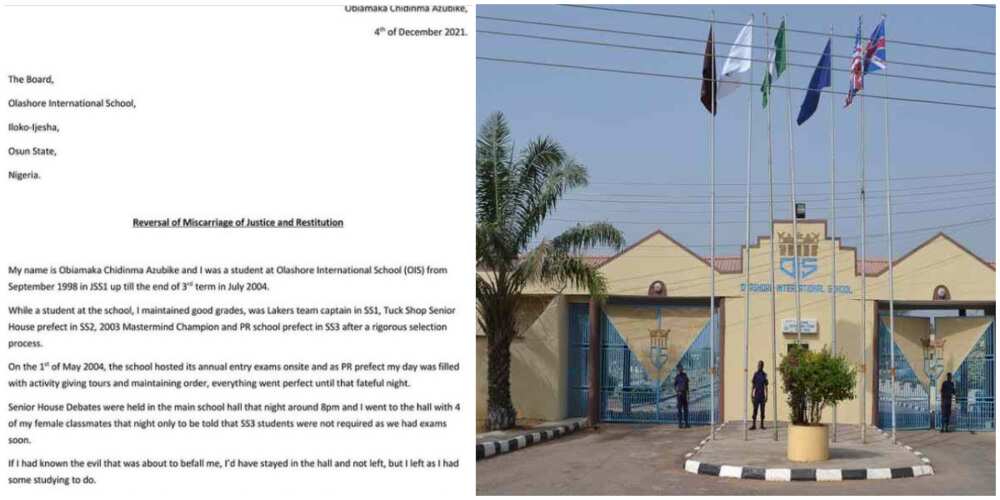 She accused her alma mater of covering up her sexual assault
The ex-student of Olashore International School in Osun State accused her former secondary school of sweeping her sexual assault incident that happened 17 years and 7 months ago.
PAY ATTENTION: Install our latest app for Android, read best news on Nigeria's #1 news app
In a letter dated Saturday, December 4, 2021, the distraught lady recalled how the incident transpired on March 1st, 2004.
According to the lady who claimed to be a PR prefect of the school in SS3, she had gone to the boarding school's main hall with 4 female classmates for the Senior House Debates only to be turned back on the premise that their presence wasn't required because they had exams forthcoming.
It was on her way back to her hostel by 8pm when the unfortunate incident befell her. Obiamaka said she was sexually assaulted by 13 male classmates.
The matter was reported to the school's principal and his wife who upon cross-examining her took her statement with promise to reach her parents.
She would later be attacked by a male student and punished on the assembly ground along with the other erring students.
She seeks a reversal of miscarriage of justice
The lady, in the letter seen on @datswasup on Instagram, wants the school to publicly apologize to her, along with her innocent friend who was punished, in print and social media.
Obiamaka also wants Olashore school to reinstate in their records that both she and the friend were school prefects.
Lastly, Obiamaka wants them to organize a Zoom ceremony where she and her friend are awarded the honours they earned.
Social media users engage in debate over the development
@stephnduka remarked:
"If everyone starts coming out to say the hell they went through in boarding house erh, there will be a need for them to be shut down. We have our stories, may our children never witness what most of us did back then."
@anitamartins313 wrote:
"I assure you that their lives can never be any better, maybe rich or well to do but one trauma or the other will be the order of their lives and those who dared cover the incident"
@akanke_fikayomi stated:
"My goodness! 13 boys? And she got punished for saying she was assaulted? Omo! 17 years and 7 months later, I'm sure they wouldn't even dream of this coming back. Guys, be good people, train your children and those around you to be kind and morally fit and have the fear of GOD. This is sad."
@mybeautyspaservices5413 opined:
"It's just quiet unfortunate, we always avoid saying it cos of the shame. But ladies should speaks out when molested. Or bully."
Mum calls out popular Christian boarding school for maltreating her son
Meanwhile, Legit.ng previously reported that a Nigerian mum had accused a popular Christian boarding school of maltreating her son.
In the video, Deborah's son who looked like he has not fed well for days, sat on a stool as he answered questions from his mother. The aggrieved woman then revealed that her son left home for school as a chubby boy. Sadly, he returned with symptoms of malnutrition.
Deborah said she had a dream where her son was always looking away whenever she wanted to look at him. She noted that she visited her son's school and saw that he was living in fear.
According to her, when she spoke to her son privately, he told her that he couldn't talk to her because someone would kill him.
Source: Legit.ng