Initiation or Induction? Nigerians React to Photos from Rivers State University Induction for Year 1 Students
Emerging photos from an induction ceremony that held in Rivers State University has sparked mixed reactions on social media
In the photos, freshmen of the department of theatre arts wore ritual-like clothings as they did a procession in the university premises
While some Nigerians hailed the practice which has become an annual thing in many campuses, others raised alarm that it is an initiation rite
The outfits of Rivers State University theatre arts department freshmen for their induction ceremony has sent the internet into a frenzy.
Photos from the occasion was shared on Facebook by a user identified as Timi Terry Doingz who hailed the department's president for organizing the occasion.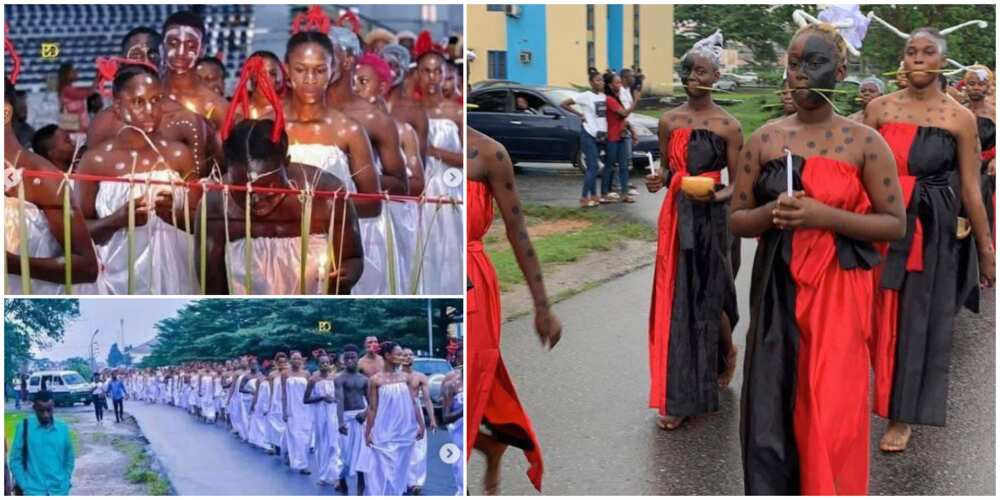 Their fetish like outfit
The freshmen made a procession round the campus in their weird outfits.
All male and female rocked wrappers. While some wore white wrappers, others had something similar that had mixed colours of red and black.
Like costumes used during fetish depiction in Nigerian movies, the students had white chalks on their bodies while some had black on them.
In another frame, a group of ladies on black and red wrappers had black chalks on them with palm fronds held in between their lips.
Social media users share their thoughts on the event
@duniyaisrael stated:
"It all started in UI. Initiated by the then HOD, who is an Ifa worshiper. UI had to review the exercise at some point and removed some element of the initiation that are questionable. My advice to Parents of such students is that there is more to it than meets the eye (induction). Parents should stand against it."
@_perez94 wrote:
"What do you mean initiation? Black people have been conditioned to think anything black is automatically bad and anything white is the way. If they were holding Qurans or bible would you have called it initiation ? What's wrong with ya?"
@whalletsl stated:
"Wahalaur parents, know what your children are studying ooo. Follow up abeg!!! This is crazy and they allowed this on campus? "
@mazy_uchenna remarked:
"Many of us did not grow up to meet this, hence it is strange to us. If culture and history can be taught in our schools this one won't have been anything to us. Some of us grew up to meet suit and tie plus bible. So, no blame us. But it is nice."
UNIZIK theatre arts students had stormed campus in creative outfits during induction ceremony
Meanwhile, Legit.ng previously reported that UNIZIK theatre arts department freshmen had caused stir with their outfit during induction ceremony.
In photos that were shared on Kampuztv on Instagram, the students were spotted in white, red and black costumes, they also donned on white powder on their bodies.
The first year students of 2018/2019 set who were initiated into the theatre art department paraded round in the campus in their costumes.
Source: Legit.ng