Video: OPM Apostle Chibuzor Chinyere Gifts Widow Cleaning Church Altar Brand New House
A widow, Mrs Patricia Iyere, has been gifted a brand new bungalow house in Port Harcourt by Apostle Dr. Chibuzor Chinyere
Apostle Chinyere, the founder of the Omega Power Ministries, was said to have also given the widow a car
The widow, struggling to pay her rent, was known for constantly cleaning the church altar at the OPM headquarters
Port Harcourt, Rivers - Apostle Dr. Chibuzor Chinyere, the founder of the Omega Power Ministries, has gifted Mrs. Patricia Iyere, a widow, a brand new bungalow house in Port Harcourt, Rivers State.
Apostle Chinyere's aide, Kenneth Nwachi, confirmed this via a statement issued on Monday, September 18.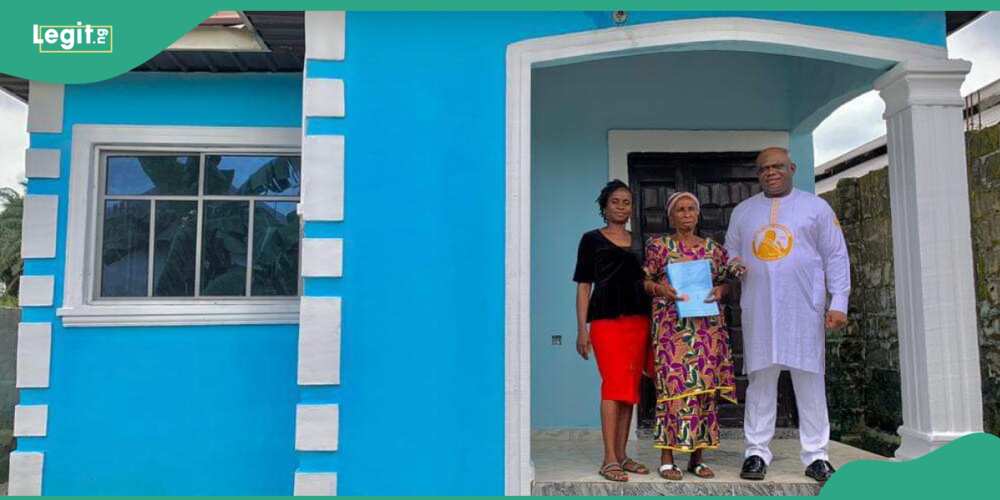 It was confirmed that the cleric also gifted Mrs Iyere a car to set up a mobility business that would fetch her income.
According to Punch, Mrs. Iyere is known for frequently cleaning the church altar at the headquarters.
It was gathered that the woman had been struggling to pay her rent, and she came to the pastor for help.
The statement reads:
"Iyere was firstly gifted a car after which she came back to the man of God to complain about her house rent which has expired.
"Apostle Chinyere quickly intervened and called those in charge of the OPM free estates to enable him to move Iyere to one of the flats in the OPM 18 free estates but was told that the estates were fully occupied."
How OPM pastor bought an apartment for widow
Apostle Chinyere thought about giving her the money for the rent but instead thought about buying her a house.
Nwachi said:
"Apostle Chinyere thought about giving her money to pay but changed his mind and called his agent and directed him to look for a mini estate so he could buy for the widow. After the search, the agent could not find any mini estate for Apostle Chinyere to buy for Mrs Iyere.
"The agent finally found a bungalow where Apostle Chinyere paid in full in the name of Mrs Patricia Iyere, the widow and handed the documents to her which made her the owner of the house today."
Young school dropout with one leg spotted working at a construction site offered overseas scholarship by OPM
Similarly, the fortunes of a young man with one leg are about to change for good after his hard work caught the attention of OPM General Overseer Apostle Chibuzor Gift Chinyere.
The young man, a school dropout, was captured working at a construction site with a walking aid and melted hearts on the net.
Apostle Chibuzor has hinted that the young man will leave the country for his scholarship program.
Source: Legit.ng