2023 Elections: List of of three promises made by PDP, APC, LP Ahead of Polls
All the leader political parties have disclosed their security plans ahead of the forthcoming general elections
According to the PDP, if elected, the party would tackle the insecurity that had continued to bedevil the country
Meanwhile, the APC says Bola Tinubu's administration would deploy the use of effective technology in securing the country
The Peoples Democratic Party (PDP), the All Progressives Congress (APC), and the Labour Party (LP), have reeled out their security plans to Nigerians ahead of the forthcoming presidential election.
The parties disclosed the plans at the "Youth Presidential Debate" organised by Atiku Youth World Outreach, which held in Abuja.
Legit.ng editor witnessed the debate was tagged "Beyond Politics: For Love of Country".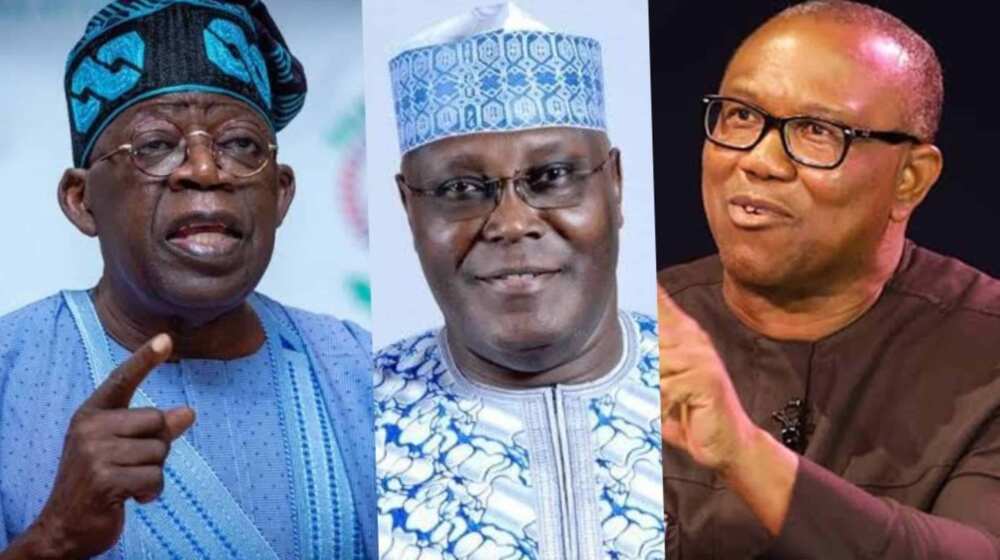 PDP promised to tackle insecurity and grow economy
Onoja Ilemona, who spoke on behalf of the presidential candidate of the Peoples Democratic Party (PDP), former vice-president Atiku Abubakar, said that if elected, the party would tackle the insecurity that had continued to bedevil the country.
He said that the administration would grow the economy by improving private sector participation in business.
Bola Tinubu promised to secure the country with technology
Also, Olufemi Ibitoye, spokesperson for the presidential candidate of the APC, Bola Tinubu's administration would deploy the use of effective technology in securing the country.
He also said that the party would ensure that the National Assembly amended the Criminal Justice System Act, to tackle cases of injustice.
According to Ibitoye, Tinubu is the best candidate for the country, adding that; "we cannot leave Nigeria to someone who has got no experience at the high level.
Peter Obi promised to fix security by increasing police salary
The Labour Party representative, Ogbeide Ifaluyi-Isibor, said that failure of leadership was the cause of insecurity in the country.
To that effect, he said that a sustainable way of fighting insecurity was ending poverty.
He also said that the Nigerian Police was the most underpaid security agency in the country, noting that the LP would work towards better remuneration for the police.
Ifaluyi-Isibor further said that Nigeria's inability, as a nation, to elect and select good leaders that understood the problems and had solutions, "has been our greatest dilemma.
Presidential debate shifted over naira scarcity, as Nigerian youths are urge to shun violence
Meanwhile, Nigerian ethnic nationalities youth leaders under the aegis of the Nigeria Ethnic Nationalities Youth Leaders Council (NENYLC) has postponed it's proposed presidential debate indefinitely over the persisting scarcity of the redesigned naira notes.
The debate which was scheduled for February 16, 2023 was supposed to provide a ground where the three leading presidential candidates are to present their manifesto on Youth Development Agenda.
NENYLC president General, Comrade Terry Obieh who disclosed this in a statement made available to Legit.ng, appealed to aggrieved Nigerians to shun violence and focus on the coming elections, stressing that any spark may lead to a conflagration.
Source: Legit.ng