2023 Presidency: Aisha Buhari Takes Campaign to Next Level for Tinubu, Reveals 6 Things APC Candidate Will Do
Aisha Buhari has declared her preference for the advise given by Bola Ahmed Tinubu over the Naira redesign
The presidential candidate of the ruling party had recently reeled out steps the can be employed to alleviate sufferings of Nigerians
Recall that the Central Bank Governor, Godwin Emefiele, has insisted that the old notes are no longer legal tender in the country
Wife of the president, Aisha Buhari, has taken sides in the ongoing naira redesign policy imposed on Nigerians by the Central Bank of Nigeria under the leadership of Godwin Emefiele.
The first lady made this known when she posted a photo of Tinubu, presidential candidate of the ruling All Progressives Congress (APC) on her Instagram handle with the caption: Tinubu knows the way.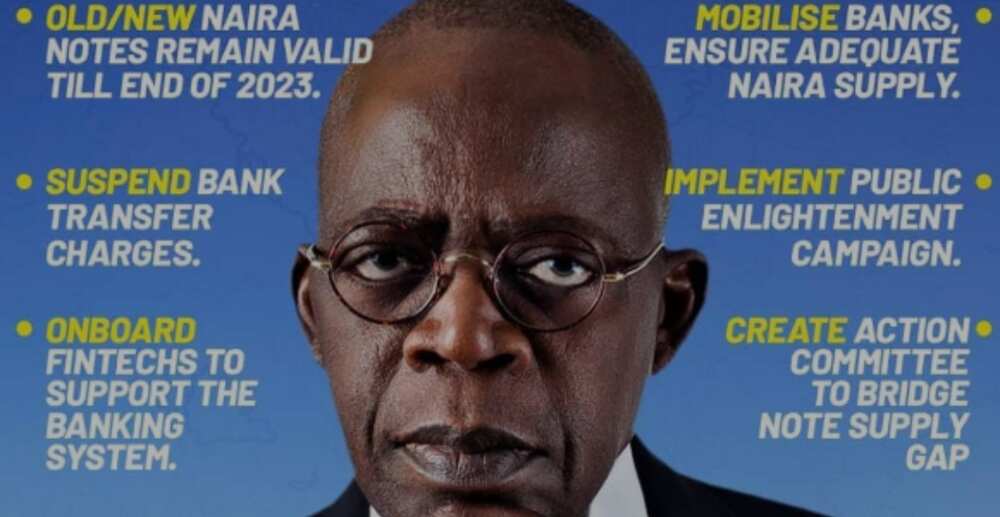 Recall that Tinubu recently advised the CBN to take some steps over the policy. Some of the steps include the following: These steps were highlighted by the president's wife in ingenious way.
The old and new Naira notes (especially the non-withdrawn notes and coins) will co-exist as legal tender for the next 12 months.
The immediate suspension of associated charges on online transactions and bank transfers and payments via POS until the current crisis is fully resolved.
Mobilise all Money Deposit Banks, Payment platforms to show clear commitment and timelines on expanding their infrastructure and support services.
2am at the ATM, see people: Watch video of hundreds of Nigerians queueing up to withdraw money
Recall that Legit.ng had reported that Nigerians now sleep in various Bank Automated Teller Machines (ATM) locations in order to make withdrawal of new notes from the bank ATMs.
In a new video shared on Facebook, a man who took the video narrated how he saw hundreds of people at different ATM machines on queues around 2am.
Reports have it that many people have been forced to queue up to five hours to make withdrawals, which could not exceed N20,000 daily.
Zenith Bank closed headquarters, and branches over fear of attacks, lack of new naira notes, customers lament
Legit.ng reported that Zenith banks closed some of its branches in some parts of Lagos, and Abuja against desperate customers seeking cash payment.
The Central Bank of Nigeria's (CBN) cash swap policy for commercial banks and agents is expected to end on February 10, 2023.
It is not only the branch that has shut its gates, two other new generation banks as early as 9 am left customers stranded.
Source: Legit.ng