BREAKING: Supreme Court Gives Verdict on Banning Old Naira Notes
The Supreme Court has stopped the Federal Government of Nigeria from banning the use of N200, N500, and N1000 notes as legal tender from Friday, February 10
Kaduna, Kogi and Zamfara states have jointly challenged the decision of the CBN before the apex court while seeking an interim injunction on the policy.
Counsel to the states, M.I Mustapha, argued that the policy is almost pushing the country into anarchy as CBN statistics show that over 60% of Nigerians are unbanked
FCT, Abuja - The move by the Federal Government of Nigeria to discontinue the use of N200, N500, and N1000 old notes as legal tender from Friday, February 10, has been suspended by the Supreme Court.
On Wednesday, February 8, Justice John Okoro-led 7-member panel stopped the move in an ex-parte application filed before it by three northern states, Kaduna, Zamfara, and Kogi, This Day reported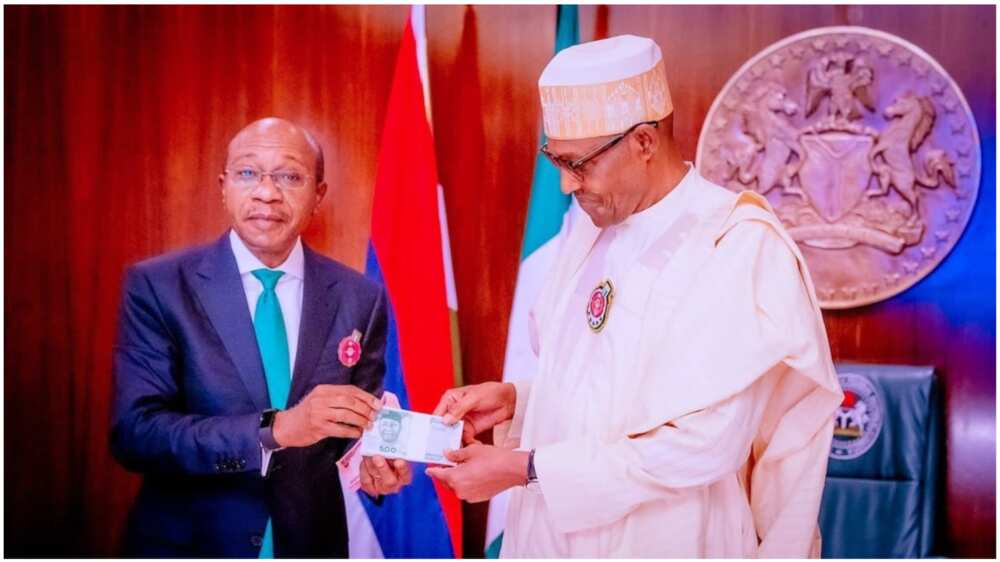 What the lawyer told the Supreme Court
The three northern states applied for an interim injunction of the order.
The application reads in part:
"the federal government through the Central Bank of Nigeria (CBN) or the commercial banks from suspending or determining or ending on February 10, 2023, the time frame with which the now older version of the 200, 500 and 1,000 denomination of the naira may no longer be legal tender pending the hearing and determination of their motion on notice for an interlocutory injunction".
Counsel to the three states, A. I Mustapha, urged the apex court, while moving the application, to consider his plea in the interest of justice and the well-being of Nigeria.
Why the Supreme Court stopped Buhari, Emefiele from banning old naira notes
According to Mustapha, the government's policy led to an "excruciating situation that is almost leading to anarchy in the land."
In the application, the counsel to the applicants referred to the statistics published by the Central Bank of Nigeria (CBN) that put the number of unbanked Nigerians at over 60%.
Mustapha lamented that the few Nigerians with bank accounts could not access their monies from the bank because of the policy.
What the Supreme Court judgment means
The ruling invariably means that old naira notes will continue to be used in the system with their total purchasing power.
Before the judgment was delivered, the panel had announced that the court would resume shortly to render its decision on an ex-parte motion for the interim injunction filed by the three states and argued on Wednesday by their lawyer, Abdulhakeem Mustapha (SAN).
Mustapha said the motion was in the country's interest, and to prevent impending anarchy, for the court to grant the order sought, The Nation added.
Powerful APC chieftain cautions Buhari against threading path that led to 1966 coup, gives reason
Legit.ng earlier reported that Adamu Garba, a chieftain of the APC, has cautioned President Muhammadu Buhari to avoid a repeat of the "Wet e" riot in the Southwest region of the country.
The APC chieftain sent the cautionary note while reacting to the protest in Abeokuta over the scarcity of naira notes that led to bank attacks.
According to Garba, the southwest is a beacon of Nigeria's democracy, and the president must avoid any policy that will scuttle election in the region.
Source: Legit.ng