"This Is Very Sad": Reactions As Anambra Government Demolishes Influential Nigerian Pastor Odumeje's Church
Prophet Chukwuemeka Ohanaemere, popularly known as 'Odumeje', has had a fair share of sad days in Onitsha today, Thursday, July 7
It was a sad one for the popular man of God whom, while trying to prevent the Anambra government officials from demolishing his church, was dealt with in the process
According to reports, the demolition exercise was in line with the Onitsha urban renewal plan spearheaded by Governor Charles Soludo
A case of one being caught off guard is the experience Prophet Chukwuemeka Ohanaemere had on Thursday afternoon, July 7.
Leadership reports that the Anambra State government demolished the Mountain of Holy Ghost Intervention and Deliverance Ministry owned by Prophet Chukwuemeka Ohanaemere, popularly known as 'Odumeje' in the commercial city of Onitsha.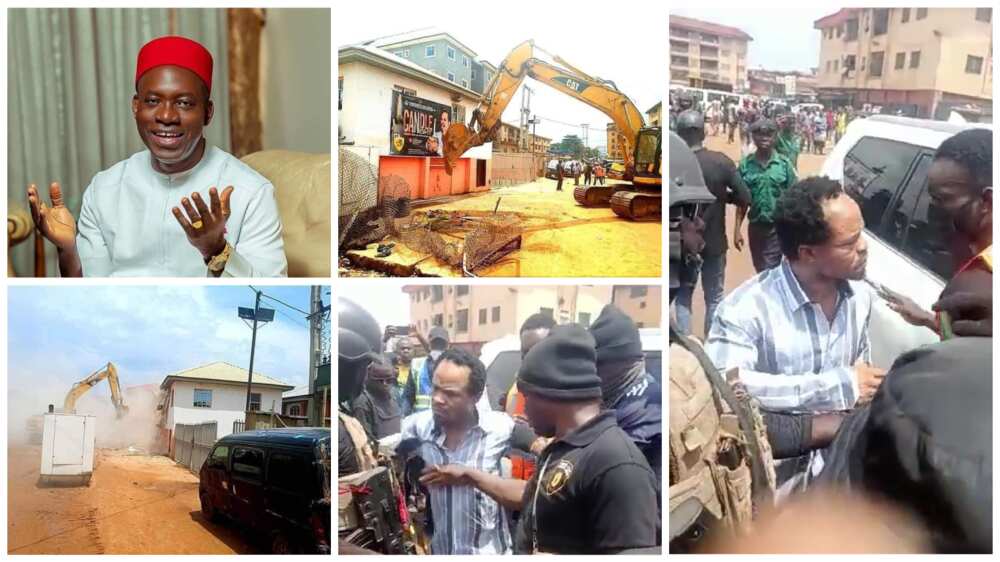 In fact, there have been a series of videos making rounds on the internet of how the prominent cleric is roughly handled by the Armed Taskforce officials.
The demolition followed due process
This was in line with the Onitsha Urban Renewal Plan spearheaded by Governor Charles Soludo.
The structure was said to be erected along the Nwagene stream and had to be removed for the actualisation of the Onitsha Urban Renewal Plan.
The video of the official who manhandled Prophet Odumeje while trying to prevent the demolition exercise
A video of what went down between the man of God and the official that manhandled him was shared online.
Watch below;
Nigerians react
Nigerians took to the official Facebook page of Legit.ng and reacted to the development.
For some, he should have shown off his might as the 'Lion' while others faulted the move by Anambra state government officials.
Egwu Samuel said
"This is very sad...They should have given the pastor and the church building a little Respect..
A perfect definition of the lions will bow down before the sheep."
Ogbuefi Ikeanyi Anthony questioned
"Why did he go there in the first place to create a scene? He already knew they must demolish the place, he should have removed all his properties by today, he should have avoided that embarrassment…"
Mfon Udoema opined
'Tomorrow, this same uniformed men will complain when there are not being paid their entitlements and want sympathy from the populace.
"Overzealousness and zealotry for wrong things is not meticulousness."
Felix Agha said
"He should have avoided the "embarrassment" by excusing himself from there. The site of the building is bad and I believe he was duly notified. Just that sometimes, men try to outdo themselves."
Nkoli Ada Onicha said
"Indabosky Bulldozee
"Demystified.
"Why hasn't he disappeared before their very eyes? He must have been given notice. Why confront government officials?"
Debbs Imumolen lamented
"Its really unfair ,after demolishing his church ,you still maltreat him
"Kaii."
Reve Lation said
"He said he's many powers in store, but he's only using the "indaboski bahose.
"I wonder what would happen if he unleashes the rest. Those people should better watch their back."
Ife Anyi stated
"Government should not let Odumeje unleash d remaining power he as not touch."
Indabosky preacher Odumeje shows soft side, sits like a princess as he poses with daughters in cute photo
Popular Nigerian pastor Prophet Chukwuemeka Odumeje recently took to social media to post an adorable photo of himself with his daughters.
On his Instagram story, the controversial preacher shared a photo of himself and his girls wearing matching powdery blue outfits with gold embellishments. Odumeje also completed his look with a shiny gold shoe.
The preacher then joined his daughters to sit on the floor like little princesses as they smiled for the camera.
Nigerians slam Calabar pastor for challenging Odumeje
A pastor called Goodheart Val Aloysius based in Calabar had earlier called out controversial prophet Odumeje over late comedian Ada Jesus' matter.
According to him, Ada's matter revealed that Odumeje is not a prophet, and he lacks powers. Goodheart noted that the miracles in his church are arranged and staged.
The Calabar pastor challenged Odumeje to a rain-calling duel at the Abuja national stadium. He noted that media houses will be present to capture the event.
Many who reacted were not in support as they criticised Goodheart.
Source: Legit.ng