Emotional Video Emerges as Remains of Late Deborah Samuel Buried in Her Hometown in Niger Amid Tears
Emerging reports indicate that the remains of Deborah Samuel, who was burnt to death in Sokoto over alleged blasphemy have arrived her hometown in Niger state
While some reports stated that that Deborah has been buried in Tunga Magajiya, others merely confirmed her remains had arrived Niger state
Deborah, a student of Shehu Shagari College of Education, Sokoto was killed by some of her colleagues over alleged blasphemy
Rijau LGA, Niger state - The remains of Deborah Samuel, who was burnt to death in Sokoto on Thursday, May 12, over alleged blasphemy, have been laid to rest, according to The Nation.
The newspaper stated that Deborah was buried in her hometown, Tunga Magajiya, in Rijau local government area of Niger state.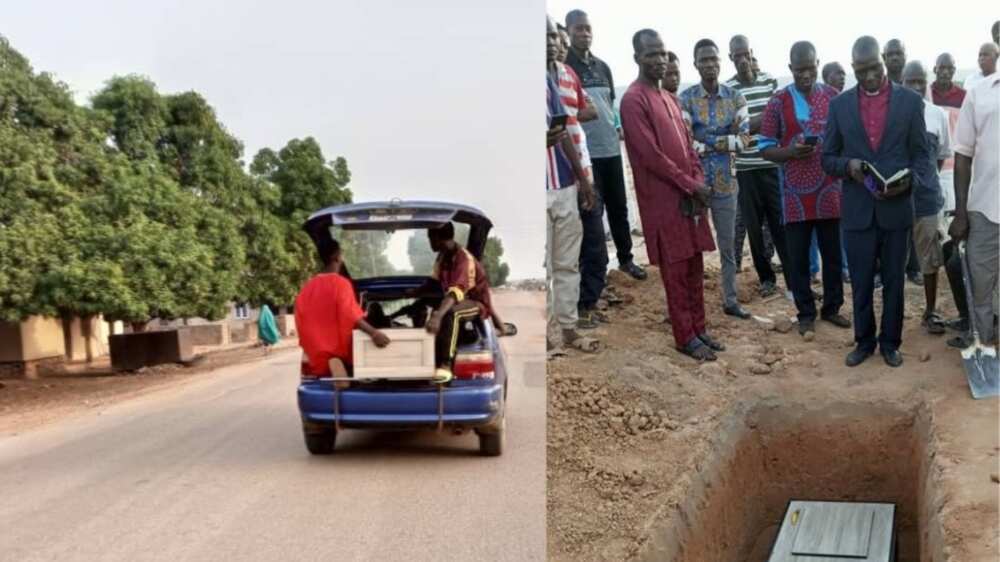 Tears flowed freely as she was being buried as well-wishers and relations lamented how she was killed.
Sharing a video of the burial, The Nation added that Deborah was buried around 6:30pm at the Christian cemetery in Tunga Magaiya.
It was reported that her uncle, who is the Pastor of ECWA in Tunga Magajiya, Emmanuel Maaji, led the prayers at the cemetery before she was lowered to mother earth.
Controversies over Deborah's burial
Meanwhile, Legit.ng reported that a report by the News Agency of Nigeria (NAN) does not indicate Deborah's remains has been buried.
The report, however, stated that Pastor Maaaji confirmed the arrival in Magajiya of the body of the slain student of Shehu Shagari College of Education, Sokoto on Saturday, May 14.
Maaaji, the pastor to the deceased's family in charge of the church in Tunga Magajiya, was quoted to have said:
"The family is insisting that late Deborah Samuel be buried today because they are not happy with the way the government is handling the issue."
Maaaji said that the late Samuel's mother "has been unconscious since she heard the news on Thursday, which led to a rise in her blood pressure while the father has been inconsolable".
He alleged that the body of the late Samuel was brought in a chartered bus.
The pastor, however, said "the government called and said that it is not right for the family to take the body in that manner without informing the government of Sokoto state.
"The Sokoto state government told the family that Deborah's body belongs to the government and not the family".
Maaaji said that although he could not recollect the name of the person who called, the person claimed to be representing the government of Sokoto State.
Similarly, Rev. Danjuma Doma, Coordinator, Christian Association of Nigeria (CAN) in Rijau Local Government area of the state, confirmed that the family and church were preparing for the burial.
"We are preparing for the burial. She will be buried today.
"We are all here to give the family support. We will update you on the situation as it goes," he said.
Deborah Samuel: Sultan of Sokoto reacts to killing, burning of student
Earlier, Legit.ng reported that Sultan of Sokoto condemned the gruesome killing and burning of Deborah
The condemnation by Sultan Sa'ad Abubakar III came barely hours after the incident which has caused outrage across media space and the polity happened.
Abubakar also called on residents of Sokoto state to remain calm while urging security operatives to fish out the perpetrators and bring them to justice.
Source: Legit.ng