Why Nigerian Doctors Are Leaving Country to Other Climes, NMA President Makes Stunning Revelation
The president of the Nigerian Medical Association, Innocent Ujah has highlighted factors responsible for doctors departure daily in the country
According to Ujah, insecurity and poor salary structure are some of the factors responsible for the movement of most medical practitioners to other countries
The NMA president who noted further that this is a serious issue and should be treated with urgency urged the federal government to look into the matter
The president of the Nigerian Medical Association (NMA), Innocent Ujah, has reacted angrily over the welfare of doctors in the country and listed factors responsible for their departure to other countries.
Ujah has called on President Muhammadu Buhari to ensure that provisions are made to reverse the exodus of medical practitioners from the country.
He said the president needs to urgently direct appropriate agencies and ministries involved to hold a roundtable meeting where the lingering issues on brain drain in the health sector can be discussed, The Cable reports.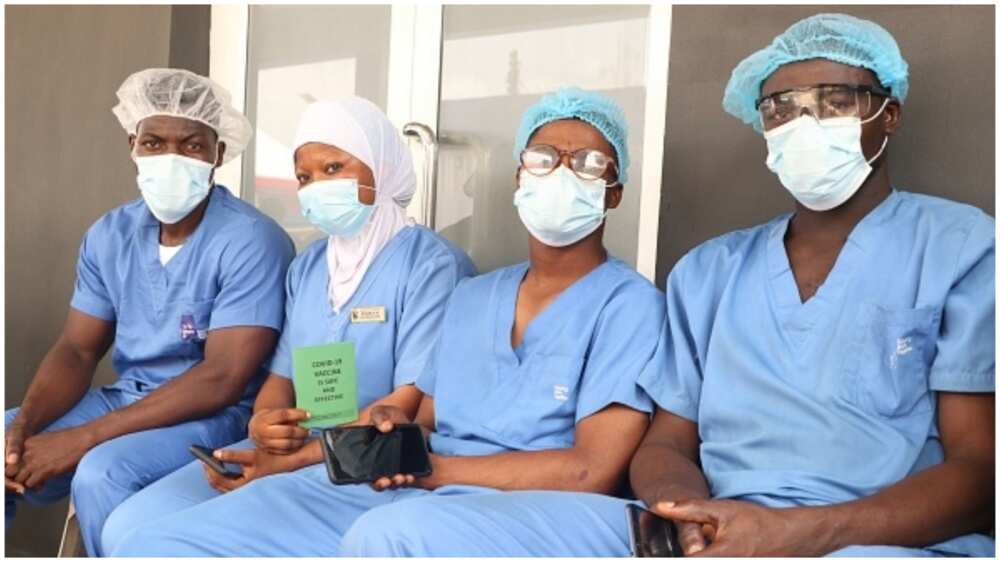 Ujah highlighted poor work environment, insecurity, poor remuneration and equipment as problems bedevilling the health sector and causing practitioners to leave in their numbers to "safer and saner climes."
The NMA president, who made this disclosure in a television programme, on Monday, December 13, also said the government should provide a viable and conducive environment for health practitioners, adding that it is the appropriate thing to do to curb the exodus of doctors.
He said:
"The issue of brain drain has been a serious issue to medical practitioners. A lot of Nigerians are going out of the country for many good reasons.
"We believe that the president needs to quickly direct the appropriate agencies and ministries to ensure that we have a roundtable meeting to be able to find out what could be done."
Top 10 states with highest number of medical doctors in Nigeria
Meanwhile, Legit.ng had earlier reported that recently, the minister of labour and employment, Chris Ngige, was reported by the media as saying Nigeria, as a developing country, was unlikely to meet the recommendation of the United Nations and the World Health Organisation's ratio of one doctor to 600 patients.
The minister also insisted that Nigeria has enough doctors to cater for the people, saying that the problem of lack of doctors is that the medical manpower is not proportionately deployed/distributed.
He said most of the doctors in the country abandon the rural areas, choosing to practice in Abuja, Lagos and Port Harcourt.
Ngige to doctors: Be humble and carry yourselves with dignity
In a related report, the minister of labour and employment, Chris Ngige, has counselled doctors in the country to be humble and carry themselves with dignity.
It was reported that the minister gave the advice while speaking at a summit on Thursday, August 12.
Ngige, a medical doctor, was reacting to the current strike by medical doctors in the country.
Source: Legit.ng