5G Network: Why Media Must Support Deployment in Nigeria, ICT Expert Reveals
A stakeholder in the ICT industry, Ken Ugbechie, has explained why the Nigerian media practitioners should give total support to the deployment of 5G network
Ugbechie, who is the executive secretary, Africa Telecom Development Initiative, made this known in Lagos on Thursday, December 9
The tech guru noted that it is responsibility of the media to educate the general public on the benefits of 5G network
GRA, Lagos - As the federal government set to unveil 5G network in Nigeria, media practitioners have been advised to assist in shedding more lights on the inherent benefits derivable from the network billed to take off in 2022.
Legit.ng reports that this plea was given in Lagos on Thursday, December 9, by the executive secretary, Africa Telecom Development Initiative, Ken Ugbechie, while presenting a paper during one-day media capacity-building workshop tagged "5G Technology and The Next Level of Nigeria's Development."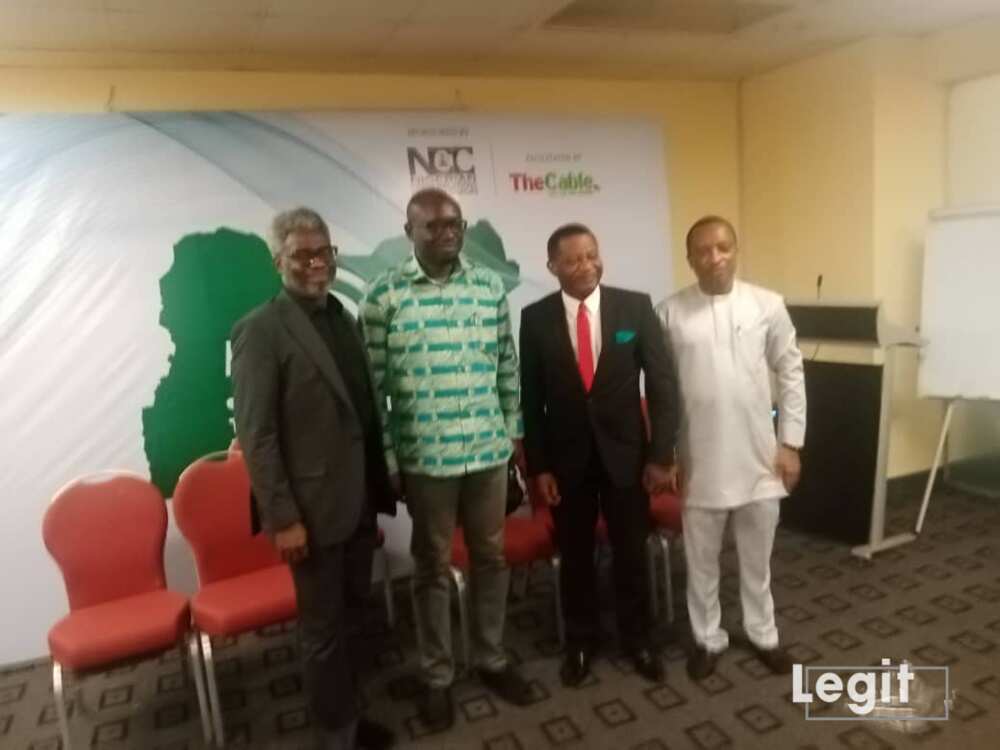 The workshop was organised for the journalists by the Nigerian Communication Commission (NCC) and facilitated by TheCable News in Lagos.
Ugbechie said it is the duties of journalists - print, online, or broadcasting, to inform, educate, entertain, set agenda, influence, interpret, predict and persuade their audience.
Do you have a groundbreaking story you would like us to publish? Please reach us through info@corp.legit.ng!
Speaking ahead of the anticipated January 2022 5G rollout, the ICT expert stated that the media should be buzzing with explainers and analyses on how 5G will impact agriculture, ecommerce, e-banking, ICT, education, healthcare, tourism and hospitality, security, entertainment including the music and movie industries and other aspects of digital Nigeria.
He said it is only when journalists play their roles that people can understand and appreciate that what has been created as 5G is neither an enemy nor a monster, but a carefully innovated partner for development.
Ugbechie noted that 5G is the most controversial among its predecessors because it can do what others (from 1G to 4G) cannot do with a far bigger capacity to do more, saying "that is why 5G is different things to different people."
Benefits of 5G network
The ICT guru said that 5G comes with multiple benefits being of higher data rate and provides a much faster Internet speed, ten times faster than 4G.
He said:
"It has lower latency (time it takes for data to be transferred from its original source to its destination); and it has larger capacity which makes it possible to connect to more end devices (IoT) with capacity to handle a maximum of 1 million devices per square kilometres."
Ugbechie, who is also the publisher of Political Economist, observed that this evolution is necessary to show journalists that techies are not sleeping.
He further stated:
"They are not static. They are constantly inventing and re-inventing. The ICT matrix and in fact the entire tech ecosystem is upping the ante in trends and trademarks."
Effects of conspiracy theory
According to him, overtime, Nigerian media has restrained itself from moving with the conspiracy theory bandwagon, a situation that has restricted the conspiracy theorists to social media platforms.
Ugbechie noted:
"Reassure our audiences that if 1G did not give them malaria, 2G did not birth diarrhea, 3G did not produce pneumonia or 4G HIV there is no way 5G could be the causative agent of coronavirus, cancer or autism.
"But I must admit that the Nigerian media has not done enough to disabuse the mind of sceptics that there is no relationship between 5G and Covid-19. This surely underscores how not-very-important the media rates this misplaced theory. Yet, it bears restating that conspiracy theorists have been unrelenting in pushing across their baseless and unfounded falsehood."
Why NCC must be commended
He commended NCC for the brilliant idea, noting that the commission has became a benchmark for regulatory excellence in Africa.
Ugbechie added:
"The Nigerian Communications Commission (NCC) became a benchmark for regulatory excellence in Africa such that the ITU was referring other African nations to visit Nigeria just to understudy the NCC. That practice subsists till this day because the Commission has maintained the highest level of corporate governance in its regulatory duties.
"But the world would not have known about the regulatory prowess of the NCC or the fact that MTN declared its highest profit in all its years of operation in Africa only when it commenced operation in Nigeria. The Nigerian media pushed through these messages to the rest of the world and that explains why telecoms is at the crest of major attractors of Foreign Direct Investments, FDI, into the Nigerian economy.
"Yes, the media has done it before. We gave life to a telecom revolution to the acclamation of the world. We can do it again with 5G fueled by the ambitious push of the NCC to make Broadband ubiquitous in the coming years. Right inside this hall and beyond, I can sense an urgency and zeal by Nigerian media professionals to trigger a nationwide awareness among the various publics on the benefits of 5G as a partner for Development, and not an agent of death."
He urged the media to start informing and explaining to the publics how 5G would help Nigeria through the Independent National Electoral Commission (INEC), achieve free, fair and credible election going forward as the country migrates from Direct Data Capture machines and Card Reader to the BIVAS (Bimodal Voter Accreditation System).
3 Nigerian telecos qualify to bid for 5G network license
Meanwhile, Legit.ng had previously reported that the NCC on Thursday, December 2, announced that three telecommunications companies in the country have qualified as approved bidders for the 3.5GHz spectrum auction.
It was reported that the auction is for the deployment of Fifth Generation (5G) technology in the country beginning from January 2022.
The commission has also reaffirmed the dates for the conduct of both the mock auction and the main auction will be Friday, December 10, and Monday, December 13, respectively at Transcorp Hilton Hotel, Abuja by 11:00 am.
Source: Legit.ng