Nigeria Can Take the Lead for Electric Vehicles in Africa, Says Emmanuel
Nigeria's automotive industry is advancing towards actualizing the manufacturing of electric and gas-powered vehicles
Promise Emmanuel, spokesman to the deputy governor of Kogi state, says electric vehicles will be of great benefit to Nigeria
Apart from being a government official, Emmanuel runs a transport and logistics outfit in Lokoja, Kogi state - KRCabs and Integrated Services
Lokoja - Promise Emmanuel, the chief press secretary to the deputy governor of Kogi state, Chief Edward Onoja, on Saturday, December 11 declared that Nigeria can take the lead for Electric Vehicles (EVs) in Africa.
Emmanuel made the declaration while delivering a presentation at TEDxBudon in Lokoja, the Kogi state capital on the topic: The Nigerian Automobile Industry: The future of Electric Cars.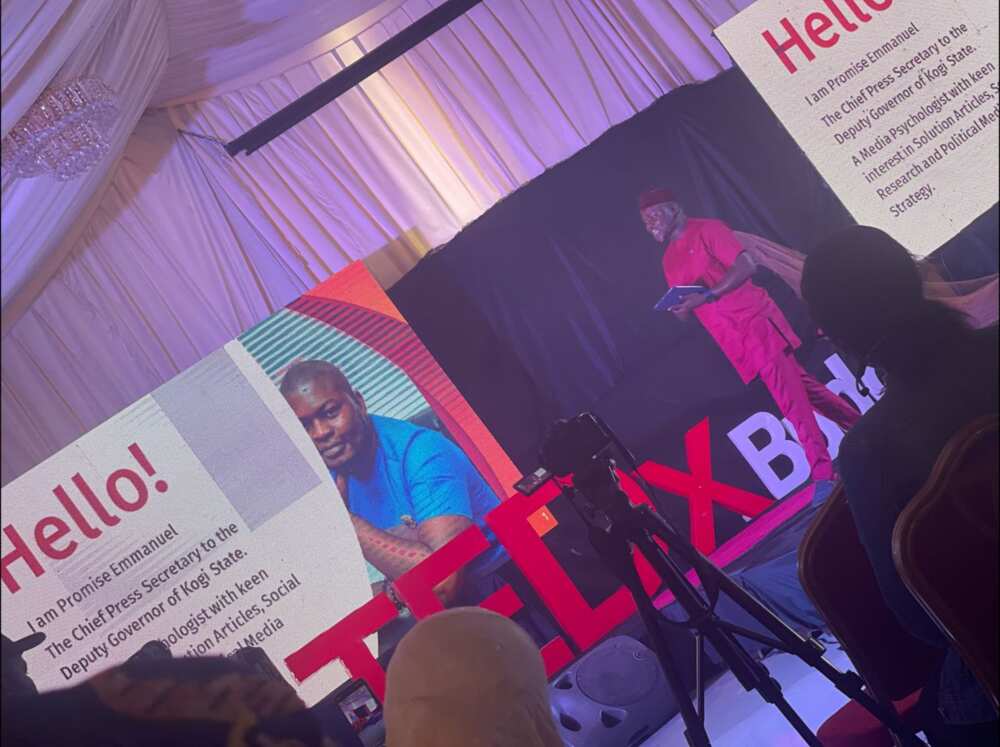 Emmanuel who is popularly known as 'Kogi Rebel' and tweets from @kogirebel on Twitter, stated that Nigeria is a very important market where EVs can thrive.
His words:
"As a country, Nigeria can take the lead for Electric Vehicles in Africa. But the market has not kickstarted because of lack of policy and regulation. Nigeria still has key structural issues that prevent the mass adoption of EVs."
On how the government can create a suitable and holistic policy and regulation which will create the enabling environment for electricity, Emmanuel said:
"For the government to do this, there are several aspects of the Electric Vehicle Ecosystem and value chain that must be taken into consideration.
"There need to be sufficient and workable charging stations put in place. Investors also need to know that there is a demand for EVs before they invest in the construction of charging stations across the country. Right now, there are too few EVs in the country to convince investors to key in.
"Nigeria intends to adopt the fleet method of adoption of EVs, which involves individuals or businesses buying them and investing in charging stations. We have seen this with a few companies.
"Nigerians also need answers to how much time it takes to fully charge the cars. For example, the Kona takes 10 hours to charge and has a power rating of 7.2 kilowatt hour. This is a lot depending on the different parts of Nigeria. It can also be cheaper than fueling a petrol-powered car.
"But Nigeria has been known over the years to have a bad track record on electricity. Many areas and states can't boast of 12 hours power supply, electricity isn't constant and also very expensive. How then can Nigerians charge their EVs?
"For this mass adoption to be possible, there is a need for the government and investors can boost renewable energy in form of solar energy and make it affordable for people."
Zeetin Engineering to Produce Electric Cars, Heavy-Duty Equipment in Nigeria
Legit.ng had earlier reported that the multi-billion naira Zeetin Engineering factory is already preparing to produce car engines and electric cars.
The engineering firm has acquired and installed the most sophisticated production machines (CNCs, Plasmas, 5Axis Milling, Lathes, etc) in the metal works industry in Nigeria.
Speaking to journalists during a tour of the facility, Azibaola Robert, founder of the firm, said he has been able to invest his personal funds totaling about N3.5 billion in setting up the place.
Nigeria Keying Into Electric, Gas-Powered Vehicle Manufacturing, Says Jelani Aliyu
Recall that during the COP26 UN Climate Change Conference in Glasgow, Scotland, the director-general, National Automotive Design and Development Council (NADDC), Jelani Aliyu, told the world that Nigeria was advancing towards actualizing the manufacturing of electric and gas-powered vehicles.
According to the NADDC director-general, the recent assembly of Electric Vehicles by the Hyundai Kona EV and the assembly of AutoGas powered OMAA CNG Minibus by a division of KOJO Motors are all testimonies to the effort the country is making in that direction.
Aliyu also stressed that Nigeria could not afford to be left behind as nations around the world advance technologically.
Source: Legit.ng