Ibeno Leaders: We'll Not Allow Investors in Our Land to Be Harmed, Send Warning to Eket LGA
The people of Ibeno local government area in Akwa Ibom state are hell-bent on protecting their interests
The people of the area on Thursday, December 9 specifically stated that the proposed refinery to be cited in their domain will be protected at all cost
They also declared that personnel of the refinery will not be harmed by anyone or any group of persons
Akwa Ibom - The people of Ibeno local government area where the proposed BUA refinery is to be sited, have vowed to ensure that no personnel of the firm is hurt or killed by the people of Eket local government area in Akwa Ibom state.
Their reaction is sequel to the recent statement wherein the people of Eket Local government area under the aegis of Itid Afigh Ekid Union vowed that the proposed site for the refinery is in their domain.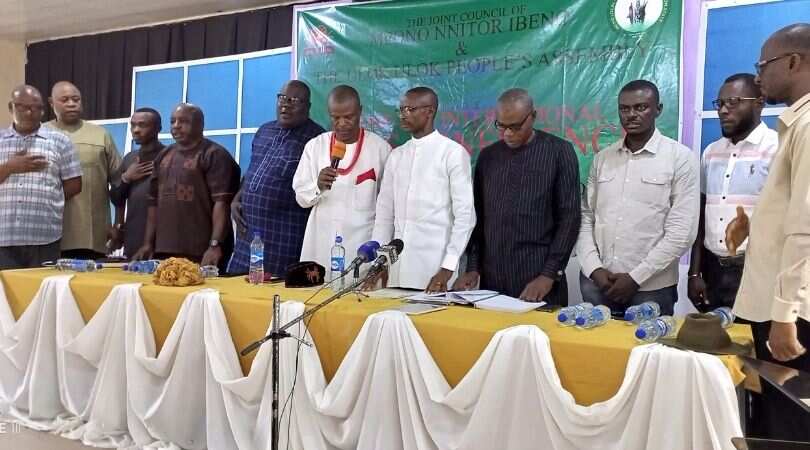 The joint council, Mpono Nnito Ibeno and Ulok People's Assembly led by its chairman, Elder (Hon.) Chief Ikoedem Ekong and secretary, Pastor Tom Samuel Afia, warned that no part of Ibeno local government area will be ceded to Eket.
The duo, in a statement sent to Legit.ng noted that:
PAY ATTENTION: Install our latest app for Android, read best news on Nigeria's #1 news app
"Before the communal crisis between Ibeno and the Ekid people in 1993, these same drums of war were gonged by them.
"Just before the war began, they had issued a statement in a state radio broadcast in 1993 that they have given Ibeno a Quit Notice and that the whole of lbeno was their land; we were asked to go to the Atlantic Ocean.
"Little did we know then that before that broadcast, the people of Ekid had laid ambush around Ibeno, waiting for the imminent order to attack.
"It is with this same experience, reminiscent of 1993, that we regard the recent brazen and audacious Quit Notice which the Ekid people have issued to BUA GROUP, a prospective investor.
"We hope that the government of Akwa Ibom state, and especially, the governor, has paid attention to the continuous insults, threats and disdain meted out against Ibeno by the Ekids these past months."
To this end, the Ibeno people listed 8 of its demands as thus:
1. No part of Ibeno land belongs to Eket
2. BUA Refinery is to be located in Ibeno
3. Ibeno will not tolerate any trespass to its land
4. lbeno will defend BUA activities, its personnel, both local and expatriates
5. lbeno will never take arms against Eket, but we will not fold our arms and watch the activities of miscreants in our land.
The group added:
"If one leaf is taken from Ibeno into Eket, we will enter and collect twelve leaves
"We will equally not permit one BUA personnel to be hurt or killed by Eket the course of carrying out their legitimate construction work in Ibeno, which will be a blessing to Akwa Ibom state and Nigeria as a whole,
"The people of Ekid will ignore our warning at their own peril. They have boasted that they were going to finish us off in 1993 before the government intervened, perhaps this may be the opportunity to carry out their long-awaited yearning and desire. May they dare!"
BUA Group founder Donates N1bn To Build Gigantic Students' Centre in UNIZIK
Recall that the Abdul Samad Rabiu Africa Initiative, ASR Africa, a non-profit organisation, and brainchild of the founder of BUA Group, Abdul Samad Rabiu, recently made public its plan to construct a Students' Centre in Nnamdi Azikiwe University, Awka, Anambra state.
The centre is expected to be built with N1 billion ASR Africa Tertiary Health Systems Infrastructure grant.
The grant was awarded to UNIZIK from the annual $100 million Africa Fund for Social Development and Renewal by ASR Africa.
Source: Legit.ng