We Must Urgently Address Slow Judicial Process, Osinbajo Declares, Gives Reasons
Vice President Yemi Osinbajo has explained that Nigerians have lots to gain if the slow judicial process is addressed
Osinbajo made this known on Friday, November 19, in Lagos, during at WOC Justice Summit 2.O organised by Wole Olanipekun & Co
The vice president described Olanipekun as an outstanding mind in the legal profession across the country
Lagos - Professor Yemi Osinbajo, Nigeria's vice president, has explained why the federal government must holistically address the delay in judicial processes in dispensing justice in the country.
Legit.ng reports that Osinbajo made this known on Friday, November 19, in Lagos while chairing this year's edition of Wole Olanipekun & Co. (WOC) Justice Summit 2.0, themed implementating Justice Sector Reforms.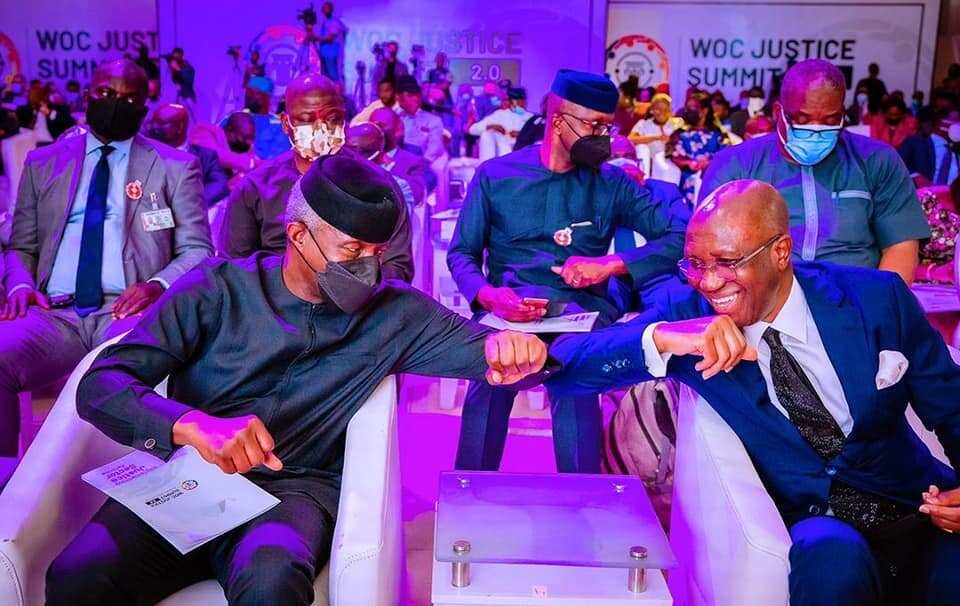 Osinbajo emphasised that the slow process of dispensing justice in the country must be urgently addressed.
The event coincides with the celebration of the 70th birthday of Wole Olanipekun, SAN.
In a goodwill message, Osinbajo described Olanipekun as one of the outstanding minds in the legal profession.
The vice president stated that Olanipekun had affected lives of many in one way or the other, especially the less privileged.
He said:
"I thank God that the tribute made today is not at his memorial service."
Osinbajo said that many conversations he had with Olanipekun dwelt mostly on the integrity of the legal profession and the integrity of the actors in the legal profession.
Speaking at the event, the Chief Justice of Nigeria (CJN), Justice Tanko Muhammad, said Chief Olanipekun, is a promoter of rule of law, who pursued every case he handled to a logical conclusion.
CJN was represented by Justice Olukayode Ariwoola
He said Olanipekun is a man with a large heart, enough to accommodate people from all walks of life, calling him a dogged fighter of what he believed in.
Muhammad said:
"It is not the number of years he has spent in the legal profession that makes him stand out but a simple exhibition of talent endowed to him by God."
In his keynote address, Prof Olanrewaju Fagbohun, who spoke on the theme of the summit, however, said strict adherence to rule of law and accountability should be the watchword of every judicial officer.
He said:
"When you look at the world Justice Law index, Nigeria ranks 108 out of 128 countries. The Justice system in the country, despite laudable reform efforts at federal and state levels, continues to face multiple challenges.
"Significant hardship and anxiety is still the order of the day in Nigeria's Justice sector. What is glaring is that we are running a sector that is well connected on paper, but disconnected in reality. To give legitimacy to justice, accountability for the action of every role actor within the sector is critical."
The governor of Lagos state, Babajide Sanwo-Olu, in his goodwill message, said Olanipekun had contributed immensely to the growth of Nigeria legal profession.
He said in 2002, Olanipekun was elected the president of the Nigerian Bar Association (NBA) due to his outstanding works.
Governor Sanwo-Olu hails Wole Olanipekun
Governor Sanwo-Olu noted:
"On this occasion of your platinum jubilee, it is a time to reflect and celebrate your good health. We rejoice with you. Your contribution to the legal profession is outstanding to the many cases you have handled and won. You are worthy of emulation. We thank God it is not a celebration of life but a celebration in your time."
Appointment of justices
A Lagos-based human rights lawyer, Femi Falana (SAN), spoke on the political influence on the judicial appointment in Nigeria.
Falana advocated for a National Judicial Council (NJC) to be headed by a retired Chief Justice of the federation and not a sitting chief justice.
He said that a sitting chief justice had loads of work that they should be allowed to handle, adding that the issue of governors recommending those to be made judges should be looked into.
Falana said:
"We must go back to where we started and change the narrative and decide the type of court system we actually want.
"If we must have a judiciary which Chief Olanipekun is advocating for, we must go back to the drawing board and take our judiciary away from the politicians".
Falana, however, urged the Nigeria Bar Association (NBA) of both states and the national level to work together to achieve "the Judiciary of our dreams".
He also noted that the customary court has been completely abandoned, adding that customary courts were courts that handled the majority of cases from the poor.
In his speech, the Chief Judge of Borno state, Justice Kashim Zannah, talked about entrenching integrity and technology in the judiciary.
According to Zannah, integrity and technology are two principal issues that stand out in Justice sector reforms, saying that in the absence of integrity, everything else becomes worthless.
Zannah said that efforts had been made to immune judges to ensure that integrity was safeguarded.
He said:
"So far, the judiciary is perceived as devoid of integrity and this is as bad as Justice not being there. Issue of integrity is also bedeviling other nations of the world, I found out in a United Nations summit I attended.
"However, training of judicial officers was advocated. It has been made mandatory for judicial officers to among other measures take integrity tests even in my state."
Stakeholders to share insight at Wole Olanipekun and Co WOC Justice summit
Meanwhile, Legit.ng had previously reported that Osinbajo would lead eminent stakeholders in the justice sector at the second edition of the WOC Justice Summit slated for Friday, November 19.
It was reported that Bode Olanipekun (SAN), the managing partner, Wole Olanipekun & Co, made this known in Ikoyi at a news conference on Tuesday, November 9, in Lagos.
He said the summit would bring together all stakeholders to share insights and broaden the thinking needed for the growth of the sector.
Source: Legit.ng