Legit.ng Ranked on the List of Top Performing African Pages on Facebook
Legit.ng continues to lead the way as a recently published report shows that the no.1 online news website in Nigeria has one of the most engaging Facebook pages in Africa.
According to Social Backers report for Q3 2021, Legit.ng has the second-best performing page on Facebook with 31,687,359 interactions on 9,786 posts.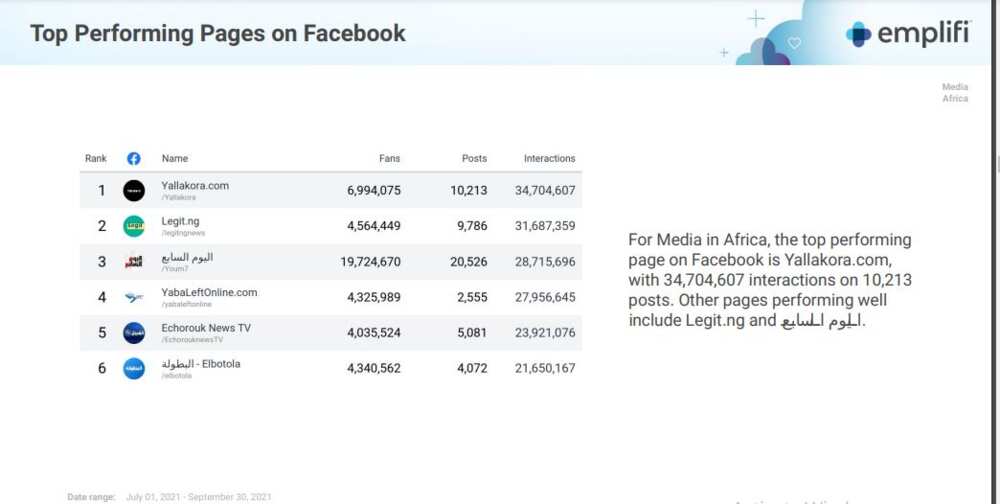 What helped Legit.ng make it to the list
Legit.ng (former Naij.com) is the largest online publisher in Nigeria (by Alexa rank). Every month 10M+ users reach 50M pageviews on our website.
Legit.ng also has an impressive social media presence with 10M Facebook followers on all pages. Every 4th Nigerian who is on Facebook is a Legit.ng page subscriber.
As the biggest news publisher in the country, Legit.ng has a responsibility to improve the lives of our readers in any way possible.
That is why we pride ourselves in creating life-changing news that makes our readers more conscious about the world around them.
How we ensure our readers are up to date on the happenings globally
In order to keep our readers abreast of what is happening globally, Legit.ng covers news on current affairs, politics, business, celebrity updates, sports, human interest locally, and key news from all over the world.
Alongside news reporting, we write fact checks, explainers, analytical reports, and features. We always try to engage experts to comment on the issues bothering many to add value for our readers.
Legit.ng also has a video team always ready to report breaking news, conduct celebrity interviews, tell extraordinary stories of people, and even help them cope and fundraise money.
We often share stories of Nigerians in need, after which they get help from society.
Legit.ng also launched a relief initiative, Legit Charity, aimed to help the homeless children of Calabar by providing them with food and clothes.
We also have initiatives to help young, talented Nigerians; for example, a writing contest with a cash prize to invest in studies.
Legit.ng's other achievements
Our timely news reporting has fetched Legit.ng 11 awards for outstanding journalistic achievements and our company has been featured by Facebook and HuffPost.
Also, global international companies such as Google and Facebook recognize Legit.ng as their partner and our website is a member of the United Nations SDG Media Compact.
However, it is important to note that Legit.ng is an independent news website, not supported by the government or any individuals, so we unbiasedly cover news and reflect all sides of the situation.
Social Media Trends Report from Socialbakers
The Q3 2021 Report from Socialbakers, an Emplify Company, which ranked Legit.ng as the second-best performing page on Facebook, reveals insights into the latest social media trends around the world.
Including data on the developments in both paid and organic, the report helps marketers gain knowledge about their industry.
Emplifi is the trusted social media management partner to thousands of enterprise brands.
Taking a closer look at the interactions for the Media industry in Africa, engagement grew on Facebook in Q3 2021. Legit.ng contributed to this growth.
Source: Legit.ng