List of President Buhari's International Trips so Far in 2021
President Muhammadu Buhari has continued with his international trips which have become a valuable part of Nigerian diplomacy and international relations.
So far in 2021, President Buhari has travelled at least four times outside the country. Though the presidency had in the past described these trips as a priority, many Nigerians have argued that the president could have sent representatives.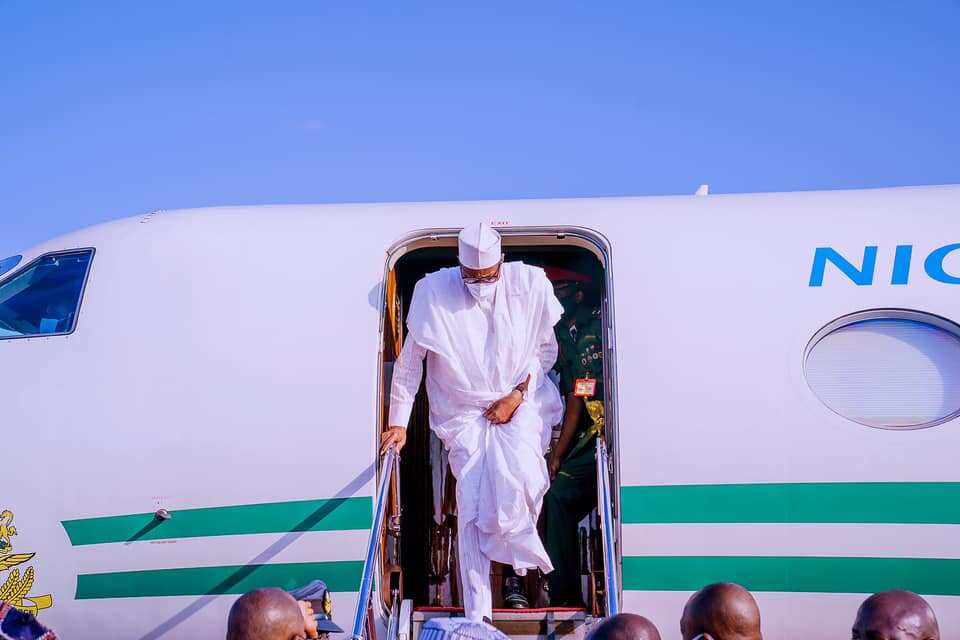 A good number of citizens are of the opinion that this will reduce cost and give Buhari more time to attend to important issues of national interest.
Whenever Buhari goes on these trips, he is accompanied by an entourage of public officials including photographers, protocol officers, security officers, and various media aides.
Legit.ng in this piece lists the international presidential trips made by the president in 2021:
1. London, United Kingdom
President Buhari flew to London for a routine medical check-up on March 30, and came back the second week of April. This was the Nigerian leader's first medical trip abroad since the coronavirus pandemic.
In July, the president travelled to London again, this time for the Global Education Summit on Financing Global Partnership for Education (GPE) 2021-2025.
After the education summit, Buhari spent time in London for a medical check-up. He returned the second week of August.
2. New York, USA
Back in September, Buhari attended the 76th Session of the United Nations General Assembly (UNGA76).
He addressed world leaders on Friday, September 24, when he spoke on the theme of the conference and other global issues.
3. Addis Ababa, Ethiopia
Early October, the president travelled to Ethiopia where he attended the inauguration of the Prime Minister, Abiy Ahmed.
Buhari who left Abuja for the Ethiopian capital on Sunday, October 3, spent three days in the East African country.
4. Riyadh, Saudi Arabia
On Monday, October 25, President Buhari travelled to Saudi Arabia, for the Future Investment Initiative Institute conference.
Feeding and travel budget: 2021 (N3.4 billion)
Legit.ng previously reported that in 2021, N124 million was spent on the president's feeding while N71 million was spent on the vice president's.
For local and international trips, President Buhari spent N1.7 billion and N776 million respectively. The vice president spent N284 million and N517 million for both local and international trips.
Why I travelled to London, President Buhari finally opens up
In a related development, Buhari on Thursday, April 8, disclosed that he took a short rest in London.
According to a presidential aide, Garba Shehu, the Nigerian leader made the disclosure in a letter he wrote to the King of the Hashemite Kingdom of Jordan, King Abdullah ll Bin Al-Hussein.
The president told the Jordanian king that he is pleased about the resolution of a recent rift in the royal family.
Source: Legit.ng