Run-Away DJ: Buhari's Minister Replies DJ Switch on Alleged EndSARS Massacre
The federal government is not ready to change its position that nobody was killed during the October 2020 EndSARS protest
In fact, Lai Mohammed, the minister of information and culture, has said that reports claiming otherwise are mere tales
The minister went on to mock one of those who presented a contrary claim, DJ Switch, calling her Run-Away DJ
Disc Jockey Obianuju Catherine Udeh (aka DJ Switch) has been referred to as a Run-Away DJ by the minister of information and culture, Alhaji Lai Mohammed.
In his statement on Wednesday, October 20, in Abuja, Mohammed, during a press briefing titled The First Anniversary of The Phantom Massacre at Lekki Toll Gate, stated that claims that there were killings at the venue exactly one year ago are false.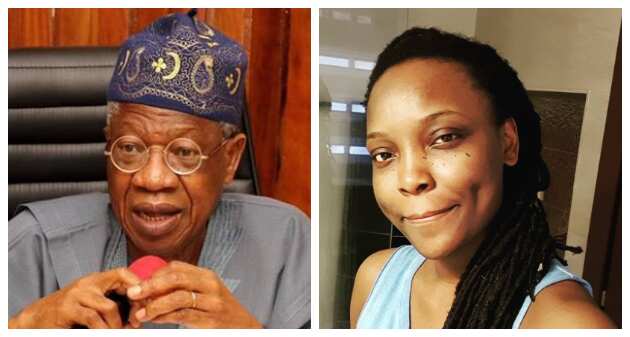 The minister in the speech made available to Legit.ng, dismissed the reports by CNN and DJ Switch as nothing but tales by moonlight.
He said:
"The testimony of ballistic experts before the Judicial Panel of Inquiry in Lagos contradicts the tales by the moonlight by Amnesty International, CNN, a runaway DJ, and their ilk."
The minister insisted that the said ballistic experts are not alone in reaching that conclusion as their findings were also backed by a report from the United States (US) Department of Justice.
EndSARS memorial: FG demands apology from CNN, Amnesty International, DJ Switch
Meanwhile, Mohammed had demanded an apology from some organisations which it accused of lying against the Nigerian military.
Mohammed who addressed a press conference in Abuja attended by Legit.ng on Wednesday, October 20, said the reports of people killed by soldiers at the Lekki toll gate in October 2020 were false.
According to him, some individuals and organisation helped to drive the narrative that dozens of people were killed at the facility.
He went on to demand an apology from them, specifically mentioning Nigerian female disc jockey, DJ Switch, Amnesty International and CNN.
The minister said with the preponderance of evidence against any massacre at the Lekki Toll Gate on October 2020, he is reiterating that:
"The military did not shoot at protesters at the Lekki Toll Gate on October 20th 2020, and there was no massacre at the toll gate. The only 'massacre' recorded was in the social media, hence there were neither bodies nor blood...."
Source: Legit.ng