President Buhari Drops Crucial, Specific Order For Military Before Leaving Nigeria
The Nigerian Armed Forces have been charged to keep their eyes peeled over security in the northwest
The order was given by President Muhammadu Buhari on Sunday, May 8, before he travelled to Abidjan
President Buhari directed that the northwest, especially Zamfara, must not return to its poor state in terms of security
Abuja - President Muhammadu Buhari has urged the Nigerian Armed Forces to be on their A-game when it comes to securing Nigeria, especially the north which is most hit by terrorism.
Speaking on Sunday, May 8, in Abuja, the president drew the attention of the nation's military to the northwest, with special regard to Zamfara, The Punch reports.
He ordered that the sub-region must never be allowed to relapse into the deplorable state it once was.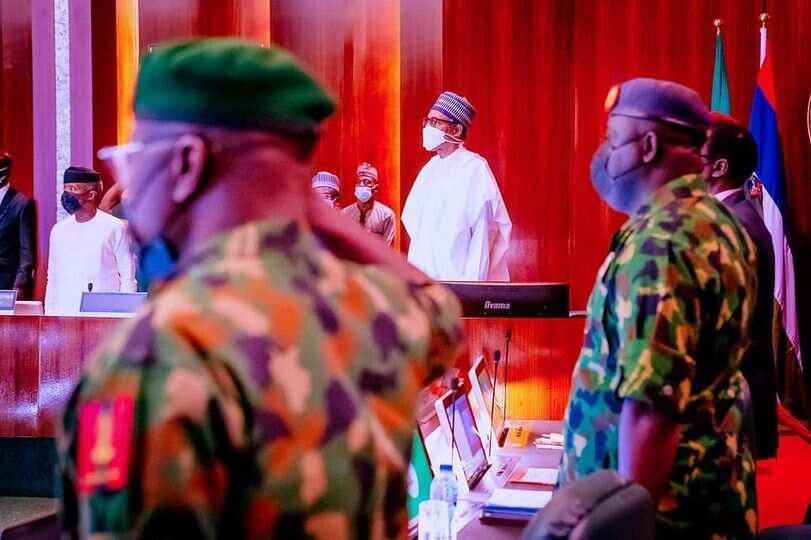 The president, in a statement released by Garba Shehu, a presidential media aide, hailed troops whose undying efforts have restored peace and calm to the state.
He, therefore, stated that the momentum that brought about this must be maintained even beyond Zamfara.
The statement seen by The Sun reads in part:
"We mustn't allow the return of days when the bandits had a free hand to do as they wished. The rural folk in Zamfara and elsewhere must be allowed to have peace.
"...momentum that has been developed must be sustained to bring closure to the activities of these murderers."
Buhari leaves Nigeria as presidential media aide reveals his destination
Meanwhile, President Buhari on Sunday left Aso Rock Villa for Abidjan, Cote d'Ivoire, to attend a conference organised by the United Nations (UN) on the future of land, regarding desertification, drought, degradation, rights, and restoration.
In a statement released by the presidency on Sunday, it was gathered that issues raised and agreements reached at the conference will redound to the betterment of national and global economies.
The statement partly reads:
"President Buhari, who will participate in a Summit of heads of states and government, May 9th-10th, 2022, joins world leaders at Sofitel Hotel, for the 15th session of the Conference Of the Parties (COP15) of the United Nations Convention to Combat Desertification (UNCCD), with the theme ", 'Land. Life. Legacy: From scarcity to prosperity..."
Source: Legit.ng