Meet 22-year-old best graduating student of Delta State University (DELSU)
The entire landmass of Delta state was recently agog when a 22-year-old student, Mr. Joshua Aghogho Erubami, emerged the overall best graduating student of Delta State University and was immediately offered an automatic employment by the state governor, Dr. Ifeanyi Okowa.
In this exclusive interview with Legit.ng's Austin Oyibode, the premiere first class graduate of Mass Communication in DELSU speaks on how he succeeded at surmounting all odds to clinch an amazing 4.86 Cumulative Grade Point Average (CGPA) and shows prospective students the leeway to academic excellence. Excerpts:
Please let us into your background
I grew up in Oghara town, Ethiope West local government area of Delta state. I was raised under the direct guidance of my father, Chief Samuel Erubami, and my elder siblings. I had my primary education at St. Peter's Nursery and Primary School while my secondary education was at Oghareki Model Secondary School, both in Oghara.
My father was a large scale farmer and, just like my siblings, I offered the support that was commensurate with my age and physical strength during the planting and harvesting seasons. Practically, I spent most of my primary school holidays offering support at my father's farms. Besides, I engaged in several childhood acts with my peers and I think I savoured each and every moment of my childhood.
What was growing up like?
As a growing child, I would say I got the basic support anyone could need to become a literate. My tuition fees were paid quite regularly, just as sundry other educational expenses were duly attended to. After I passed the common entrance to secure admission into Oghareki Model Secondary, I spent the whole of the six years in a boarding system and that exposed me to some levels of healthy academic competition among my peers and those outside my school.
Were you heavily assisted financially while on campus?
I will admit I received financial assistance while in school but I doubt if such assistance amounts to your concept of "heavy." Basically, I got my tuition and accommodation fees from my father but besides these, I catered for virtually all financial needs myself. By providence, I won't say I came from a poor home; at least my father could afford virtually all my family needs. However, I grew up with the orientation of not begging for things that ought to be my right.
READ ALSO: Presidency commends CAN for goodwill message on Buhari's health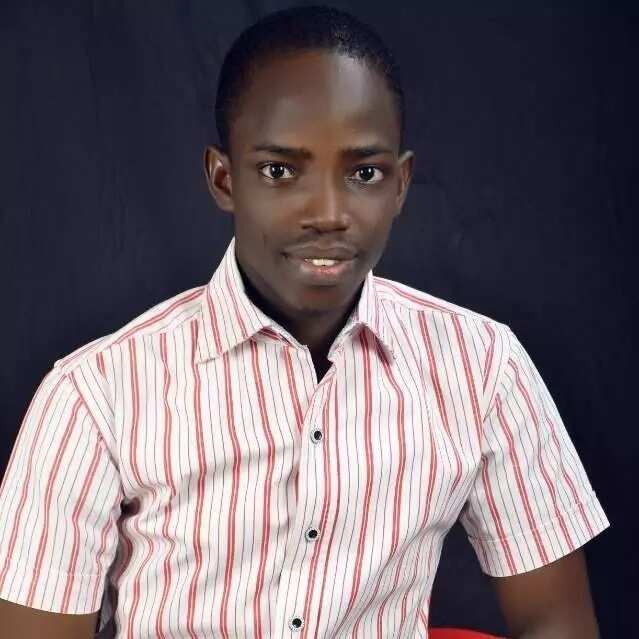 While I was growing up for instance, my father gave me money for my upkeep without me requesting it and I grew up with such orientation. So, when I was in the university, I barely called home for money other than my tuition and accommodation fees which, often than not, I got before resumption. I was not on any regular allowance from my parents or anyone at all, unlike most of my friends.
While on campus, there were quite a number of things I engaged in just to get money. In my first year, I was into photography for some months before delving into the printing press which I did for less than two months because I realised it was negatively affecting my studies. Besides that, I was also into commercial proof reading for some authors within Abraka town, most of whom were staff of the university. All these helped take care of some of my needs. So, while I will admit to receiving some financial assistance, I cannot adjudge that to be a "heavy" financial assistance.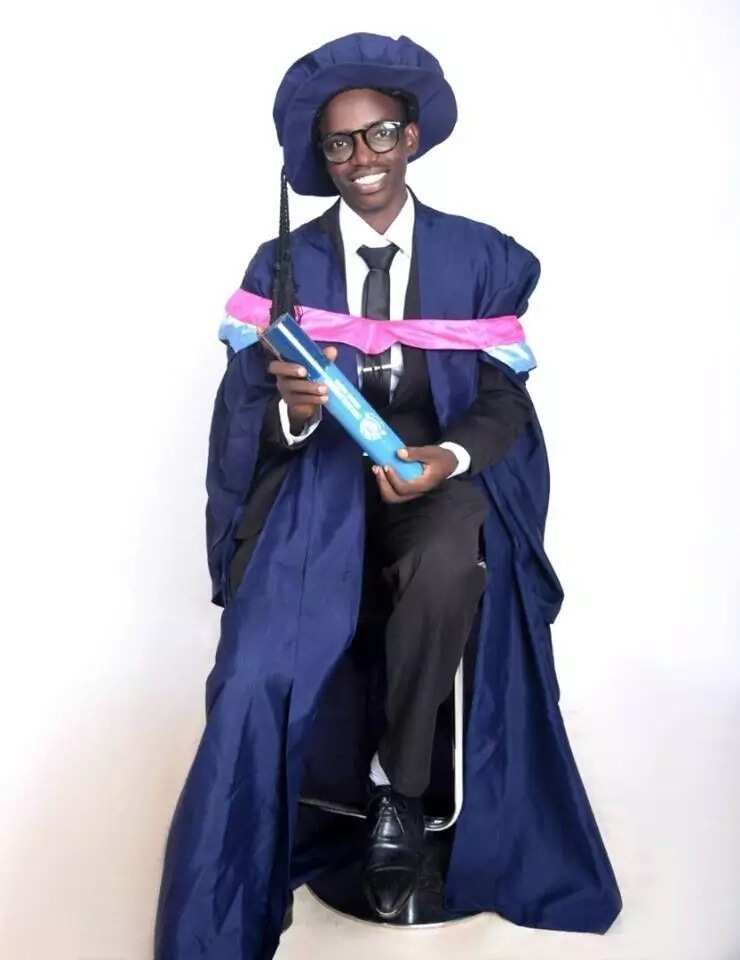 PAY ATTENTION: Read the news on Nigeria's #1 news app
You were recently pronounced the overall best graduating student of DELSU during the 11 convocation ceremony of the institution held on Saturday, 22 July. How did you achieve such feat?
Firstly, I wish to thank the Almighty God whose spirit and grace spared our lives to see that day. To me, that was one of the most important days of my life. It was a day hard work was recognized and given its due place in our contemporary world.
I wouldn't say I did anything extra-ordinary to clinch that feat. I attended lectures, did my assignments and tests and prepared for examinations almost same way other students did. Perhaps, what is most likely to be the difference was the purpose of study. I have observed that most students read simply because they want to pass their examinations and make good grades; that was not my sole preoccupation. The basic reason I read vigorously transcended the desire to pass examinations and make good grades. I read because I really wanted to know about the theories and actual practice of whatever I was taught.
As I earlier noted, I worked for most of the money I spent on campus and that ordinarily made me to ensure that I derived the maximum satisfaction from each and every naira and kobo I spent on campus. I bought virtually all my textbooks and other relevant materials from my personal purse; so, I took it as a point of duty to read virtually all the contents of the books I bought because I saw it as the only way to justify whatever resource I may have expended on them.
Ordinarily, I enjoy reading about things I had no prior knowledge of and I believe that there is actually no hard and fast rule to getting academic excellence; it is a matter of understanding what your strengths and weaknesses are, then you leverage on them to get whatever you want. One exceptional thing I did in school was my quite earlier resumption date. For each semester, I resumed a week earlier than the set resumption date and throughout that week, I will run through all we are supposed to learn for the semester. Thus, I go for lectures prepared ahead of time and over my colleagues.
How many hours did you read a day?
My daily reading target was seven hours which I spread into the morning, afternoon and evening. But there is no specific duration for any of my reading schedules, although I try to make it a minimum of seven hours each day. However, Saturdays are my D days. Usually, I read from around 8am to 4pm before going for Christian fellowship activities. There are times I didn't maintain my reading schedules during the week, but there was seldom anytime I failed my Saturday reading engagement.
Besides your seven hour reading, what else aided you in clinching the result that catapulted you to the top?
The major inspiration was the desire to satisfy my curiosity and gargantuan appetite for knowledge. Besides that anyway, it was my desire to win the students financial assistance scheme floated by the administration of Prof. Eric Arubayi, the former Vice Chancellor of Delta State University. The scheme awards a certain amount of money to the best three students in each faculty.
One of my lecturers, Dr. Lucky Ojoboh, had informed us about the scheme and urged us to work hard in order to benefit from it. I did work hard towards it and in 2014, I was announced the best 100 level student in the faculty of Social Sciences with a cash prize of N50,000. That event was specifically significant to me because I was privileged to give an impromptu valedictory speech on behalf of other awardees.
At the end of my speech, Prof. Victor Peretomode and Prof. Aloamaka who were Deputy Vice Chancellors then were so amazed that they gave me an extra cash of N5,000 each. That event offered me the first opportunity to exchange handshakes with the VC and the DVCs who advised me not to rest on my laurels. I felt honoured!
Apart from that, you will agree with me that success is sweet. I had already tasted success in DELSU during my pre-degree programme. I emerged as the overall best student at the end of the programme, having scored well above 500 points on a scale of 600. There is a popular saying that he who is on the ground needs fear no fall, so if you are on top, you must be duly guided by the taunting trepidation of falling. Having got to the top, I was quite disturbed by the possibility of sliding away from this path of excellence, hence the need to study harder and remain on top.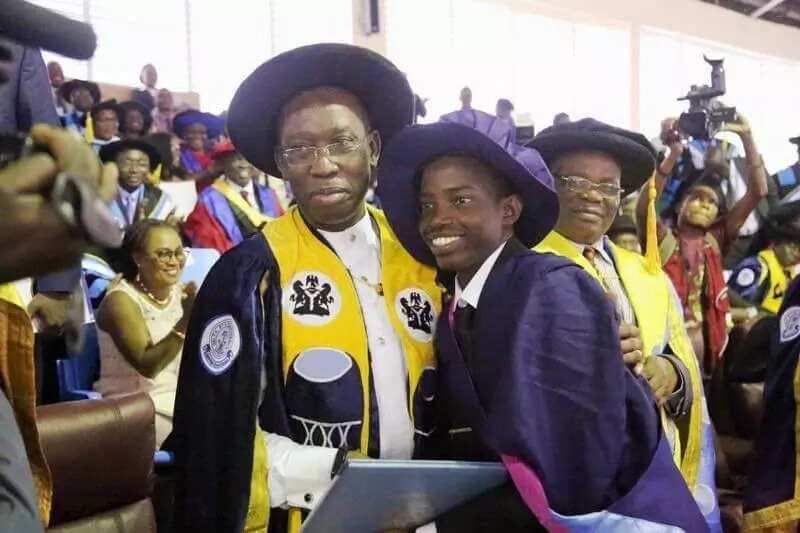 Also, I received immense support and encouragement from lecturers and my course mates who simply believed that I was cut out for something exceptional. I realised that most of them reposed so much confidence on me that I could not afford failing them. Many a time my lecturers came to class and said "Joshua you can make it to the top if and only if you keep doing what you have already started." My lecturers were very understanding with me and were readily available to offer any legitimate assistance.
Specifically, the Head of my department, Dr. Emmanuel Ufuophu-Biri, also showed a keen interest in my success; he would invite me to his office and offer words of advice to me. Perhaps, because of my age and physical endowment, my lecturers feared that I might easily get distracted by frivolities, hence the need to always prop me into the right track.
My department never churned out a first class graduate until I emerged one. While on campus, I saw the yearning of my department to have a graduate with a first class degree but because of the high standard they maintain, they could not risk giving to someone who may not be able to defend the quality of such certificate. So, seeing my prospect of breaking such record, they simply offered their best which has handsomely paid off today.
Did you actually expect this grade when you were writing your exams?
I started my academic career in DELSU on a very good note. But for one course, I had A in all the courses I took in my first year; I also had a similar experience in my second year. I had both a long and short term expectations. My short term expectation was to hit a 5.00 GPA every semester while my long term expectation was to break records in the school by bagging a first class degree from my department.
Initially, my dream of making a first class degree seemed like a wild goose chase considering the backdrop that no one had made such grade in the history of Mass Communication department in the university. Again, some lecturers openly told us that it was impossible to make a first class degree in the department and that the best anyone could have was a second class upper division.
The reality was that, I was sure of making an A in each course I took and if I make an A in all my courses, that will ordinarily translate to 5.00 GPA which was my immediate target. So, I just pursued my immediate target and allowed providence to decide what should happen next. Quite surprisingly, I observed a growing interest of everybody on my result.
At a time, it became a talk on campus to the point that many students from other departments and faculties knew my name and exact CGPA, although many of them did not know me facially. Some even got to the extent of searching out my mobile telephone number and were seeking my counsel on how to study.
The hallmark of it was when a very senior lecturer in my department, Dr. (Chief) Esirirune Mojaye invited me to his office and said, "Joshua you have been making us proud. At the level you are now, I will be totally disappointed at you if you fail to make a first class degree at the end of your undergraduate programme here."
Further, the Head of my department, Dr. Emmanuel Ufuophu-Biri, who is coincidentally my friend and mentor, told me that it was very possible for me to record such feat. I can still recall him saying, "Joshua, work hard to be on a safer side. It is better to be envied than to be pitied." These words of encouragement coming from them stirred in me the consciousness of making a first class degree. So, I went for it.
In all of these, did you pass through any stressful moment or day during your stay on campus?
Well, I think the way and manner the Delta State University is structured is the one that prepares students towards real life challenges and tasks that may not be easy to surmount. There are rigorous processes you must pass through in order to be wholly refined to become a worthy owner of DESLU degree certificate. You must be fit in knowledge, character and service before you can be awarded a degree in DELSU; that alone suggests that I had several stressful moments but I tackled each of them with the conviction that they were meant to be.
I did not suffer much academic stress though but there were times when student unionism put me in a very tight corner. The most dramatic of them was in my last semesters when some political opponents mounted undue pressure on me. The issue at hand was so severe that I saw myself attending meetings on the eve of my examination dates till 11pm or even later than that.
At a point, I feared such development would mar my performance for that semester and, of course, it did. I had my first and only C in that semester but had I A in other courses.
What was your most exciting moment on campus?
I had several exciting moments while on campus. Each time I met my semester target of making a 5.00 GPA, I felt wholly gratified and I recorded that feat in my first, second and third years in school. For each of these times, a very close friend of mine, Rachel Osifoh, got me gifts as reward for hard work.
Another moment was December 3, 2015, the day I won SOSSA presidency. Beyond the personal victory of defeating two opponents, I felt happy that the Mass Communication Department was able to produce a faculty president after about two decades.
But the day I consider as most rewarding on campus is March 31, 2016, the day my completed research project was assented to by my Supervisor, Dr. Patrick Akpoghiran, and my HOD, Dr. Emmanuel Ufuophu-Biri. On that day, I doubt if any student in the whole of DELSU had gone beyond the chapter three of their research work. Looking at the work on that day, I could not stop smiling because, indeed, it was the child of my brain, the fruit of my labour and the product of my determination to complete my project work before anyone on campus. On this, I must specially commend my supervisor who worked tirelessly to ensure that feat.
You have made a significant academic breakthrough, what would be your advice to prospective students on how to behave on campus so as to achieve their goals?
My advice is that they should be purposeful. Abuse becomes inevitable when purpose is not defined. After gaining admission, they should seat down and ask themselves what they wish to graduate with at the end of their academic sojourn on campus. They should study not only to pass examinations but to show themselves approved in their chosen field of study. They should strive for natural intelligence by reading hard and also paying rapt attention to their lecturers.
Humility is key to success. You can only learn more when you are humble to those ahead of you. I benefitted from some of my senior colleagues on campus despite the fact that my result was quite better than theirs. As a student, being sociable is part of learning but you must know when to curtail your excesses. Treat your lecture and study time like the oriental cow; ensure you do not defy them. If you can do this, just watch what shall become of your academic pursuit.
Some students tend to blame lecturers for their failures; do you think they are right?
The average Nigerian is a blame trader. To me, each individual is the major stakeholder and architect of his/her destiny. It is true that some lecturers are responsible for the failures of some student; in fact, some supposed lecturers actually have no business being in the classroom in the first place. However, I think bulk of the reasons students fail are traceable to them. It will be very difficult for a student to fail a course he wrote very well simply because the lecturer wants him to fail.
For instance, a lecturer says he does not like your face as it is said in the local parlance, and, rather than study hard, you start panicking, believing that you have failed already, you will certainly fail that course. If every student studies hard, attends lectures and does his/her assignments very well, there is no way he will fail. Besides, if you feel uncomfortable with the outcome of your examinations, you can seek redress at the quality assurance centre which I expect to be in every institution. So, rather than blame lecturers, I will advise that students should pay more attention to their studies.
What would you tell the governor who offered you automatic employment?
I am grateful to Governor Ifeanyi Arthur Okowa for, once again, serving the course of excellence. I know that singular declaration has inspired many students who had lost hope and are gradually receding from the path of excellence in our contemporary society where the educationally backward seem to be making it faster than the learned ones. I will want him to continue on that path of rewarding excellence despite the debilitating economic fortune of our country.
I wish to also appreciate the management of DELSU led by the Vice Chancellor, Prof. Victor Peretomode; my wonderful Dean of Faculty of the Social Sciences, Prof. Christian Ewhrudjakpor; my friend, father and the Head of Mass Communication Department, Dr. Emmanuel Ufuophu-Biri and the Dean of Students' Affairs, Prof. Augustus Atubi. I know these people were very strategic to that employment offer. I wish to specially thank all mass communication students who were privileged to be in the class of 2016; I love them all and wish them the best in all they do.
Watch video of Ex-prisoner advocating for the release of inmates:
Source: Legit.ng