King, Ex-lawmaker Slam BBN's Venita With N10bn Suit Over Comments About Tiv: "She Must Not Win"
Controversial BBNaija star Venita Akpofure recently stirred the hornet's nest with her comment about Tiv tribe in Benue state
The reality TV star claimed the Tiv tribe is known for offering their wives to visitors; a remark which prompted a lawsuit worth over 10 billion naira
But the paramount ruler of the Tiv people, James Ortese Iorzua Ayatse, the Tor, called her out over the remark
Reality TV star Venita Akpofure and the Big Brother Naija (BBNaija) organisers were recently slammed with a suit by the Tiv nation over alleged misguided comments shared on the popular show.
The paramount ruler of the Tiv people, James Ortese Iorzua Ayatse, and a former lawmaker, Gbe Benjamin Oruden, vowed to drag the show's organisers to court.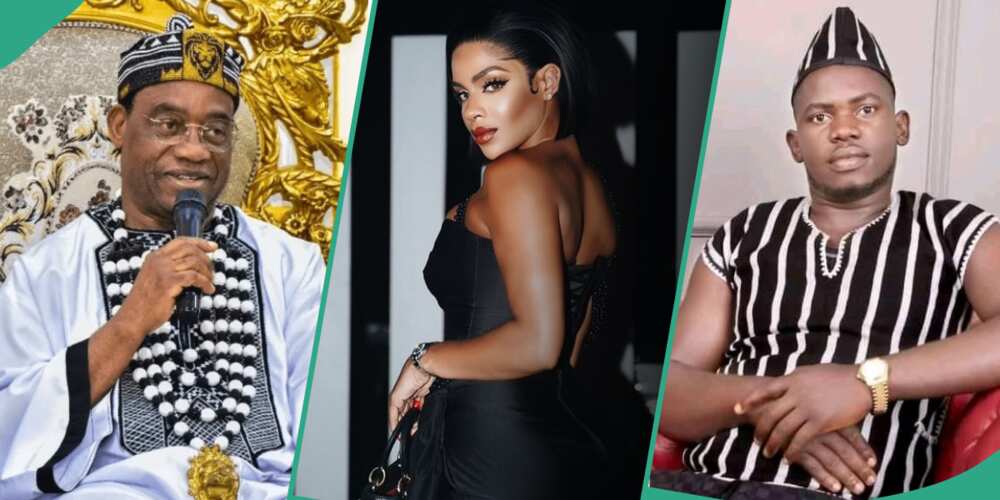 An official statement has been released calling on the show to tell Venita to retract her comment where she claimed that the Tiv people have a culture where their men offer their wives to visitors for bedroom pleasures.
Harmful narrative of the Tiv People
In a video, Tor Tiv said the harmful narrative had been allowed to spread for far too long, and they were bent on using Venita as a scapegoat to stop it.
On his part, Orduen called for a swift retraction of Venita's comment by calling out BBNaija as complicit in defaming an entire tribe.
Watch the video of the Tor Tiv addressing Venita's comment:
See Gbe Benjamin Oruden's statement:
See another video of a Tiv lady slamming Venita:
Netizens react to the calling of Venita over her Tiv comment
See some of the reactions of netizens to the suit and Venita's statement below:
@GentleSaga:
"I/we (TIV) so much appreciate your move towards this misconception, she should be severely penalized towards this false remark she made, she really has to withdraw that statement. She can't be so SILLY to say such on a tribe as whole..."
@jatosamuel:
"Maybe her father did same to her mother which in turn produced her. What a misconception."
@viviandoki:
"If she has terna's children,he should make sure he collect them from her."
@samiyaghigba:
"That Venita Akpofure of a woman should be removed from BBNauja all stars 2023 show for her baseless accusations if she cannot substantiates on her claim. We are ready to take her to court to prove this BIGBROTHER, DSTV, MULTICHOICE take note."
@Iorzakelvinnenge:
"This is a good move she must go on her knees to apologize and tell the truth to others as she tells lies."
@scandymayange:
"It's time she understands that a TIV man is not only the man she once married. But a United kingdom you can't throw banters at, and go Scot free."
@snaz-p:
"Personally I have reported her pages both Instagram and Facebook."
@tsekaastephen:
"Totally agree!!! We the Tiv folks must act fast."
@Abigail Bonita Dooshima Ngusha:
"This is sweeting me . ENOUGH IS ENOUGH Kela..."
BBNaija Venita gossips about Pere's health
Meanwhile, Legit.ng reported how Venita revealed Pere Egbi's health issues to Adekunle.
Pere had shared with Venita that he underwent heart surgery outside the country and the effect of the development on him.
Source: Legit.ng