BBN All Stars Ilebaye and CeeC Have Heated Fight Over Doyin's Photo, Fans Take Sides: "The Audacity"
BBNaija All Stars' housemates, Ilebaye and CeeC, have clashed because of an evicted housemate, Doyin
Both ladies engaged in a shouting match after CeeC cleaned off the kisses Ilebaye planted on Doyin's post-eviction photo
The video of their fight went viral on social media, leading to fans of the reality show sharing their hot takes on the matter
Nollywood actress Esther Sky shared her thoughts with Legit.ng on the altercation between CeeC and Ilebaye
Two BBNaija All Stars housemates, Ilebaye and CeeC, trended online over their heated fight on the reality show.
Recall that one of the housemates, Doyin, was recently evicted from the show, and Ilebaye decided to show her love after her exit.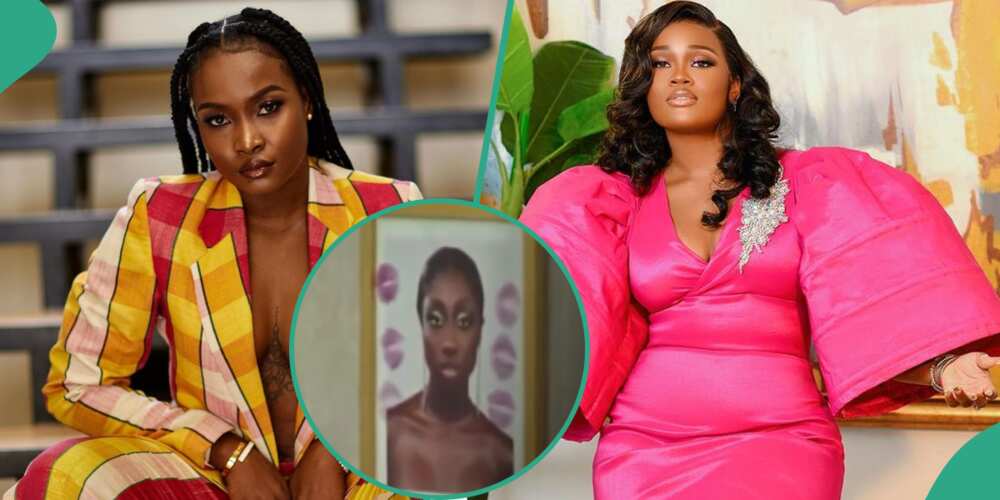 In videos making the rounds online, Ilebaye was seen ranting after discovering that the kisses she had planted on Doyin's post-eviction photos had been wiped off.
Ilebaye went to the lounge to scream about how someone had the audacity to clean off her kisses from Doyin's photos when she had never done that to any housemate before.
PAY ATTENTION: Follow us on Instagram - get the most important news directly in your favourite app!
She said:
"People have been kissing pictures in this house and I never cleaned it up. I kissed a picture and the person had the audacity, the mind, the liver, that they born the person well to come and clean the lipstick, how dare you?"
CeeC replies to Ilebaye's rants
Ilebaye's shouts made some of the housemates confront her to mention who exactly she was referring to.
Reacting, CeeC revealed she cleaned it because she wanted to. She also accused Ilebaye of being violent by shouting about it.
Not stopping there, CeeC said Ilebaye had put four sloppy kisses on Doyin's photo instead of one. She noted that the evicted housemate had other real friends in the house.
CeeC said:
"She asked me to clean it! You did four! Everywhere! If you want to do, do one! She has friends in the house, real friends actually!"
Ilebaye was also seen in the video applying lipstick on her lips and planting more kisses on Doyin's photo. See the clip below:
Reactions as CeeC and Ilebaye fight over Doyin's photo
The fight between Ilebaye and CeeC got many fans of the show talking online after the video went viral. Read some of their comments below:
Vain_girll:
"Lol. None of them had Doyin's back so Ceec didn't have any right to clean it. Let whoever wants to pretend pretend, kisses on a picture makes no difference."
paragonizy:
"Cee c you are not a real friend to doyin. You nominated her for possible eviction and she left. You have said all sort of of bad things in that house abt doyin. When Doyin's had issue with Pere , it was Ilebaye that held her . Upon they are not in good terms. Ilebaye doesn't gossip with Doyin's name. When doyin was drunk , it was Ilebaye that took care of her in as much as they don't talk. She clearly said she doesn't want them to be close as they were before cos the always have issues. Which is understandable. So for my the only person that had Doyin's back in that house for real was Ilebaye. In as much as she doesn't express it to Doyin but she was rooting for her always."
chopsbyenny:
"Ilebaye has never put doyin up....ceec isn't in a right position to pick friends for doyin."
faith.endy:
"Ceec na him gossip doyin for that house pass how many times ilebaye done sit down gossip doyin?????"
Lil_maamii:
"I don't like both oo but ceec was wrong. You can even see she doesn't have tangible reasons of cleaning."
sayyyrahhh:
"There was absolutely nothing wrong in what Ilebaye did! CeeC has being apparently wanting a clash with her! Irrespective of their fallout,Ilebaye still regards Doyin as her friend! Countless times as she told Biggie she'll save Doyin and replace with someone else! By the way,it's Ilebaye going back to read the rule book for me."
properties_by_susan:
"But why did ceec clean it? That's very bad."
Other housemates have the right to kiss - Actress Esther Sky
Legit.ng recently spoke with Nigerian actress Esther Sky and she shared her thoughts on the fight CeeC and Ilebaye had over Doyin's photo.
According to her, Ilebaye should not have kissed the whole picture because the other housemates would want to kiss too.
She said: "I feel Baye shouldn't have occupied the space with her kisses because other house mates has right to kiss too."
CeeC has improved this season
Esther Sky also noted that CeeC has changed from the person she used to be during her own season. According to the actress, the young lawyer has improved. She said:
"As for CeeC, this season she improved. She has learnt anger issues, how to control her anger cos CeeC of years ago. Hummmmmm I'm happy to see little changes in her this season."
Strong BBNaija nomination lineup including Mercy and CeeC trends
Legit.ng earlier reported that eight housemates were put up for possible eviction, including the strong contenders.
The housemates that made it to the nomination chopping block were Mercy Eke, Whitemoney, CeeC, Alex, Ilebaye, Adekunle, Omashola (Sholzy) and Neo.
Their nominations caused a huge stir online, with netizens wondering why the top contenders were put up for eviction.
Source: Legit.ng