"Verified Geng": BBTitans Ebubu and Blaqboi Are First Housemates to Get Instagram Blue Tick, Fans React
Fans of Big Brother Titans (BBTitans) housemates, Ebubu and Blaqboi, have gone wild online as they celebrate getting verified on Instagram
The Nigerian Titan Blaqboi Vic is the first BBTitan housemate to be verified on Instagram, and he gets his blue tick with just 26k followers
Meanwhile, Ebubu, the first albino to go on the Big Brother reality TV show and is the second housemate to get verified at 26.6k followers
Two Big Brother Titan (BBNaija) housemates, Victor Panwal, better known as Blaqboi and Ebuka Chukwu whose alias is Ebubu, have been trending online after they both got verified by Instagram.
The Nigerian pair are the first housemates of this year's BBTitans show to be verified on Instagram. Blaqboi got his blue tick first on Tuesday, January 24, 2023.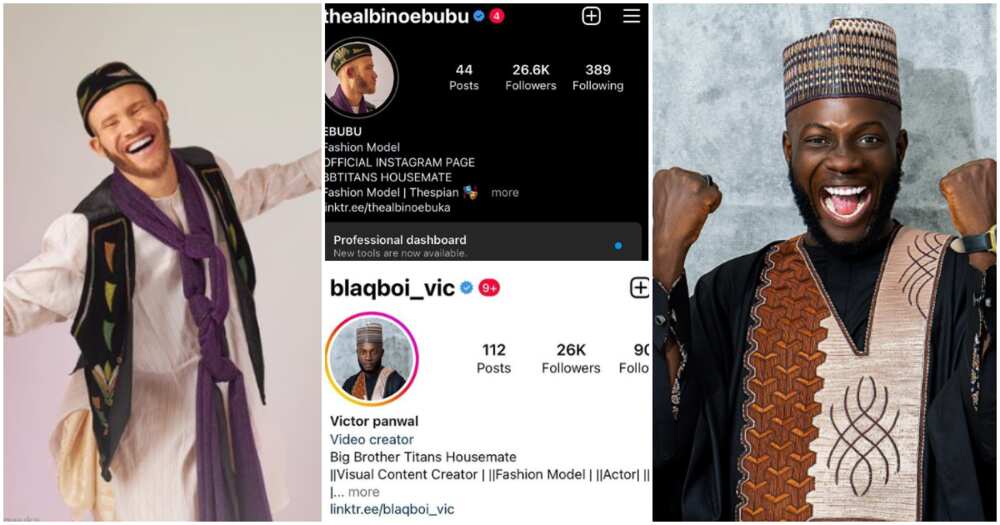 While Ebubu was on Blaqboi's page celebrating him after he got verified, little did he know that his own verification was already in the pipeline.
Blaqboi who has never been outside Nigeria before until he was admitted into the BBTitan house, got his blue tick at 26k followers.
Ebubu got his verified blue tick hours later. He got verified at 26.6k followers. At the time of publishing this article, both housemates were already at 28k followers.
See both BBTitans housemate's celebratory posts below:
See Ebubu's post celebrating getting verified by Instagram:
See how fans reacted to Ebubu and Blaqboi getting verified by Instagram
@thealbinoebubu:
"Congratulations brother . Cheiiii . Blue thick geng."
@dayzhen_:
"That makes him the first person to be verified since they got into the house right?"
@phynna_groovy:
"Congratulations @blaqboi_vic we are doing this till the end. Now let's parry on Twitter."
@officialtsatsii_:
"Haibo yeboooo! I'm happy for you bro! congratulations."
@oghenekaroitene:
"Congratulations."
@blaqboi_vic:
"My brother is verified."
@theegeminiking:
"Yaaaaaaassssssssss!!!!! That's what we're talking about."
@dcommunitee:
"Ebubu to the world."
@w.e.k.l_:
"Ebubu to the world my fave that makes me happy."
@starqueenkay:
"Haaa! No be juju be that the anointing too much ! Like seems is just my first time seeing this number of followers and yet verified now we can separate the online chaffs."
@kredol_creativeidol:
"Yesssss EBUBU IS VERI WHATTT VERIFIED STOP PLAYING."
BBTitans Ebubu receives adequate attention from the ladies in the house
Legit.ng recalls reporting that Big Brother Titan (BBTitans) Ebubu, who is one of the housemates representing Nigeria, has captured the attention of several women in the reality TV house.
Two separate videos circulating the internet showed different females displaying attention towards the albino housemate.
A clip captured when Ebubu was trying to clean his face with wipes when one of the South African girls, Yaya, came towards him to assist him in wiping off his face.
Source: Legit.ng