"I Am Not the Feminist That Fights to Become King": Ini Edo Speaks on Why She Doesn't Agree With Feminism
Popular Nollywood star Ini Edo believes that there are different angles to the global movement of feminism and stated her stance on that
The sultry actress explained how she views feminism and why she does not agree with most of its principles
Ini stated that she would always seek the advice of a man and would not mind taking the queen's position as long as her voice was heard as well
Nollywood actress Ini Edo sparked reactions online with her reasons for not wanting to be tagged as a feminist.
The movie star revealed that she has been raised to always value and respect men, which is why she finds it difficult to identify as a feminist.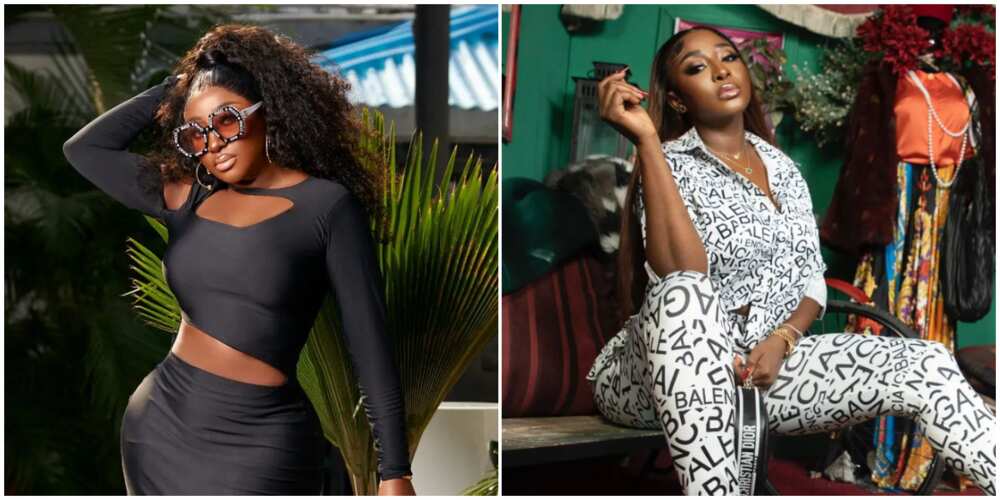 According to Ini, she does not believe in the fight to take the throne from a man to become king.
She said she would instead take the seat of a queen and let the man have the king's position.
The screen beauty went on to say that as long as no one is overshadowing her or attempting to prevent her from being her best self, she will always let a man take first place.
Watch the video below
Social media users react
askddietitian:
"Feminism has only one reason /definition … equal rights for women, there are countries women cannot drive , they can't go out without a male chaperone, they can't go to school , in Nigeria some children are married off, no education, that's what feminism is about … it's not about submission or cooking egusi soup …. Any woman who preaches feminism as hate for men is not a feminist but a misandrists."
thisisrachelle_:
"I agree with her.....As long as there's nothing pressing my neck, I am comfortable being a queen. God that created us Male and Female with different roles didn't make a mistake."
superwoman9ja:
"Being a feminist is about advocating for the disapppropiation of women's rights. However equality does not mean sameness."
efik_princess:
"For those of you actively trying to misunderstand her whilst pretending to not know that the idea of feminism has largely been sold short by some persons....well that is she's implying! Most acclaimed feminist have in recent times painted feminism to be a cuIt of women that cannot coexist with men...making it seem like to be a feminist you must abhor, disrespect and h@te men. She further said she's okay with the idea of a man being the king and she the queen as long as nothing unsettles her or hovers around her crown! Truth be told, true and correct feminism and it's concept must be retaught to women in Nigeria especially. Until then, don't blame women like Ini Edo for their stance!! Pleasant Sunday to anybody who will not be able to counter my opinion intelligently. This is all you'll get from me!"
teeh_lyfstyle:
"Up on till now people really don't know what feminism is all about. The earlier you know feminism isn't about degrading men the better for y'all. "
ms_ujah:
"So Ini really does not know the definition of feminism? Wow! Feminism has one definition; google it. It doesn't mean one thing to dine and another thing to others. If you derail from the original meaning of feminism then what you're practicing is not feminism but man hating rising from sheer ignorance."
Ini Edo shows off her impressive boxing skills
Meanwhile, Legit.ng reported that actress Ini Edo took to social media with a clip from a movie she starred in.
The movie star had to fight physically in some scenes, and she bragged about putting in the work for each stunt, kick, and blow.
Edo further shocked her fans by revealing that attending Jackie Chan's masterclass was the length she went to bring her character to life.
Source: Legit.ng