"Thanks for Making Our Son Feel Fatherless": Actor Mustapha Sholagbade's Babymama Drags Him With Birthday Post
Nollywood actor, Mustapha Sholagbade's baby mama, Adewumi, has taking to social media to call him out with a scathing birthday post
On the actor's birthday, his baby mama posted his photo and followed it with a lengthy caption where he thanked him for being a deadbeat dad
Adewumi thanked Mustapha for making their son feel fatherless and not showing him love like he had been doing for his other kids
Popular Nigerian actor, Mustapha Sholagbade, has now been dragged on social media by his baby mama, Adewumi, on his birthday.
The actor clocked a new age on January 1, 2023, and his baby mama shared his photo on her page and accompanied it with a long note where she called him out under the guise of thanking him.
Adewumi's main grouse with the actor was him abandoning their son and his first child, Yasir.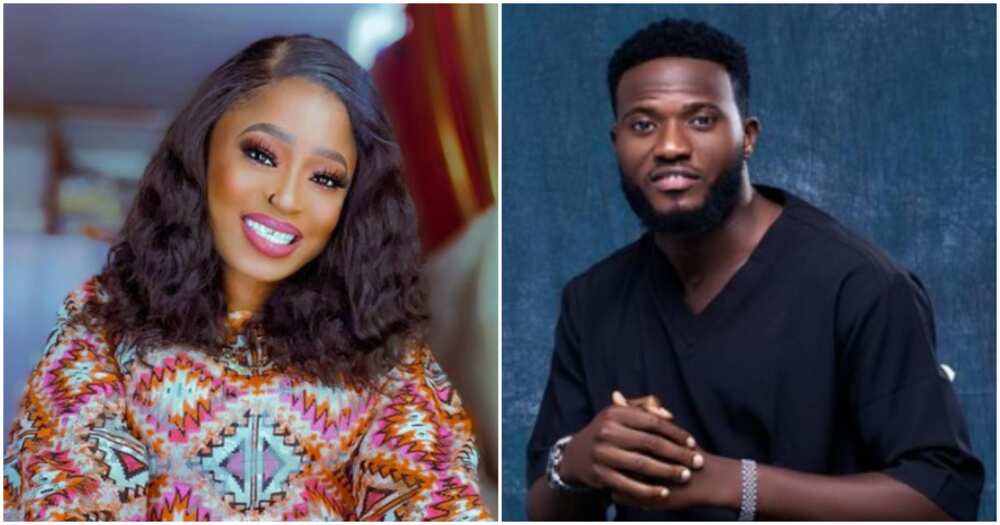 The makeup artist ironically 'thanked' the actor for coming to check on their son and for 'making him feel the fatherly love' he had shown to his other sons.
She thanked him for making their son feel his absence and for always making her child ask her of his whereabouts.
Not stopping there, Adewumi thanked Mustapha for always coming for movie shoots in their area and not calling on their son's grandma so he could see his first son.
The young lady thanked the actor for making her feel like a failed mother and making their son feel like a fatherless child.
She wrote:
"Happy birthday owo baba yasir , thank you for always coming to check on your son , thank you for making him feel the fatherly love you showed to your other son's , thank you for always making yasir feels his daddy absence everytime his mate are showing off their dad in sch , thank you for always making him to ask for his dad jawe Owo baba Yamir , thank you for always come and shoot in our area even if I was there but never bothered to ask me to bring him or call grandma to check on your FIRST SON , thank you for always making the boy think I'm a failed mother, thank you for always making him feel like a fatherless child."
Not stopping there, Adewumi referenced the fact that the actor is married to an American woman and then proceeded to thank him for thinking their son together means nothing because he is a Nigerian citizen.
She also thanked him for only seeing their child just three times in 2022 and for not creating the needed bond with the young boy.
Adewumi then concluded the note with a prayer for God to also provide her own husband. She wrote:
"God will give me my own husband that will sees my son as his own and show him the love you failed to show him enjoy your new age mr Mustapha sholagbade.."
See the full post below:
Nigerians react as Mustapha Sholagbade's baby mama calls him out for being a deadbeat dad with a 'thank you' note
The actor's baby mama's birthday post to him soon went viral on social media and raised a series of reactions from Nigerians. Read some of their comments below:
susan_davids:
"All these writes up not even necessary, if he decides to be an absentee father then let him be. Focus on YOU and your CHILD, then keep trusting God, begging him is not and can never be an option."
osdevicesofficials:
"The fact remains that when parent are separated…. The child's suffers it …. It can't never be balanced when it comes to love,MØÑÊY,affection there must be complain always …."
nnenna_blinks_:
"Sorry Mammi na you go born with bombastic element. May God give you wisdom to continue raising your son."
queen_ebys:
"Don't beg a man to be there for a child when he obviously doesn't wanna be . Being a single mother is the biggest challenge but forcing a man to be a better FATHER to his child usually end up in disaster. Focus on bringing forth your child and trust God to be there for you."
chroniclesofablackfemale:
"The pain in this post is mindblowing . Single parents are trying."
middeycakes_and_confectionery:
"This message came from a place of pain , that nobody can ever comprehend! Your son will be great, keep playing both roles with faith and love ❤️ e go be."
0j0nugwa:
"I feel so much pain in this write up. Until you have to raise a child alone, you'll never understand her pain. I pray the Lord heals her and sends her a man that will be everything she's always wanted, I pray he gives her the strength to raise her son right. Sending love and light your way❤️."
Dancer Kaffy and estranged husband reunite for son's birthday
Popular Nigerian dancer, Kaffy Shaffau, and her ex-husband caused an online buzz over their son's birthday celebration.
Their son, Sean, clocked 11 on December 28, and they both put aside their differences to celebrate him.
A small birthday party was thrown for the celebrant and both of his parents alongside other family members joined in the celebration.
Source: Legit.ng