Zubby Michael and Chizzy Alichi End Beef, Hugs Passionately Weeks After Fighting Dirty Over King of Boys Movie
It was a massive face-off between Nollywood stars, Zubby Michael and Chizzy Alichi when Netflix star movie King Of Boys was released
Zubby declared that a woman can never be King of boys in reference to the Kemi Adetiba movie and his colleague Chizzy Alichi in the comment section replied that a woman can be anything
The exchange became messy between them before they meet up recently to bury the hatchet in a lovely video where they smiled and hugged upon seeing each other.
Nollywood actor, Zubby Michael, and his female colleague, Chizzy Alichi have ended the messy beef they had over the King Of Boys movie title.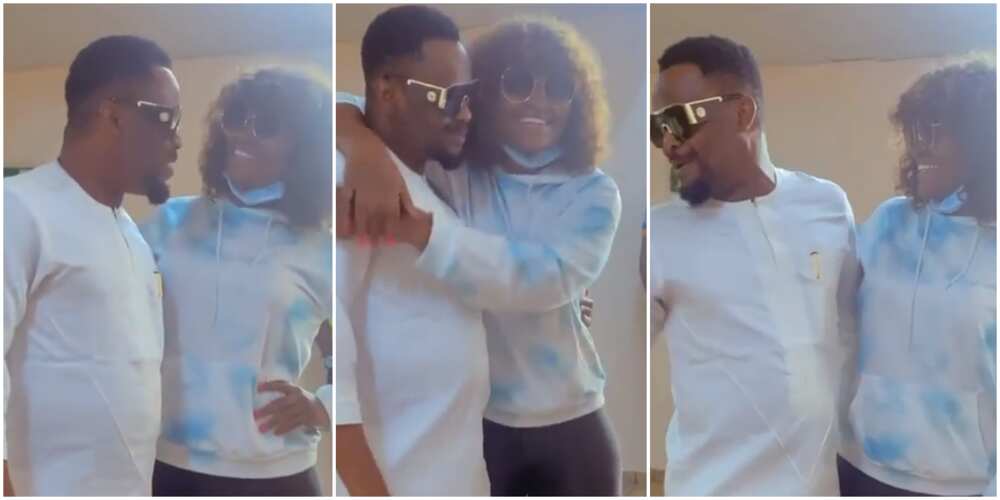 Zubby and Alichi fight dirty
Zubby Michael commented on the high ranking by Kemi Adetiba and declared that a woman can never be king of boys, Chizzi replied him that a woman can be anything and backed her points up with what man can do a woman can do better.
Zubby did not take Chizzy's reply well and insulted her in his reply, the actress did not waste time in giving him an appropriate reply as they transferred insults to their relatives.
The two movie stars seemed to have moved on and made up from the fight after meeting up with each other weeks after.
They hugged and laughed together in a new video that hit the internet.
Watch below:
Reactions
Fans have commented on their end of the beef video and commended them for their maturity.
Legit.ng captured some of the comments, read below:
Asualar1:
"With the look of things I think he was the one who asked for settlement."
Billions_counting:
"That's the spirit embrace love ❤️ and tell hatred to step aside."
Favor_ope:
"That's y sometimes it's good to fight back immediately in some cases so you can both be on same scores wt the offender before settling... That way there won't be bad blood cos u both wud av equalized. (1-1)."
Ladyque_1:
"As they should."
I'm the richest actor in Nollywood, Zubby Michael brags
Nollywood actor, Zubby Michael has offered an explanation to people who have a problem with how to spend money
Zubby declared that he does not pay tithe in the church so whatever money he gives out is his offering to God
The actor also revealed that he made over N100 million recently from acting and he is the richest in the industry for now.
Source: Legit.ng