Big Bird @40: Seun Kuti Carries On Afrobeat, Activism Legacy of Fela
To many Nigerians, the late Fela Anikulapo-Kuti is regarded as the greatest musician to ever grace a stage and is seen as the pioneer of musical activism
Fela's son, Seun Kuti, also known as Big Bird, in many respects has tried to sustain and carry on the legacy of his great father both in music and social activism, over the years
Big Bird recently turned 40, and in celebration of the Grammy-nominated singer, let's take a look at the journey so far as he follows his father's footsteps
Turning 40 years old in many societies is seen as the official crossing over to elderliness. Nigerian Afrobeat singer and activist, Seun Kuti on January 11, 2023, crossed over, and it was quite a celebration of life, growth, success, and recognition of a great legacy.
Seun Kuti is one of the sons of the great Nigerian Afrobeat pioneer and legend, Fela Anikulapo-Kuti. He was born into greatness, a responsibility he probably never asked for, but rose to the occasion.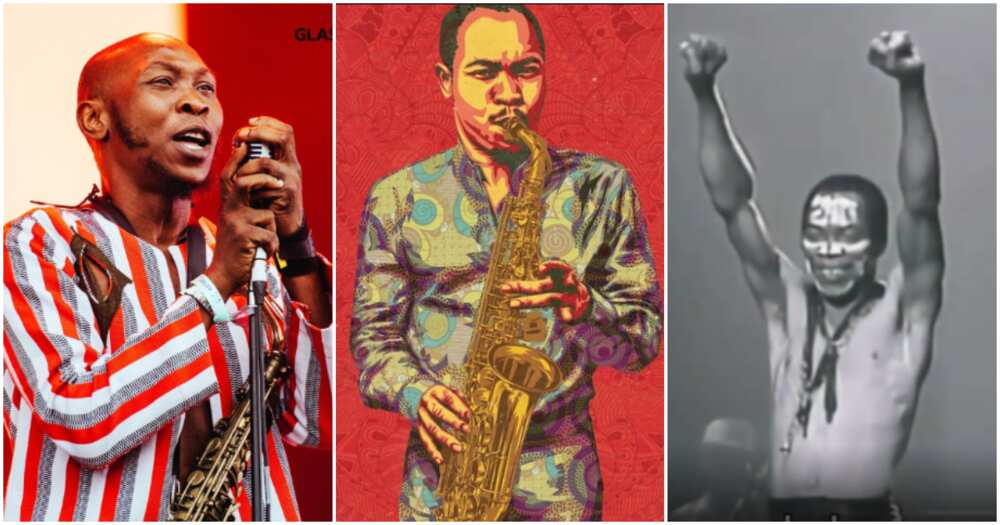 In many regards, he shares a striking resemblance with his father which goes beyond physical looks. From his outspokenness, the capacity to speak truth to power, his style of conscious music, to activism, the apple did not fall far from the tree.
In this article, Legit.ng celebrates the Grammy-nominated singer, his achievements, influence in modern-day Nigeria and how he has successfully carried on the legacy of his late father, Fela.
Music: Afrobeat
Seun Kuti is the third son of his father. Even though he was the youngest, he inherited the mantle of leading his dad's Egypt 80 band.
The Big Bird joined his father's band at the age of nine, though he had been engaging with the band and playing instruments when he was far younger.
However, at 14, when his father died, he took over and became the leader of the band. At the time, it seemed like quite a huge responsibility to place on the shoulders of a teenager.
Decades later, Seun has proven it wasn't a mistake, as he has gone on to release four studio albums with the Egypt 80 band and was nominated for a Grammy Award.
Seun, through the years, has retained the uniqueness of his father's sound through his affinity for the Saxophone, as he shares more similarities with his old man other than the sideburn.
The Fela reincarnate is a great Afrobeat musician and a master stage performer; he is truly the Prince of Afrobeat.
Activism
Over the years, Seun has also cultivated a controversial personality. He uses his position and reaches to preach some of his radical, philosophical and sociological views. All of this isn't new to anyone who is a fan of the Kuti musical identity, as these are all traits he shares with his father.
Fela, at the peak of his career, called out the Western world for its Neo-colonistic view and treatment of Africa. Seun also does the same through his music, while on stage or through his social media platforms.
Seun is also famous for his tendency to join and air the views of the masses in coordinated protests. He also constantly calls out the government to treat its citizens better.
Big Bird is the convener of the politically conscious group, Movement of the People (MOP). This used to be his father's political party, however, Seun revived it and made it a conscious group, not a political party.
Music, Achievements and Grammy-nominations
Seun Kuti might not be as internationally recognised as his father was, but he hasn't done badly for himself.
In 2008, Seun released his debut album with the Egypt 80 band at the age of 25, 11 years after he took over his father's band.
He and the Egypt 80 band have released five official studio albums titled Many Things, Think Africa (Na Oil), From Africa With Fury: Rise, A Long Way to the Beginning and Black Times in 2018.
Black Times earned Seun Kuti his first Grammy nomination in the World Music Category. This was a unique recognition for the Kuti family's musical talent, as he became the second member of the family to be nominated for a Grammy award.
Seun's older brother and Fela's first son, Femi Kuti, has also been nominated thrice in the same category.
Seun was also invited to perform at the Marsatac Festival in France in 2008 and during the 2014 Industry Nite.
In his own right, Seun has done very well for himself as a musician and has a legacy of his own, while upholding his father's legacy.
Love For Hemp/Hashish
I don't think there is any family in Nigeria more synonymous with Hemp as the Kutis. Just like his father, Seun Kuti is also a huge fan of the herb, and he shows it off with so much confidence. This is another similarity he shares with his old man.
Differences Between Seun and Fela
Although Seun shares many similarities with his father, he has consciously tried not to be a replica of his father in certain aspects, especially in his personal life.
The singer is married and has stayed loyal to just one woman, Yetunde, who he shares a daughter with. Seun's only child, Ifafunmike Adara Anikulapo-Kuti was born on December 16, 2013.
Also, Seun's songs, fame, and recognition do not have all their roots in his father's popularity and wide acceptance alone. Of course, there is no denying that Fela's name has had a significant influence on Seun and people's perception of him.
However, we should recognise that Seun has upheld and sustained his father's legacy, and garnered recognition for himself, while keeping the memory of his father alive.
Source: Legit.ng