I Was Robbed of N28m, US Show Promoter Calls Out Burna Boy, Mum, Accuses Them of Extortion, Seeks Refund
US show promoter, Gold Moola, has taken to social media with a call-out post directed at Nigeria's Burna Boy and his mother, Bose Ogulu
The aggrieved individual accused Burna Boy's mum of attempted extortion while detailing the alleged transactions between them
Gold Moola claimed that Burna Boy didn't show up to perform at an event he was paid for as he made demands for a refund
Nigerian singer Burna Boy and his mother, Bose Ogulu, have been called out on social media by a US-based show promoter identified as Emmanuel Chinyere Uzoh aka Gold Moola.
The aggrieved individual took to his Instastory channel with a lengthy rant as he levelled several accusations against the Ogulu family.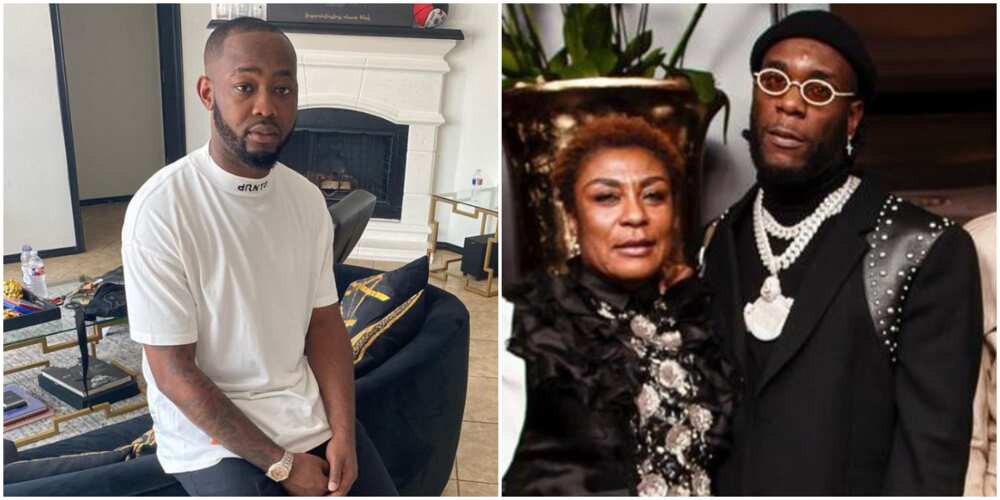 Moola started off by accusing Burna Boy's mother of attempting to extort him up to the tune of over N4 million after he had made payment for what was initially agreed upon.
He wrote:
"Bose Ogulu attempted to extort me for $10k. After the agreed amount was paid in full, she proceeded to ask for an additional $10k. When I realized what was happening, I decided to pull from the show completely. I asked for the 15k balance that was paid the night of and they refused to return the money."
Moola also claimed that Burna Boy's team snuck out of a hotel through the back exit after they had finished negotiations.
When Moola realised he was being extorted
In a different slide, he posted the promotional flyer for the show while disclosing that Burna Boy put it up after receiving the balance for his appearance.
Moola claimed that after the Twice as Tall singer posted, his mum allegedly requested another $10k.
The promoter said it was at the point of Bose's request that he realised he was being extorted and Burna Boy shared a post announcing the show's cancellation.
Moola wrote:
"At that point, I no longer wanted to move forward with the deal. This is around 1:10 am. He was set to arrive at the club at 12:25 am. Once I requested for the $15k balance that was paid that night (The deposit was paid in October in Los Angeles) that's when he posted this cancelled flyer."
Moola claimed that he was robbed of N28m by Burna's team and his name was slandered.
He disclosed his intention to pursue the matter with the help of the law while demanding a refund.
See screenshots below:
Read what social media users are saying below:
slimzybme said:
"Did you pay to Burna boy directly? You in the entertainment industry like you said you should know how the managers and backroom staff behaves."
lolamewu said:
"Una no sign contract?"
cuteshoemaker said:
"Let justice take its cause!"
odenigbo_official said:
"We will hear from both side before we put mouth."
charry_fetimi said:
"But Burna Boy was performing in Houston texas on the 30th na, Abi na other show?"
kofo_obathetailor said:
"Charge him for damages to your reputation too."
Burna Boy celebrates sister for designing new 2022 Range Rover car
Some days ago, Legit.ng reported that Burna Boy was filled with pride and excitement as he spoke about his sibling's achievement.
The singer's younger sister, Nissi Ogulu, designed the model for the recently announced 2022 Range Rover luxury ride.
Burna Boy shared the news on his social media page and many Nigerians heaped accolades on the Ogulus for properly representing the African continent.
Source: Legit.ng