Netizens Scream 'Not Me' After Watching TikTok Video of Elephant Charging at Game Ranger Who Acted Fearlessly
A video showing an angry elephant charging at a safari vehicle had Mzansi people tapping out
The impressive part of the clip was the fearless ranger who told the elephant to back off
Mzansi peeps made it known that they were not about to mess with a beast like this
A TikTok video of an elephant charging at a game ranger had the people of South Africa reminding peeps that just because they are from African soil doesn't mean they are about the safari life.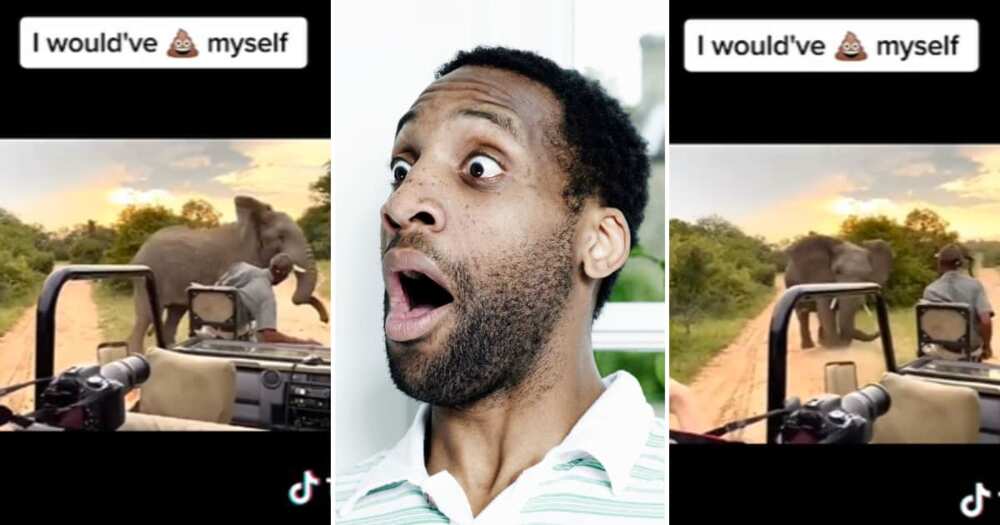 While foreigners might believe that Mzansi people have lions as pets, the truth is that some are not even big fans of wildlife at all.
TikTok video of angry elephant charging at fearless game ranger goes viral
A TikTok video showing a lush game drive that almost turned horrific thanks to an angry elephant was shared by @ksf.put.
The most impressive part of the clip is how the fearless game ranger took charge and deferred the elephant.
Take a look:
Mzansi people make it clear that large angry animals are not their vibe
Yup, elephants are beautiful, but TikTok is as close as many people are getting to those majestic beasts. Many people claimed that their life would have instantly ended if an elephant charged at them like that.
Read some of the funny comments:
@neenah38 said:
"Even the music stopped, I'm good."
@user7042049317524 said:
"I don't understand these safari vehicles."
@fivethajoker said:
"Why are the vehicles still sooooo slow."
@Cathy Goings110 said:
"We should make everybody on that Safari wear brown pants just in case lol."
@Nomcebo ❤️❤️❤️ said:
"Hai the one in the front seat and the music are making it worse."
@Zizi said:
"I'm just astounded by the front guy who's wearing a seat belt."
@Sandile Delantè said:
"Ain't no amount of money that can make me take that front seat."
Lady battles to free herself as monkey grabs her shirt
An aggressive monkey went viral after grabbing the shirt of a lady who came to admire it. The monkey was locked in a cage at a place that appeared to be a zoo when the funny incident happened.
The short video showed the lady busy observing the animal in the cage when the monkey reached out and got hold of her shirt.
In a bid to extricate herself, the lady started dragging hard, trying to force the monkey to let go of her clothes.
Source: Briefly.co.za