Young Model Steals The Show with Impressive Runway Skills, Sparking Mixed Reactions Online
A video of a young girl showcasing her impressive modelling skills on the runway has gone viral on social media
While some viewers are impressed with the little girl's runway walk, others express concern about the objectification of children
The video has sparked a debate about the appropriateness of children participating in the fashion industry
A video of a young girl's impressive runway skills has stirred up controversy on social media, sparking a debate about the objectification of children in the fashion industry.
Asian Kids Fashion Week recently took place and one of the highlights featured a 7-year-old girl identified as Emily.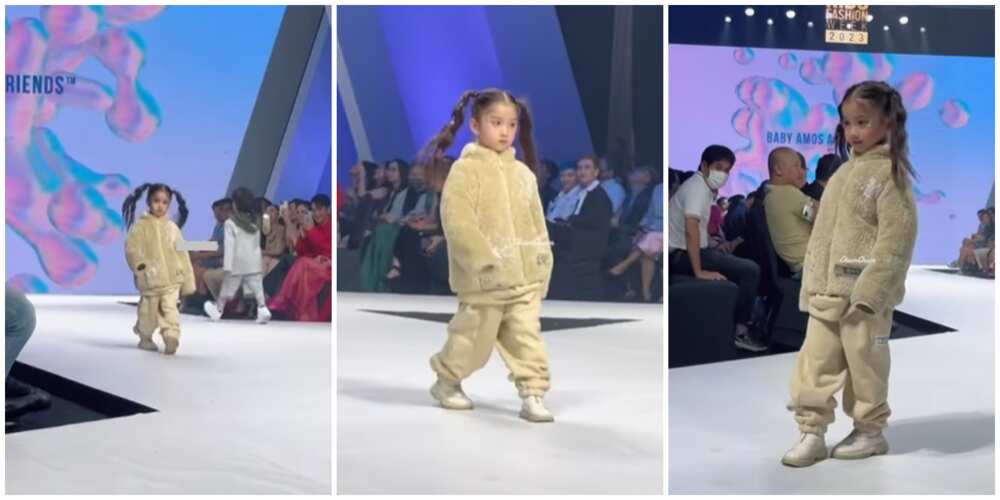 In the video which has gone viral, Emily is seen strutting her stuff on the runway in a deep cream jogger set, with her hair in two long pigtails.
Check out the clip below:
Mixed reactions trail video of little model on runway
While some viewers are in awe of the young model's talent and confidence, others express concern about the objectification of children in the fashion industry.
Check out some comments below:
val.herra:
"Is no one else uncomfortable."
mzzfatima:
"This is so wrong.. objectifying children?? Why would kids need to do runway like a grown adult and have grown ups watching them."
nathan_roldan:
"The level of this serve."
sisi.nene_:
"She's cuteeee, I hope her guardians are protecting her enough from the toxicity that comes with fame."
liam.frend:
"Nah this is just weird. let kids be kids, no reason for kid to be walking a runway stared at by grown men."
watchlouder:
"She ate that."
josue_blocked_you:
"It's weird."
guptahaha:
"She stayed and ate and left no crumbs-"
yesitsoneluv:
"She's a serve."
chykiors:
"Get it mama."
guptahaha:
"Bella Hadid who?"
Fashion for kids: Photo of little girl in stylish bubu gown leaves fashionistas in awe
Everyone seems to be jumping on the bubu trend, and it appears children are not left out either.
Fashion designer, @styledbyvalentynoh, shared some photos of her daughter dressed in a gorgeous bubu dress.
The adorable little girl posed with a phone in her hands. She rocked the popular maxi dress style with a matching headwrap tied in two different ways.
African glamour: Video of little girl in gorgeous ankara ballgown wows netizens
Birthdays are the perfect opportunities to play dress-up and one African mum made sure to come correct.
Identified as Francisca Anozie929 on TikTok, the lady shared a video of her daughter from her birthday shoot and she looked breathtaking.
The little girl was a princess to behold in a regal floral print ankara ballgown. She accessorised the look with chunky jewellery around her neck and both arms, with one adorning her high ponytail.
Source: Legit.ng