2 Brides Lodged in The Same Hotel Bump into Each Other Sporting Near-Identical Looks
A video of how two strangers getting married on the same day in similar bridal looks has gone viral online
The video of the 'twin brides' was shared by @yallizbeauty which saw the ladies in matching hairstyles
Many people who saw the video have taken to the comment section to gush about the similarities
Two ladies getting married on the same day may have just marked the beginning of their friendship after an accidental meet.
According to a beautician @yallizbeauty who shared the video, the brides were lodged at the same hotel and after running into each other, realized their looks were almost identical.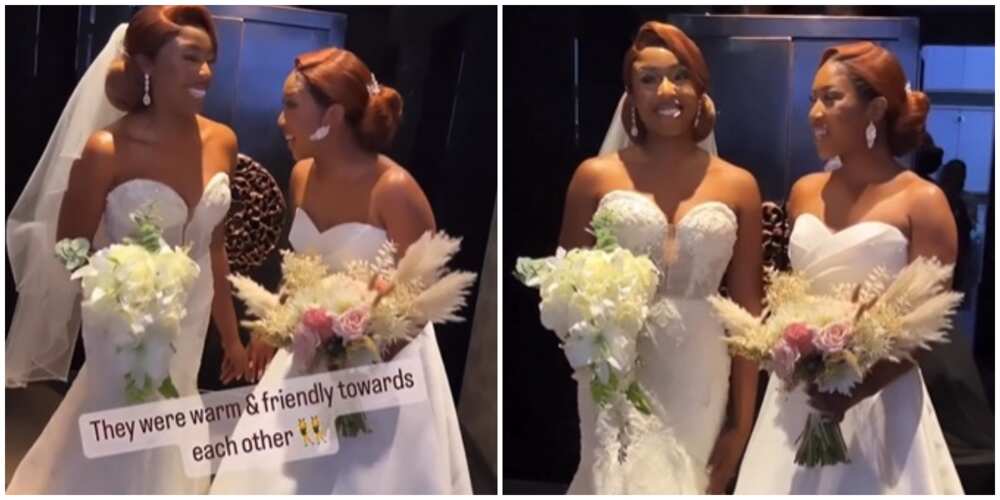 Both brides sported ginger hair styled in the same manner, they both rocked strapless sweetheart-necklined dresses with similar coloured bouquets which were slightly different, like the flounce of their dresses.
Even more beautiful to watch is how convivial the two ladies were which each other, as though happy to finally meet their fashion twin.
Check out the video below:
Internet users react to video of 2 brides in matching looks
theladytesia:
"You mean they are not twins getting married same day? Wawu they're gorgeous."
soniaokri_:
"They both will make good gang, they just blend."
ms_ozie:
"Thought they were sisters for real❤️❤️"
yes_tammi:
"They'll make good friends."
temmyzoe:
"So sweet, they look like twin sisters."
abi_wealth:
"Wowwww !!! You mean to tel me they aren't twins???"
ballyqueenbeautystudio:
"Not me thinking they are twins, until I read the caption "
Ebony bride glows in wedding look as she sports curly pixie hairstyle with stunning dress
While many ladies often opt for long wavy curls which they carry in a wrapped style for their special day, this lady went for something different.
In a video, the beautiful bride is seen in a gorgeous sheer-infused dress with pearl embellishments.
Sporting a chic curly pixie style, she adorned the hair with a floral hairpiece and paired the look with a lovely wedding gown that featured a drape design.
"Stunning": Reactions as bride rocks beautiful convertible dress made in 3 days
A beautiful bride wowed many internet users with her choice of wedding dress.
South African designer, Otsile Sefolo, shared a video of the bride in the dress which is actually a transformative piece.
Tagged the 'Xhosa-inspired traditional modern dress', the strapless gown with black detailing featured a detachable flounce.
Source: Legit.ng